News Release > Entergy to Continue Operating Palisades Power Plant Until Spring 2022
For Immediate Release
Entergy to Continue Operating Palisades Power Plant Until Spring 2022
09/28/2017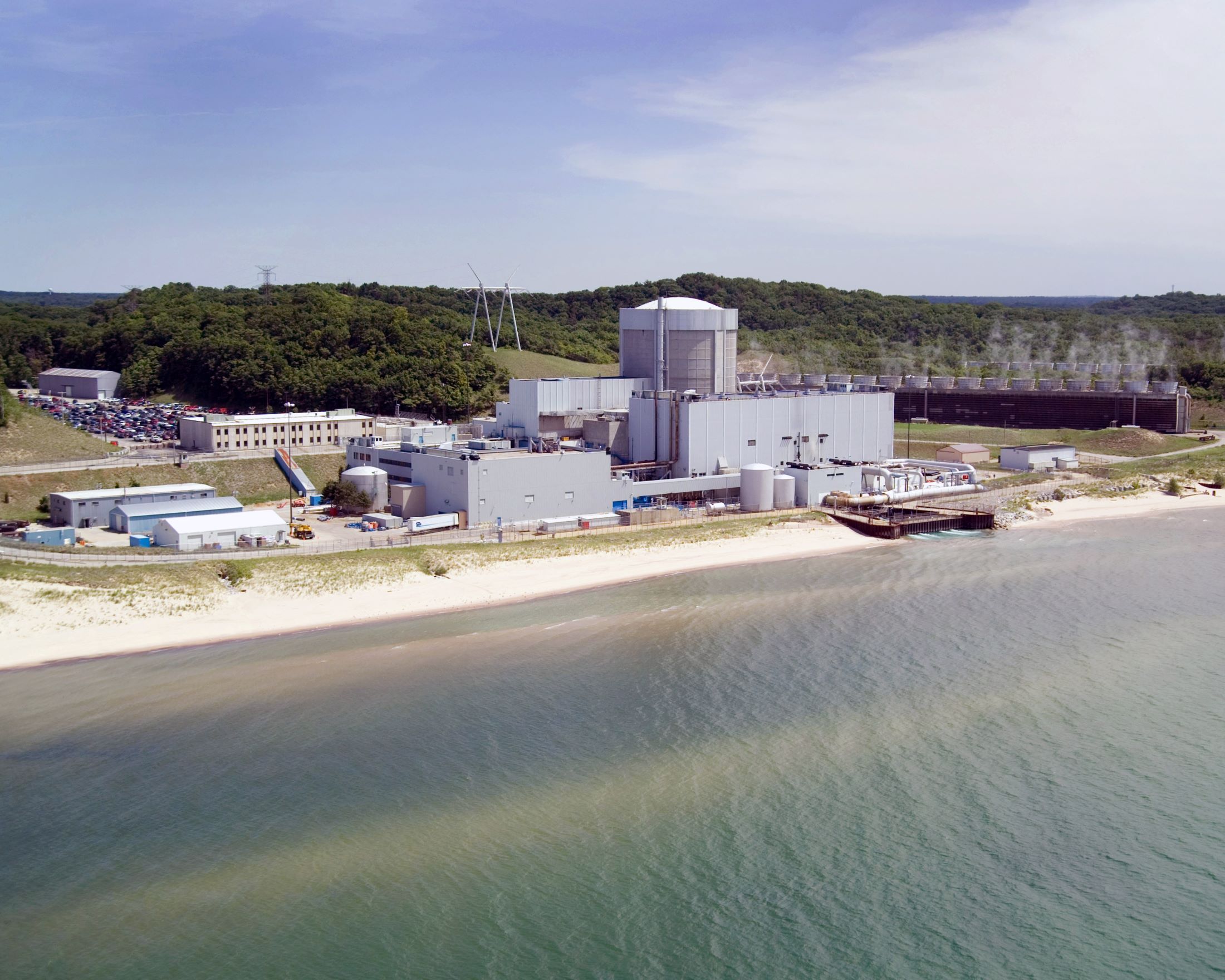 COVERT, Mich. – Entergy Corporation (NYSE: ETR) announced today that it plans to operate Palisades Power Plant in Covert, Michigan, until the spring of 2022, under the existing Power Purchase Agreement (PPA) with Consumers Energy.
"In light of the Michigan Public Service Commission's order issued September 22, which granted Consumers Energy recovery of only $136.6 million of the $172 million it requested for the buyout of the PPA, the parties have agreed to terminate the buyout transaction," said Charlie Arnone, site vice president and Entergy's top official at Palisades.
Today's announcement reverses Entergy's December 2016 decision to close Palisades on October 1, 2018, but Entergy remains committed to its strategy of exiting the merchant nuclear power business.
"We greatly appreciate the continued patience of our employees and the local community in Southwest Michigan throughout this regulatory process, and we will continue to focus on the plant's safe and reliable operations," Arnone added. "Entergy will continue to make all necessary investments and maintain appropriate staffing, in accordance with strict licensing standards."
Financial Implications
The impact of the decision on free cash flow is expected to be positive $100 million to $150 million compared to the PPA amendment with Consumers Energy. In addition, due to the change in operating assumptions, under applicable accounting rules we no longer expect fuel, refueling outage costs and capital expenditures to be expensed as incurred. Instead, these expenditures will be amortized or depreciated over their useful lives and the expense will be included in operational results.
About Palisades and Entergy Corp.
The Palisades Power Plant employs about 600 workers and has been a part of the Van Buren County community since it began generating electricity in 1971. The plant generates 811 megawatts of virtually carbon-free electricity, enough to power more than 800,000 homes.
Entergy Corporation is an integrated energy company engaged primarily in electric power production and retail distribution operations. Entergy owns and operates power plants with approximately 30,000 megawatts of electric generating capacity, including nearly 9,000 megawatts of nuclear power. Entergy delivers electricity to 2.9 million utility customers in Arkansas, Louisiana, Mississippi and Texas. Entergy has annual revenues of approximately $10.8 billion and nearly 13,000 employees.
Cautionary Note Regarding Forward-Looking Statements
In this news release, and from time to time, Entergy Corporation makes certain "forward-looking statements" within the meaning of the Private Securities Litigation Reform Act of 1995. Such forward-looking statements include, among other things, Entergy's statements of its plans, beliefs or expectations in this news release regarding financial impact of continued operation of the Palisades Power Plant. Readers are cautioned not to place undue reliance on these forward-looking statements, which apply only as of the date of this news release. Except to the extent required by the federal securities laws, Entergy undertakes no obligation to publicly update or revise any forward-looking statements, whether as a result of new information, future events or otherwise.
Forward-looking statements are subject to a number of risks, uncertainties and other factors that could cause actual results to differ materially from those expressed or implied in such forward-looking statements, including (a) those factors discussed elsewhere in this news release and in Entergy's most recent Annual Report on Form 10-K, any subsequent Quarterly Reports on Form 10-Q and Entergy's other reports and filings made under the Securities Exchange Act of 1934; (b) uncertainties associated with rate proceedings, formula rate plans and other cost recovery mechanisms, including the risk that costs may not be recoverable to the extent anticipated by the utilities; (c) uncertainties associated with efforts to remediate the effects of major storms and recover related restoration costs; (d) nuclear plant relicensing, operating and regulatory costs and risks, including any changes resulting from the nuclear crisis in Japan following its catastrophic earthquake and tsunami; (e) changes in decommissioning trust fund values or earnings or in the timing or cost of decommissioning Entergy's nuclear plant sites; (f) legislative and regulatory actions and risks and uncertainties associated with claims or litigation by or against Entergy and its subsidiaries; (g) risks and uncertainties associated with strategic transactions that Entergy or its subsidiaries may undertake, including the risk that any such transaction may not be completed as and when expected and the risk that the anticipated benefits of the transaction may not be realized; (h) effects of changes in federal, state or local laws and regulations and other governmental actions or policies, including changes in monetary, fiscal, tax, environmental or energy policies; and (i) the effects of technological changes and changes in commodity markets, capital markets or economic conditions, during the periods covered by the forward-looking statements.
-30-
Additional information is available at entergy.com and palisadespower.com.
---