News Center > Entergy Corporation Named One of Nation's Most Civic-Minded Companies
For Immediate Release
Entergy Corporation Named One of Nation's Most Civic-Minded Companies
06/27/2016
New Orleans– Investing time, talent and resources to improve the quality of life in the communities Entergy Corporation (NYSE: ETR) serves has led to nationwide recognition of the company by The Civic 50, an initiative of Points of Light. The Civic 50 sets the standard for corporate civic engagement and annually determines the most community-minded companies in the country. Points of Light is the world's largest organization dedicated to volunteer service.
"Being named to The Civic 50 acknowledges the number of ways our employees power life for all of our stakeholders – owners, customers, employees and communities," said Leo Denault, chairman and CEO of Entergy Corporation. "Our team members not only provide reliable, affordable power and gas to customers but also actively support strategic initiatives that improve educational and employment opportunities, boost economic development and protect the environment. We are proud that our employees have been recognized by such a respected organization."
The Civic 50 participants are evaluated on criteria that include community impact of financial and human resources, alignment of community engagement with business objectives and the social and business value of an organization's community engagement.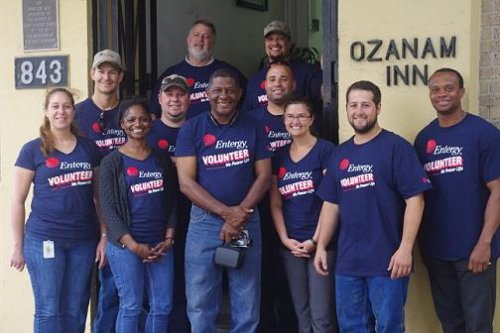 Entergy invests $16 million annually in community improvement programs in the areas of education, workforce development, arts, health and environment. In 2015, Entergy employees contributed more than 100,400 hours of volunteer service valued at more than $3 million. Additional information on Entergy's commitment to community can be found in the company's 2015 Integrated Report and at "Our Community" on entergy.com.
"This year's Civic 50 honorees demonstrate how much they value the relationships they have with the communities in which they do business and truly understand how important purpose is to both their employees and consumers," said Tracy Hoover, CEO of Points of Light. "They are as results oriented in their corporate citizenship as they are in their bottom line: 78% are measuring the social impact of their community involvement and 90% solicit community feedback through focus groups or community meetings."
To learn more about the Civic 50, see The 2016 Civic 50: Turning Good Intentions into Sound Business Practices for highlights, trends, benchmarking data and best practices.
Entergy Corporation is an integrated energy company engaged primarily in electric power production and retail distribution operations. Entergy owns and operates power plants with approximately 30,000 megawatts of electric generating capacity, including nearly 10,000 megawatts of nuclear power. Entergy delivers electricity to 2.8 million utility customers in Arkansas, Louisiana, Mississippi and Texas. Entergy has annual revenues of approximately $11.5 billion and more than 13,000 employees.
-30-
Twitter: @entergy
Facebook: www.facebook.com/entergy
---