News Center > Entergy Corporation Earns EEI Emergency Response Award for Power Restoration After Hurricane Ida
For Immediate Release
Entergy Corporation Earns EEI Emergency Response Award for Power Restoration After Hurricane Ida
01/11/2022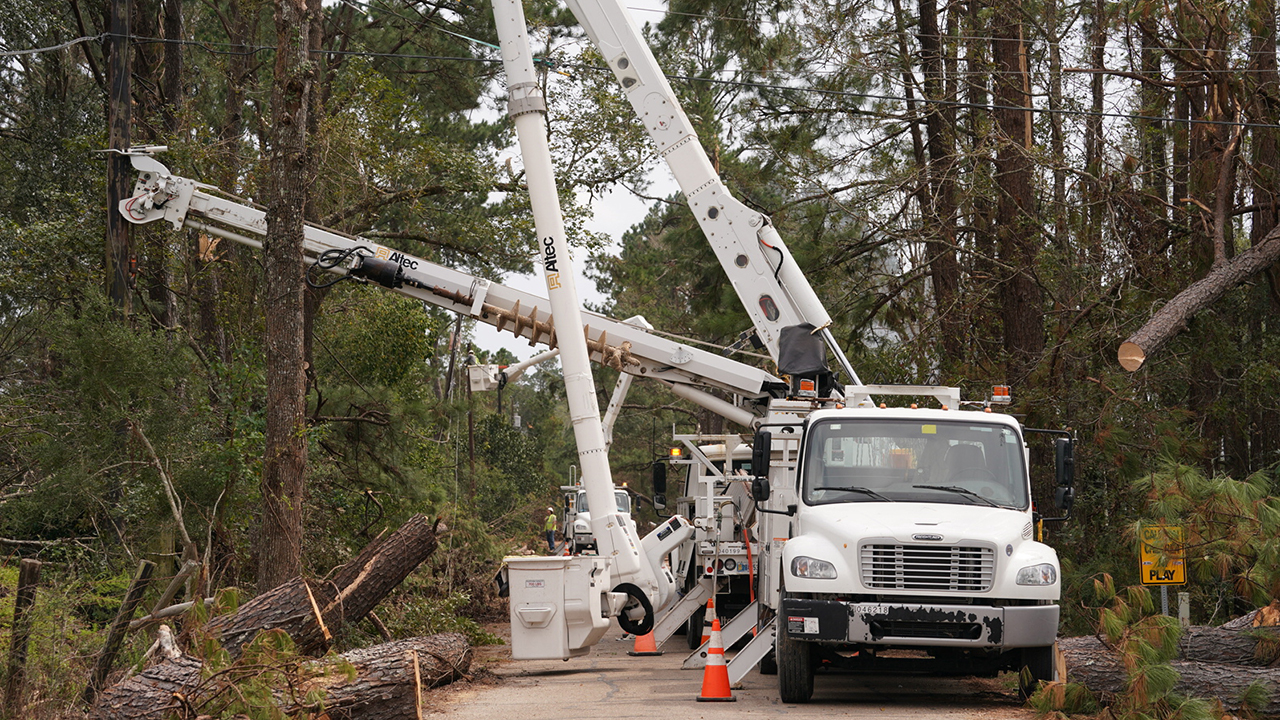 NEW ORLEANS – Recognizing the hard work and dedication of Entergy employees, the Edison ​Electric Institute today awarded Entergy Corporation with its Emergency Response Award for the company's recovery efforts following Hurricane Ida in August 2021.
Including today's honor, Entergy has received 42 awards from EEI for its power restoration and mutual-assistance work.
"We are proud of our employees and mutual-assistance allies and their hard work and ability to get the job done for our customers," said Willie Wilson, Entergy's system storm incident commander. "They worked through difficult and harsh conditions in the weeks after Ida. Their dedication to our customers never ceases to amaze me."
Hurricane Ida made landfall as a dangerous Category 4 hurricane with sustained winds of 150 mph, leaving 948,000 homes and businesses without power in Louisiana and Mississippi. The historic storm caused more damage to Entergy's system than hurricanes Katrina, Ike, Delta and Zeta combined.
In response to the widespread devastation, Entergy deployed the largest restoration effort it has ever mobilized with more than 28,000 workers from 41 states. Crews worked tirelessly to get the lights back on, restoring power to 90% of customers within two weeks.
"This year brought several significant storms and other extreme weather-related events that impacted many customers and communities across the nation," said EEI President Tom Kuhn. "Entergy and its employees worked around the clock following Hurricane Ida to ensure that power was restored safely and as quickly as possible. I applaud Entergy and its employees for their unwavering dedication to the customers and to the communities they so proudly serve, and, I am honored to present them with this well-deserved award."
Presented to EEI member companies, Emergency Response Awards recognize recovery and assistance efforts of electric companies following service disruptions caused by extreme weather or other natural events. The winners were chosen by a panel of judges following an international nomination process, and the awards were presented during EEI's virtual board of directors meeting.
About EEI
EEI is the association that represents all U.S. investor-owned electric companies. Our members provide electricity for more than 220 million Americans, and operate in all 50 states and the District of Columbia. As a whole, the electric power industry supports more than 7 million jobs in communities across the United States. In addition to our U.S. members, EEI has more than 65 international electric companies, with operations in more than 90 countries, as International Members, and hundreds of industry suppliers and related organizations as Associate Members.
About Entergy Corporation
Entergy Corporation is an integrated energy company engaged in electric power production, transmission and retail distribution operations. Entergy delivers electricity to 3 million utility customers in Arkansas, Louisiana, Mississippi and Texas. Entergy owns and operates one of the cleanest large-scale U.S. power generating fleets with approximately 30,000 megawatts of electric generating capacity, including 7,000 megawatts of nuclear power. Headquartered in New Orleans, Louisiana, Entergy has annual revenues of $10 billion and approximately 12,500 employees. Learn more at entergy.com and follow @Entergy on social media.
-30-
---