News Center > Entergy Earns Two EEI Emergency Response Awards
For Immediate Release
Entergy Earns Two EEI Emergency Response Awards
01/10/2017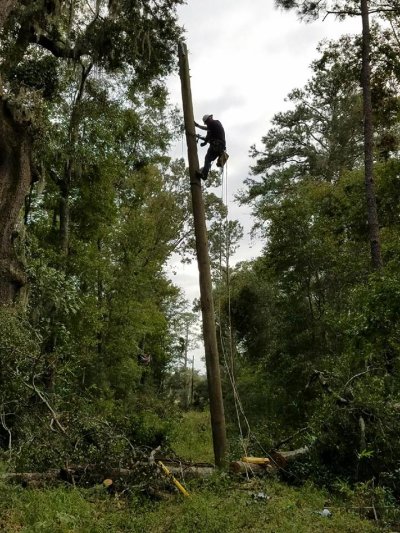 Company has Won 26 Awards over 19 Consecutive Years
NEW ORLEANS – Recognizing Entergy employees' expertise in restoring power to those affected by major outages, the Edison Electric Institute today awarded two emergency response awards to the company. Entergy received EEI's Emergency Recovery Award to recognize outstanding power restoration efforts on behalf of its customers and the Emergency Assistance Award for helping other utility companies recover from devastation caused by Hurricane Matthew.
This marks 19 consecutive years EEI has awarded Entergy with a national storm restoration award. Including this year's honors, Entergy has received 26 awards from EEI for its restoration and mutual-assistance work. Entergy remains the only utility company to have won either EEI's Recovery or Assistance Award, or both, every year since the awards began in 1998.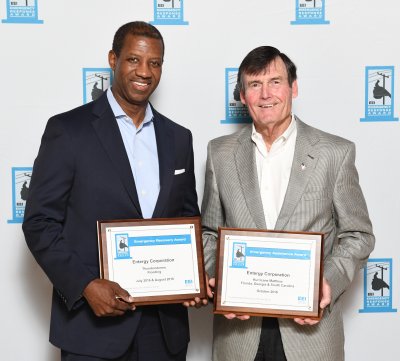 Marcus Brown, executive vice president and general counsel, Entergy Corporation, and Tom Kuhn, president, EEI.
"Receiving these awards demonstrates the industry's recognition of our employees' dedication to emergency response," said Greg Grillo, system storm incident commander for Entergy. "We follow a set of principles that guide us toward a safe and quick storm response, whether for our customers or those of other companies. Experience tells us to stay prepared year-round to respond to storms, regardless of where they may occur."
EEI said Entergy earned the Emergency Recovery Award for its exemplary work to restore power to its customers in the wake of severe thunderstorms and flooding last summer.
In July, thunderstorms in Arkansas, Louisiana and Mississippi caused high winds and flash flooding, resulting in 179,896 peak outages. Entergy restored power to nearly all of its customers within four days.
In August, a tropical disturbance caused flooding in southern Louisiana, inundating the area with more than 10 inches of rain per day for two days, causing 32,517 peak outages. The company was able to restore power to nearly all customers within one week.
The disturbance also affected gas distribution operations in Baton Rouge, Louisiana. Flood waters inundated thousands of gas meters and damaged the gas distribution business' headquarters building.
Entergy earned the Emergency Assistance Award for helping to restore service in Florida, Georgia and South Carolina following Hurricane Matthew in October. Company line workers and other professionals responded rapidly to calls for aid from Duke Energy Florida and Carolina, Florida Power & Light, Georgia Power and South Carolina Electric & Gas, to assist with recovery operations. Entergy employees devoted more than 38,528 hours to helping restore service.
"The tireless work of Entergy's crews to quickly and safely restore service to customers, and to lend assistance to neighboring electric companies, demonstrates the industry's strong commitment to customer service," said EEI President Tom Kuhn. "Entergy's dedicated crews who faced challenging conditions are greatly deserving of this terrific recognition."
EEI is the association that represents all U.S. investor-owned electric companies. Its members provide electricity for 220 million Americans, operate in all 50 states and the District of Columbia, and directly and indirectly employ more than one million workers. EEI has dozens of international electric companies as International Members, and hundreds of industry suppliers and related organizations as Associate Members.
Entergy Corporation is an integrated energy company engaged primarily in electric power production and retail distribution operations. Entergy owns and operates power plants with approximately 30,000 megawatts of electric generating capacity, including nearly 10,000 megawatts of nuclear power. Entergy delivers electricity to 2.8 million utility customers in Arkansas, Louisiana, Mississippi and Texas. Entergy has annual revenues of approximately $11.5 billion and more than 13,000 employees.
-30-
Entergy's online address is entergy.com
---