News Center > Entergy Grant Helps Build Eco-Lab Base Camp at Delacroix Preserve
For Immediate Release
Entergy Grant Helps Build Eco-Lab Base Camp at Delacroix Preserve
03/12/2018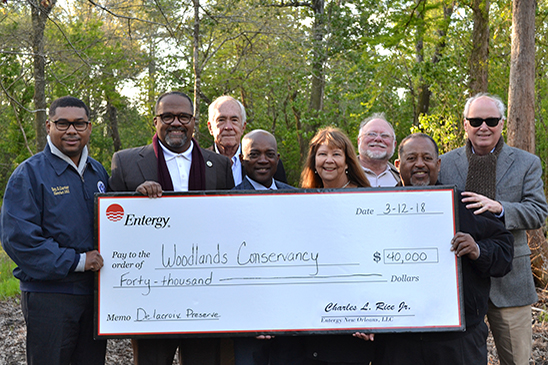 CONTACT
Charlotte J. Cavell
(504) 576-4132
ccavell@entergy.com
Facility to provide essential services for students, researchers and volunteers
Students in Orleans Parish and the surrounding area will soon have a place to call home as they learn about ecology and what it takes to maintain a critical coastal forest ecosystem thanks to a grant from Entergy.
The $40,000 grant from the company's Environmental Initiatives Fund will help Woodlands Conservancy build a new base camp to house ecosystem restoration supplies and provide other critical needs at the Delacroix Preserve, a 190-acre tract of bottomland hardwood forest located on the lower coast of Algiers between the city and the open water of Lake Borgne.
Since Woodlands Conservancy acquired the preserve in 2013, primary, secondary and college students have gotten hands-on experience in a variety of environmental concepts including conservation, protecting wildlife and migratory bird habitat, watershed and flood control, hurricane impact, invasive species, human behavior and how they can make a difference.
"We're proud to support this important environmental project that not only will help further students' education, but also will provide a vital protective barrier during major storms," said Charles Rice, president and CEO of Entergy New Orleans. "Along with our funding of other area environmental projects such as marsh restoration along the New Orleans East Land Bridge and planting mangrove seeds to protect against erosion, Entergy is helping to build a more resilient coast."
Katie Brasted, executive director of Woodlands Conservancy, said the base camp will help them expand their services to more students, as well as to researchers and volunteers.
"Delacroix Preserve is a remarkable ecological and educational asset of our region that has great potential and high value," she said. "Making it more accessible will give future generations the opportunity to learn from this robust and productive landscape and how to translate that learning into protecting other areas as well."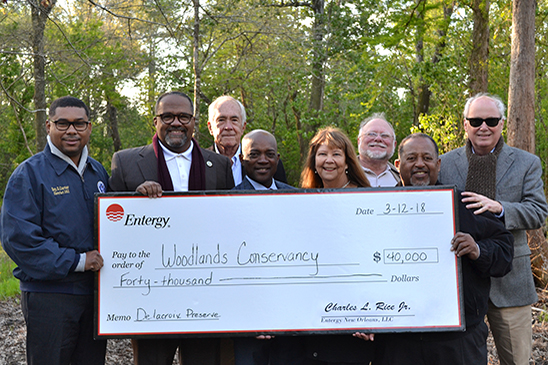 Entergy presents a check for $40,000 to Woodlands Conservancy to build a new eco-lab base camp at the Delacroix Preserve in Algiers. Pictured from left are Rep. Gary Carter (D-New Orleans); Sen. Troy Carter (D-New Orleans); Dan Dreiling, vice president of Woodlands Conservancy; Charles Rice, president and CEO of Entergy New Orleans; Katie Brasted, executive director of Woodlands Conservancy; Lee Dupont, president of Woodlands Conservancy; Alex Dunn, senior customer service specialist for Entergy New Orleans; and Mac Ball, Waggonner & Ball Architects.
For more on Entergy's commitment to the environment, visit entergy.com/environment. And for more on Woodlands Conservancy and its Delacroix Preserve, visit woodlandsconservancy.org.
Entergy New Orleans, LLC is an electric and gas utility that serves Louisiana's Orleans Parish. The company provides electricity to more than 200,000 customers and natural gas to more than 106,000 customers. The company is a subsidiary of Entergy Corporation.
Entergy Corporation is an integrated energy company engaged primarily in electric power production and retail distribution operations. Entergy owns and operates power plants with approximately 30,000 megawatts of electric generating capacity, including nearly 9,000 megawatts of nuclear power. Entergy delivers electricity to 2.9 million utility customers in Arkansas, Louisiana, Mississippi and Texas. Entergy has annual revenues of approximately $11 billion and more than 13,000 employees.
-30-
entergyneworleans.com
facebook.com/EntergyNOLA
Twitter: @EntergyNOLA
---