News Center > Entergy Louisiana Completes Lake Charles Transmission Project
For Immediate Release
Entergy Louisiana Completes Lake Charles Transmission Project
09/25/2018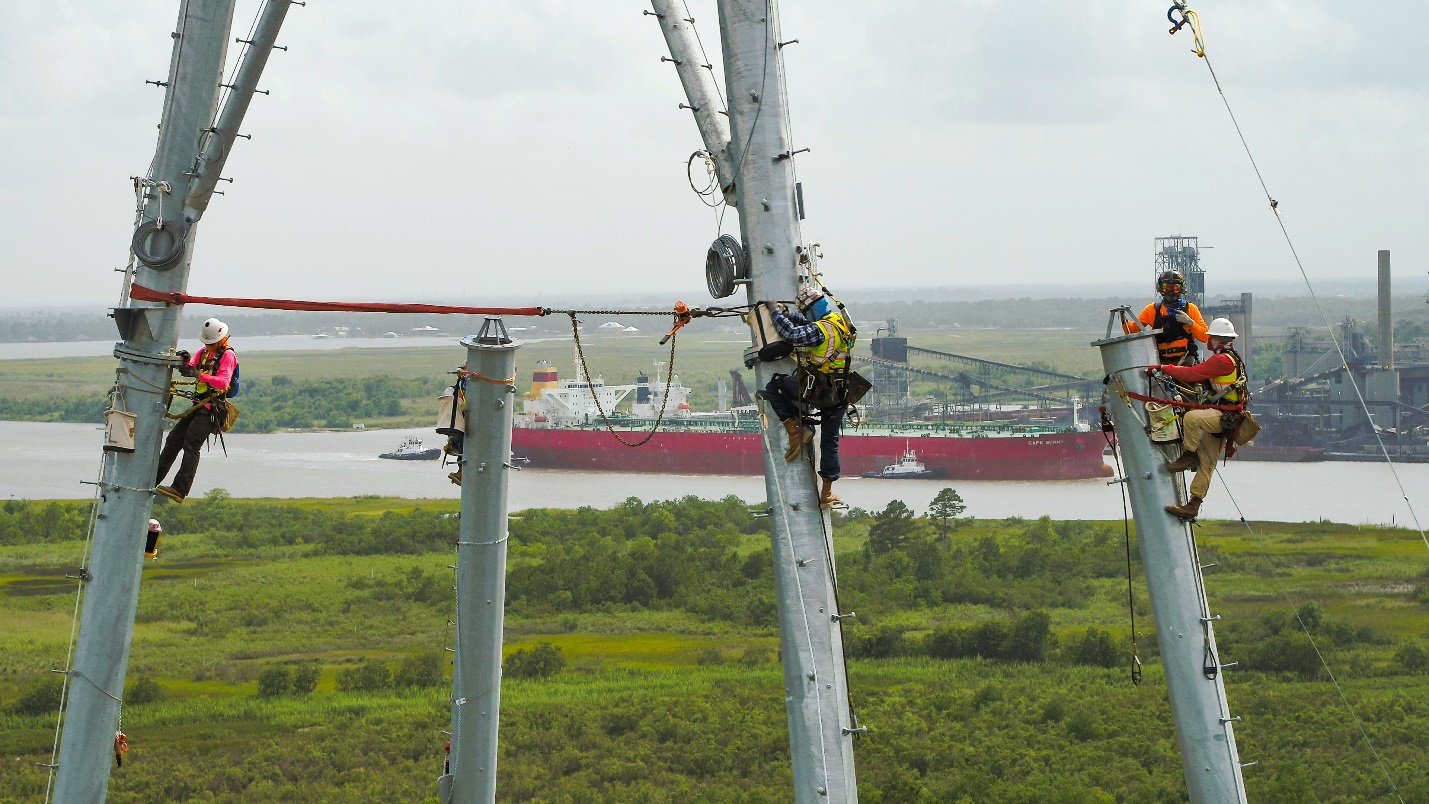 Continued enhancements designed to storm harden and improve resiliency
BATON ROUGE, La. – Entergy Louisiana customers are being served by a stronger, more resilient electric grid following the completion of major transmission projects, including one of the largest in the company's history.
The Lake Charles Transmission Project represents one of the largest single transmission projects in Entergy Louisiana's history. It included construction of two new substations, expansion of two others, and adding approximately 25 miles of high-voltage transmission lines – including both 500-kV and 230-kV lines – to move power more efficiently into the fast-growing region.
"A strong, modern electric grid not only improves reliability, it helps create jobs and growth for the entire state. The Lake Charles Transmission Project, one part of a multi-phased resiliency project, is essential to meeting today's power demands and keep pace with Louisiana's economic growth," said Phillip May, president and CEO of Entergy Louisiana. "Our investments will enhance reliability, improve efficiency across the state and expand our load serving capability throughout South West Louisiana."
Entergy Louisiana is more than half-way through its plans to invest approximately $465 million in transmission expansion and upgrade projects this year to strengthen and enhance the reliability of its energy grid. Upgrades include structures and rebuilt lines that are designed to withstand a category four hurricane.
The Lake Charles project is one of three recent resiliency projects for Entergy Louisiana completed to date in 2018.The Oakville-Alliance transmission project included the rebuilding and expansion of the Oakville substation to construct a 230-kV transmission path between one of Entergy Louisiana's substations in Jefferson Parish and a substation in Plaquemines Parish.
Also, Entergy Louisiana has completed its portion of the Terrebonne to Bayou Vista transmission project, a collaborative effort between Entergy Louisiana and Cleco Power, LLC, to improve reliability in southeast Louisiana. Entergy Louisiana completed its 24-mile section of the 36-mile line in May, while Cleco is currently working to complete its section.  
Entergy Louisiana, LLC provides electric service to more than 1 million customers and natural gas service to nearly 93,000 customers in the greater Baton Rouge area. With operations in southern, central and northeastern Louisiana, the company is a subsidiary of Entergy Corporation.
Entergy Corporation is an integrated energy company engaged primarily in electric power production and retail distribution operations. Entergy owns and operates power plants with approximately 30,000 megawatts of electric generating capacity, including nearly 9,000 megawatts of nuclear power. Entergy delivers electricity to 2.9 million utility customers in Arkansas, Louisiana, Mississippi and Texas. Entergy has annual revenues of approximately $11 billion and more than 13,000 employees.
-30-
Entergylouisiana.com
facebook.com/EntergyLA
Twitter: @EntergyLA
---