News Release > Entergy Louisiana Pledges Some $550,000 to Support Southwest Louisiana Relief Efforts
For Immediate Release
Entergy Louisiana Pledges Some $550,000 to Support Southwest Louisiana Relief Efforts
09/28/2020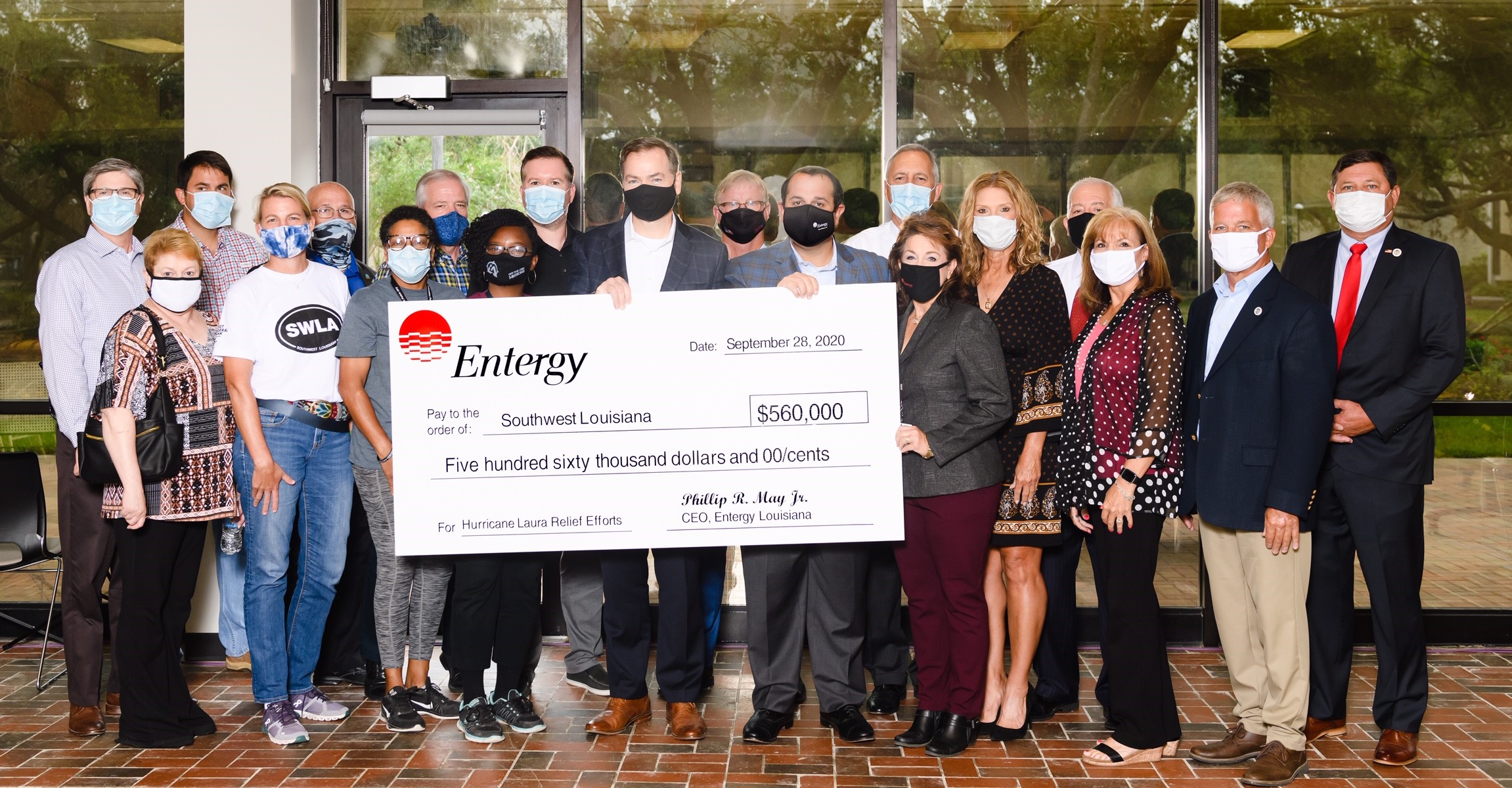 LAKE CHARLES, La. – Entergy Louisiana has announced that it is continuing its relief efforts in southwest Louisiana by providing more than $550,000 to nonprofit organizations assisting those affected by Hurricane Laura.
The company established a donor-advised fund with the Community Foundation of Southwest Louisiana and contributed $200,000 to the fund. Additionally, Entergy allocated another $200,000 from an American Red Cross Disaster Responder Partnership to directly aid southeast Texas and southwest Louisiana communities impacted by the storm.
Entergy Louisiana also gave $100,000 to the United Way of Southwest Louisiana, which has been instrumental in providing support for the region. Finally, Entergy is providing Southwest Health Services a grant of $25,000, Care Health Services of Sulfur a grant of $20,000 and providing grants to various Cameron Parish community organizations.
"Our restoration efforts in response to Hurricane Laura have been substantial, but we know that restoring power is just the first step in recovery," said Phillip May, Entergy Louisiana president and CEO.  "Our commitment to the communities we serve is unyielding, and we are dedicated to aiding our customers as they rebuild their homes and neighborhoods in the weeks and months ahead."
Entergy Louisiana will work with the Community Foundation of Southwest Louisiana, a nonprofit, public charity, to provide grants to community organizations focused on referral assistance and safety net services for individuals and families, including temporary lodging, food and clothing for those affected by the storm.
"The foundation is the perfect partner to direct funding for local organizations that will help people begin rebuilding their lives," said Jody Montelaro, vice president of public affairs for Entergy Louisiana. "We didn't want to just give a check. We wanted to make sure that it was put into the hands of people who need it most, and we will be working to identify additional partner organizations to utilize these dollars."
The Red Cross dollars continue to assist with disaster relief and recovery throughout southwest Louisiana. The support will help victims recover and get back on their feet in the challenging weeks and months ahead.
Entergy Louisiana, LLC provides electric service to more than 1 million customers and natural gas service to more than 93,000 customers in the greater Baton Rouge area. It has operations in southern, central and northern Louisiana. The company is a subsidiary of Entergy Corporation.
Entergy Corporation is an integrated energy company engaged primarily in electric power production and retail distribution operations. Entergy owns and operates power plants with approximately 30,000 megawatts of electric generating capacity, including 8,000 megawatts of nuclear power. Entergy delivers electricity to 2.9 million utility customers in Arkansas, Louisiana, Mississippi and Texas. Entergy has annual revenues of $11 billion and approximately 13,600 employees.
-30-
facebook.com/EntergyLa
Twitter: @EntergyLa
---