News Center > Entergy Louisiana Receives Approval to Build Lake Charles Power Station
For Immediate Release
Entergy Louisiana Receives Approval to Build Lake Charles Power Station
06/28/2017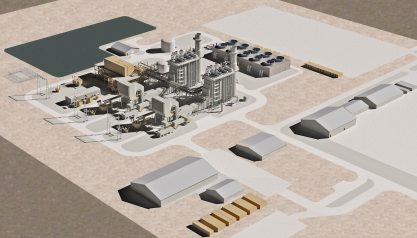 Louisiana regulators OK state-of-the-art plant projected to save customers up to $2 billion
BATON ROUGE, La. – The Louisiana Public Service Commission voted today to approve construction of the Lake Charles Power Station, a 994-megawatt combined-cycle power plant in Westlake. The natural gas-fired plant is a key element of Entergy Louisiana's plan to provide the clean, efficient energy needed to power economic growth and bring even more savings to its customers.
Entergy Louisiana expects to issue full notice to proceed to construction by Aug. 1.
The plant, which is scheduled to be in service by June 2020, will cost approximately $872 million to build including transmission and other project-related costs and contingency.
"The Lake Charles Power Station will supply the energy we need to help the communities and customers we serve prosper. This plant will not only provide needed generating capacity for the fast-growing region, but it's another step in our ongoing effort to upgrade Entergy Louisiana's plants so they operate more efficiently, affordably and with fewer emissions," said Phillip May, president and CEO of Entergy Louisiana.
"The vote to approve the project was a clear sign the commission recognized both the need for this plant and the tremendous benefits it will provide our customers," May said.
Because of the plant's high efficiency, projections are that customers will save between $1.3 billion and $2 billion over the anticipated 30-year life of the plant. Customer savings are expected to exceed the project's construction cost in less than 10 years.
Building the combined-cycle unit will:
Lower costs by reducing dependence on aging, less-efficient resources
Improve reliability by locating the plant in the highly industrialized area
Avoid some $600 million of transmission projects that would otherwise be needed to maintain reliability in the Lake Charles region
"This project will not only help customers' budgets in the long run, but it will reduce our environmental footprint as well. Compared to our older natural gas-fired plants, combined-cycle units like the Lake Charles Power Station will, on average, cut carbon dioxide emissions by approximately 40 percent," May said.
The impact of the project on the state's economy will be significant. According to an analysis by Louisiana economist Dr. Loren Scott, the plant's construction phase will:
Generate on average an estimated 1,200 direct and indirect jobs a year across the state
Increase Louisiana business sales by more than $1.2 billion
Grow household earnings by an estimated $420 million
The plant will employ approximately 30 people once complete.
Entergy Louisiana, LLC provides electric service to more than 1 million customers and natural gas service to more than 93,000 customers in the greater Baton Rouge area. With operations in southern, central and northeastern Louisiana, the company is a subsidiary of Entergy Corporation.
Entergy Corporation (NYSE: ETR) is an integrated energy company engaged primarily in electric power production and retail distribution operations. Entergy owns and operates power plants with approximately 30,000 megawatts of electric generating capacity, including nearly 9,000 megawatts of nuclear power. Entergy delivers electricity to 2.9 million utility customers in Arkansas, Louisiana, Mississippi and Texas. Entergy has annual revenues of approximately $10.8 billion and nearly 13,000 employees.
-30-
In this news release, and from time to time, Entergy Louisiana, LLC makes certain "forward-looking statements" within the meaning of the Private Securities Litigation Reform Act of 1995 with respect to it and its parent company, Entergy Corporation (collectively, "Entergy"). Except to the extent required by the federal securities laws, Entergy undertakes no obligation to publicly update or revise any forward-looking statements, whether as a result of new information, future events or otherwise. 
Forward-looking statements involve a number of risks and uncertainties. There are factors that could cause actual results to differ materially from those expressed or implied in the forward-looking statements, including (a) those factors discussed in this news release and in Entergy's most recent Annual Report on Form 10-K, any subsequent Quarterly Reports on Form 10-Q and Entergy's other reports and filings made under the Securities Exchange Act of 1934; (b) uncertainties associated with rate proceedings, formula rate plans and other cost recovery mechanisms; (c) risks and uncertainties associated with executing major capital projects and estimating their costs and benefits; and (d) general economic conditions during the periods covered by the forward-looking statements, in addition to other factors described elsewhere in this release and subsequent securities filings.

entergylouisiana.com
facebook.com/EntergyLA
Twitter: @EntergyLA
---