News Center > Entergy Louisiana Renames Plant in Honor of J. Wayne Leonard
For Immediate Release
Entergy Louisiana Renames Plant in Honor of J. Wayne Leonard
03/13/2020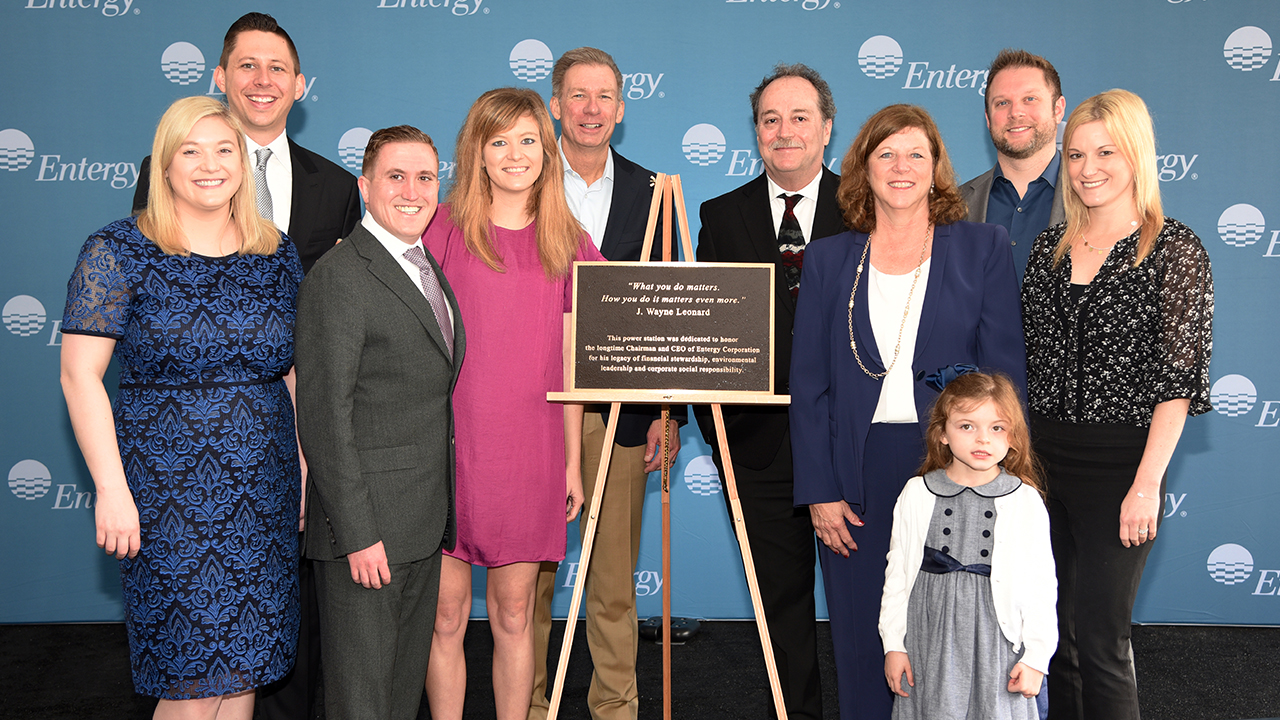 MONTZ, La. – Entergy Louisiana dedicated its power plant in St. Charles Parish, renaming it the J. Wayne Leonard Power Station in recognition of Leonard's legacy of environmental leadership and corporate social responsibility. Leonard served as chairman and CEO of Entergy Corporation from 1998-2013.
Entergy Chairman and CEO Leo Denault presented the Leonard family with a plaque commemorating the official dedication of the facility. An in-person dedication ceremony was canceled based on guidance from health officials and out of an abundance of caution. The 980-megawatt plant began commercial operation in May 2019.
"For customers, communities, employees and owners alike, this power station is a significant milestone along the clean energy journey we began more than 20 years ago when Wayne Leonard became CEO. The J. Wayne Leonard Power Station is one of the cleanest and lowest cost natural gas-powered plants in our Louisiana fleet and is part of an integrated solution that allows us to bring a whole portfolio of cleaner generation to our customers. It will complement our generation operations by providing an efficient and reliable backup source to our growing renewable power portfolio. And the construction and operation have been and will continue to be a source of well-paying jobs in the community for many years," said Denault.
"The J. Wayne Leonard Power Station is a testament to the environmental commitment Leonard adopted nearly 20 years ago. Combined-cycle gas turbine units like the J. Wayne Leonard facility emit on average about 40% less carbon dioxide than Entergy's older natural gas-powered units. This unit will supply reliable, clean energy to our growing customer base in Louisiana," said Phillip May, president and CEO of Entergy Louisiana.
"Entergy Louisiana has always been a valuable partner in helping build healthy, vibrant communities of the future. Not only do they provide the clean and affordable energy that helps drive economic development, but they also support our communities through philanthropy and volunteerism," said Gov. John Bel Edwards. "We're proud to support them as they provide yet another source of clean energy that gives our state a competitive advantage and helps our communities grow."
Replacing older, less efficient plants with new, cleaner natural gas units will improve system reliability, reduce environmental impacts and produce substantial customer savings over the long term. Because of the plant's high efficiency, it has been projected that customers will save up to $1.3 billion over the anticipated 30-year life of the unit. Customer savings are expected to exceed the plant's construction cost in less than 10 years.
During his tenure as chairman and CEO, Leonard changed the company's strategic direction while setting ambitious goals for the company that extended beyond the balance sheet – protecting the environment, working to eradicate poverty and investing in education to help the communities Entergy serves prosper.
Entergy is proud to operate one of the cleanest large-scale power generating fleets in the nation. In 2001, the company became the first U.S. electric utility to voluntarily cap its carbon emissions at year 2000 levels. Entergy's latest commitment is to cut its carbon emission rate by 50% below year 2000 levels by 2030. Leonard's legacy includes Entergy being named to the Dow Jones Sustainability Indices for 18 consecutive years, the only U.S. utility to achieve that record.
Leonard also began the company's low-income customer assistance initiative to provide resources to customers and community partners to help lift low-income families out of poverty. The initiative has served as a model for other utilities.
Entergy Louisiana, LLC provides electric service to more than 1 million customers and natural gas service to more than 93,000 customers in the greater Baton Rouge area. With operations in southern, central and northeastern Louisiana, the company is a subsidiary of Entergy Corporation.
Entergy Corporation is an integrated energy company engaged primarily in electric power production and retail distribution operations. Entergy owns and operates power plants with approximately 30,000 megawatts of electric generating capacity, including 9,000 megawatts of nuclear power. Entergy delivers electricity to 2.9 million utility customers in Arkansas, Louisiana, Mississippi and Texas. Entergy has annual revenues of $11 billion and approximately 13,600 employees.
---