News Release > Entergy Louisiana Restores Power to Southwest Louisiana Communities
For Immediate Release
Entergy Louisiana Restores Power to Southwest Louisiana Communities
10/01/2020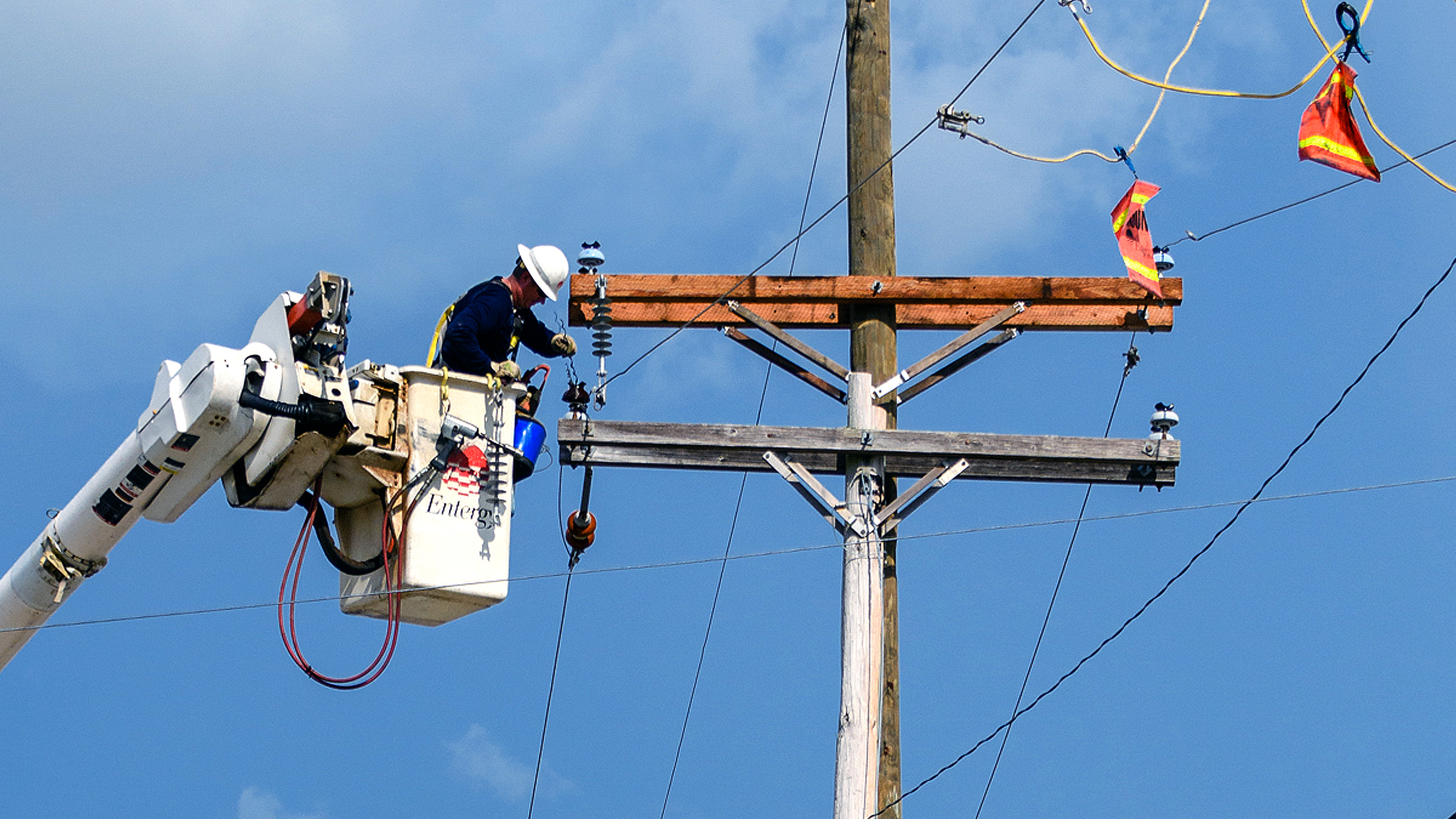 LAKE CHARLES, La. – Entergy Louisiana, LLC has restored power to all accessible customers in southwest Louisiana who can safely receive it after Hurricane Laura devastated the region and catapulted the company into its largest restoration effort. Customers with damage to their homes' electrical equipment must make repairs before power can be restored.
"The hard work and dedication of the thousands of men and women at Entergy and from utilities and contracting companies around the country created hope in our communities when our friends and neighbors needed us most," said Phillip May, Entergy Louisiana president and CEO. "I am equally inspired by our customers across southwest Louisiana and beyond who showed unwavering support and patience during trying times. We know there is still a lot of work to do along the road to recovery, and you have my commitment that we will be there every step of the way."
A storm team 16,000 strong worked tirelessly to quickly and safely restore power to Entergy's Louisiana customers. Laura made landfall at Cameron, Louisiana, on Thursday, Aug. 27, causing widespread and devastating damage to Entergy's distribution and transmission infrastructure. At the peak, the historic storm knocked out power to more than 93,000 customers in southwest Louisiana.
Crews brought the first lights back to Calcasieu Parish just over a week after Laura struck the region. Crews made power available within two weeks to 75% of Louisiana customers affected by the storm and restored 90% in three weeks.
A storm team will remain in southwest Louisiana to make additional repairs to the electrical power delivery system and improve its resiliency. Crews expect that work to continue through November.
Residents should check for damage to the electrical equipment attached to their home or business and contact an electrician to make needed repairs. For more information on what equipment is yours and what equipment is ours, visit entergy.com/weatherhead. If damage has been repaired by a qualified electrician, call 1-866-557-4240 between 8 a.m. – 5 p.m., Monday through Friday, to generate a service reconnection work order.
About Entergy Louisiana:
Entergy Louisiana, LLC provides electric service to more than 1 million customers and natural gas service to more than 93,000 customers in the greater Baton Rouge area. It has operations in southern, central and northern Louisiana. The company is a subsidiary of Entergy Corporation.
About Entergy Corporation:
Entergy Corporation is an integrated energy company engaged primarily in electric power production and retail distribution operations. Entergy owns and operates power plants with approximately 30,000 megawatts of electric generating capacity, including 8,000 megawatts of nuclear power. Entergy delivers electricity to 2.9 million utility customers in Arkansas, Louisiana, Mississippi and Texas. Entergy has annual revenues of $11 billion and approximately 13,600 employees.
-30-
entergylouisiana.com
facebook.com/EntergyLA
Twitter: @EntergyLA
---