News Center > Entergy Mississippi $100K Gift to Benefit New Stage Theatre, State's School Children
For Immediate Release
Entergy Mississippi $100K Gift to Benefit New Stage Theatre, State's School Children
03/24/2016
Grant expands Arts In Education program in honor of theatre's 50th anniversary
JACKSON, Mississippi– For many years, Entergy Mississippi, Inc. has partnered closely with New Stage Theatre on a touring program that brings arts education directly to the state's school children, many of whom have never seen live theater.
Now, in honor of New Stage's 50th anniversary, Entergy Mississippi has given the professional acting company a $100,000 grant to expand and continue the touring shows and workshops for many more years to come. As a result, New Stage's Arts In Education program's live touring performances will now be known as the Entergy Power Plays.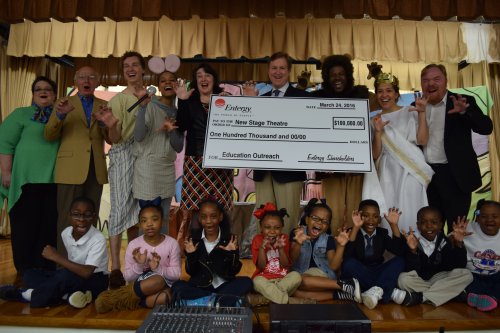 "Entergy is a great supporter of education and a leader in encouraging other organizations to fund New Stage's effort to make theater, music, dance and the visual arts accessible to all Mississippians," said Francine Reynolds, New Stage Theatre's artistic director. "This funding will allow us to expand our programming and reach more than 24,000 Mississippi students each school year."
New Stage's program to educate school children through the arts fits with Entergy's focus to improve the quality of life in communities it serves through strategic investments in education.
"This gift is an investment in our state's future, as the children of Mississippi, from elementary school through high school, are the real beneficiaries of the touring program," said Haley Fisackerly, Entergy Mississippi president and CEO. "With each performance and workshop, New Stage is enhancing their education and their cultural literacy."
Before the 2015-2016 school year ends, New Stage's touring program will have visited more than 50 schools throughout Mississippi, bringing more than 70 live performances and 15 workshops.
Entergy Mississippi, Inc. provides electricity to approximately 442,000 customers in 45 counties. It is a subsidiary of Entergy Corporation. Entergy Corporation is an integrated energy company engaged primarily in electric power production and retail distribution operations. Entergy owns and operates power plants with approximately 30,000 megawatts of electric generating capacity, including nearly 10,000 megawatts of nuclear power. Entergy delivers electricity to 2.8 million utility customers in Arkansas, Louisiana, Mississippi and Texas. Entergy has annual revenues of more than $11.5 billion and more than 13,000 employees.
-30-
entergy-mississippi.com
Twitter: @EntergyMS
facebook.com/EntergyMS
---