News Release > Entergy Mississippi to Bring Advanced Meters to Homes and Businesses
For Immediate Release
Entergy Mississippi to Bring Advanced Meters to Homes and Businesses
05/04/2017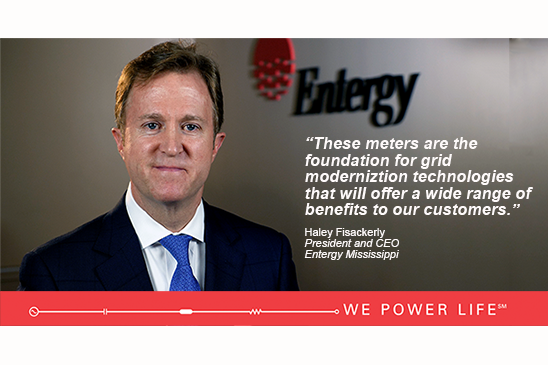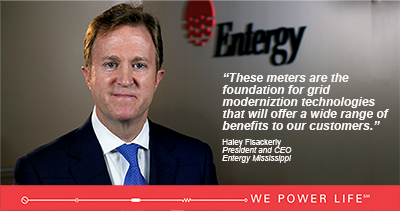 Company uses technology to build smarter energy future for customers
JACKSON, Mississippi – Improved outage restoration. Better customer service. Money-saving tools for customers. These are all part of Entergy Mississippi's vision for a smarter energy future. The company took another step toward that vision recently with approval from the Mississippi Public Service Commission to launch this multi-year investment.
"The PSC's forward-thinking commissioners have approved our plan to install advanced meters at homes and businesses served by our company," said Haley Fisackerly, Entergy Mississippi president and CEO. "These meters are the foundation for grid modernization technologies that will offer a wide range of benefits to our customers."    
Upgrading to advanced meters has numerous benefits:
Customers can get timely and more detailed information on their energy use, so they can manage their power consumption, which can lead to lower bills.
Entergy Mississippi will have a clearer real-time picture of the power grid and how it is operating. Outages can be identified more accurately, so crews can arrive on the scene more quickly to make repairs.
With better information, we can answer customers' billing and service questions more quickly and effectively, improving customer service.
Over the next 18 months, Entergy Mississippi will build and deploy the systems and infrastructure needed for the technology and installation of meters. This timeline is based on experiences from other utilities that have modernized their power grids. Meter installation will begin in early 2019 and by the end of 2021, homes and businesses in the Entergy Mississippi service area can be part of a smarter energy future. Learn more about our vision here:  entergymississippi.com/ami.
Entergy Mississippi, Inc. provides electricity to approximately 445,000 customers in 45 counties. Entergy Corporation is an integrated energy company engaged primarily in electric power production and retail distribution operations. Entergy owns and operates power plants with approximately 30,000 megawatts of electric generating capacity, including nearly 9,000 megawatts of nuclear power. Entergy delivers electricity to 2.9 million utility customers in Arkansas, Louisiana, Mississippi and Texas. Entergy has annual revenues of approximately $10.8 billion and nearly 13,000 employees.
-30-
---