News Center > Entergy Mississippi Customers Can Get Free Tax Prep at Super Tax Day
For Immediate Release
Entergy Mississippi Customers Can Get Free Tax Prep at Super Tax Day
01/30/2019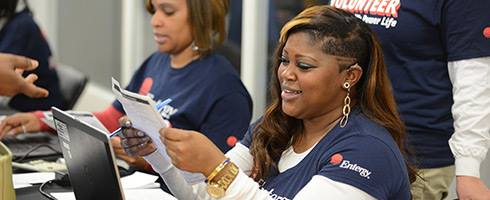 JACKSON, Mississippi –Qualified Entergy Mississippi customers can get their taxes prepared for free and have the chance to win money at Entergy's Super Tax Day events. IRS-certified volunteers from Entergy and its partners will also help determine if the taxpayers are eligible to claim federal Earned Income Tax Credits.
For qualifications and a list of what to bring, visit entergy.com/freetaxhelp (https://eitclocations.com/).
Super Tax Day events will be held at the following times and locations:
February 2:  The Hill Baptist Church, 1989 Oak Tree Cove, Hernando, from 10 a.m. until 3 p.m. Entergy's partner is United Way of the Mid-South.
February 9: Fondren Hall, 4330 N. State St., Jackson, from 8 a.m. until 5 p.m. (Call (601) 882-0486 for an appointment.) Entergy is partnering with the Hinds County Human Resource Agency. Additional volunteers are from Jackson State University's Accounting Society and area non-profits.
February 16: Greenville Higher Education Center, 1134 Archer Range Rd., Greenville, from 9 a.m. until 6 p.m. Entergy is partnering with Southern Bancorp Community Partners.
Customers who agree to save part of their total refund at the Super Tax Day event will have an opportunity to win up to $50 in cash through a scratch-off card promotion. They can also enter other drawings, including one for a $10,000 grand prize from the national Save Your Refund program.
Can't make any of these dates? Volunteers will also offer residents free tax prep help and determine if they are eligible to claim federal Earned Income Tax Credits at numerous local Volunteer Income Tax Assistance sites in Mississippi throughout the tax season. At some VITA sites, local community partners offer appointments for tax preparation services, as well as drop-off tax prep services, financial coaching, budget workshops, free legal services and more.
EITC is one of the nation's more effective means of lifting needy Americans out of poverty. In Mississippi, Entergy has helped approximately 25,750 customers receive more than $56 million through the EITC program since 2011.
"Services provided through Super Tax Day and the VITA program help power lives for customers who can gain long-term benefits by claiming EITC," said Amy Reed, Entergy Mississippi senior customer service specialist. "When customers' lives improve, their communities benefit."
For more information on Entergy's Super Tax Day and VITA, visit entergy.com/freetaxhelp.
Entergy Mississippi, LLC provides electricity to approximately 449,000 customers in 45 counties. Entergy Corporation is an integrated energy company engaged primarily in electric power production and retail distribution operations. Entergy owns and operates power plants with approximately 30,000 megawatts of electric generating capacity, including nearly 9,000 megawatts of nuclear power. Entergy delivers electricity to 2.9 million utility customers in Arkansas, Louisiana, Mississippi and Texas. Entergy has annual revenues of approximately $11 billion and more than 13,000 employees.
-30- 
---