News Center > Entergy Mississippi Donates 37,000 CFL Bulbs to Mississippi Food Network
For Immediate Release
Entergy Mississippi Donates 37,000 CFL Bulbs to Mississippi Food Network
10/19/2016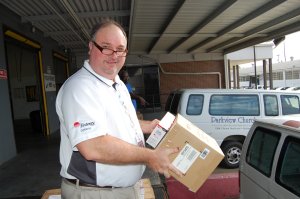 More than 70 local food pantries to distribute bulbs to low-income Mississippians
JACKSON, Mississippi–Representatives from local food pantries gathered at the Mississippi Food Network today to receive their share of 37,000 ENERGY STAR® certified Compact Fluorescent Light bulbs that Entergy Mississippi, Inc. donated to low-income Mississippians. Volunteers helped distribute the bulbs and load the boxes onto the trucks.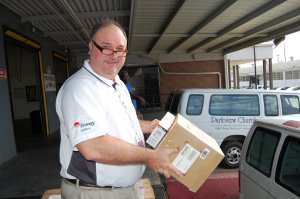 The light bulbs were donated by the utility through its Entergy Solutions energy efficiency program. The energy-efficient bulbs will help recipients reduce energy costs to free up money for other needs. CFLs use up to 75 percent less energy than traditional incandescent bulbs and last about 10 times longer.
Entergy Mississippi's donation of the CFLs is the continuation of a partnership with MFN that began last year when the company donated 26,000 CFL bulbs that were distributed to 85 MFN-member food pantries.
Mississippians who don't receive assistance from food pantries but would like to switch to more energy-efficient lighting can get instant discounts on select ENERGY STAR certified CFL and LED lighting at local retailers through Entergy Mississippi's Entergy Solutions Residential Lighting program. Customers can save up to $1.50 on select CFLs and up to $4 on select LEDs. A list of participating retailers can be found at EntergySolutionsMS.com/Lighting.
Entergy Mississippi, Inc. provides electricity to approximately 445,000 customers in 45 counties. It is a subsidiary of Entergy Corporation. Entergy Corporation is an integrated energy company engaged primarily in electric power production and retail distribution operations. Entergy owns and operates power plants with approximately 30,000 megawatts of electric generating capacity, including nearly 10,000 megawatts of nuclear power. Entergy delivers electricity to 2.8 million utility customers in Arkansas, Louisiana, Mississippi and Texas. Entergy has annual revenues of more than $11.5 billion and more than 13,000 employees.
-30-
entergy-mississippi.com
Twitter: @EntergyMS
facebook.com/EntergyMS
---