News Center > Entergy Mississippi Implodes Remainder of Retired Delta Power Plant
For Immediate Release
Entergy Mississippi Implodes Remainder of Retired Delta Power Plant
01/25/2018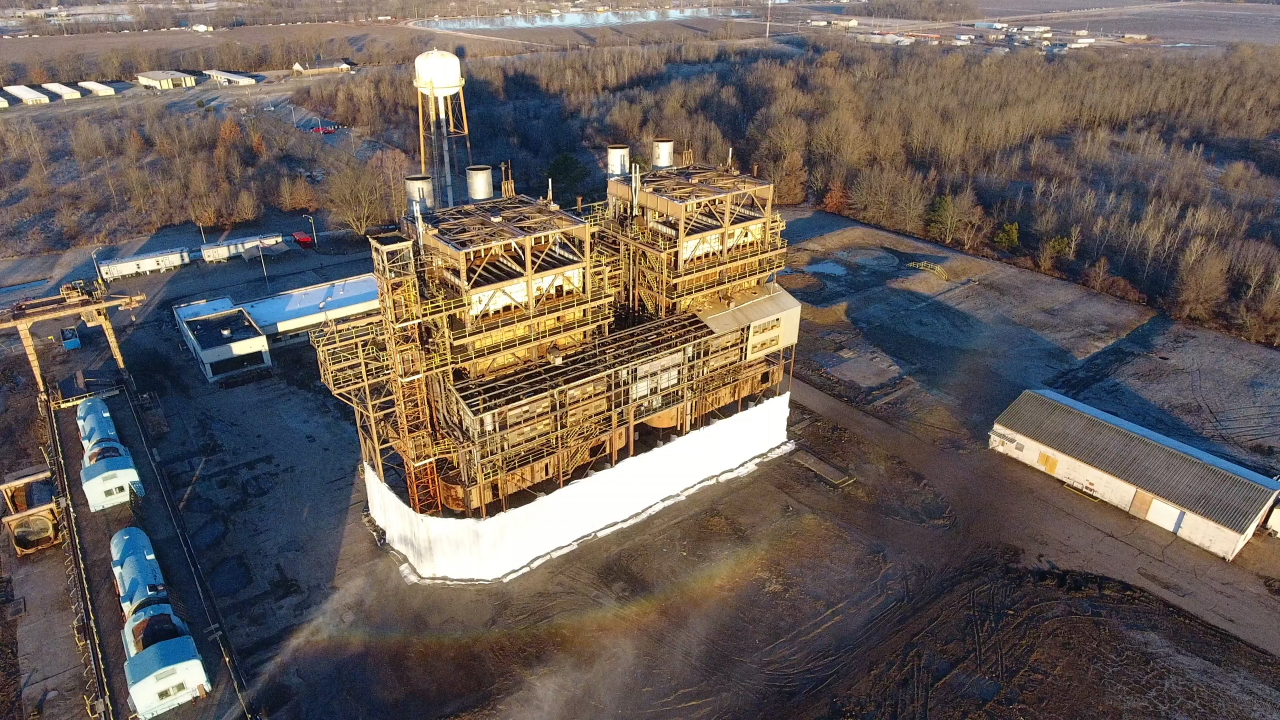 CLEVELAND, Mississippi – On Thursday, Jan. 25, the remaining components of the Delta Steam Electric Station were brought to the ground safely through a controlled implosion.
The implosion began the final stage of the demolition of what is left of the generating facility that served Mississippi for more than half a century. Last January, crews began removing chemicals and equipment, disconnecting power sources and dismantling outlying structures to prepare to demolish the two generating unit boiler structures.
The plant was retired from service in 2012 as part of a process to modernize Entergy Mississippi's generating portfolio to match ongoing and projected supply needs. Over the next several months, workers will clear the debris and finalize the demolition of the site.
"This demolition marks the beginning rather than an ending. It symbolizes changes the utility industry is going through, the progress our company is making and our dedication to building the utility of the future," said Haley Fisackerly, Entergy Mississippi president and CEO. "Entergy Mississippi's modern grid vision and efforts to build the utility of the future are part of our continued commitment to powering life for our customers."
Built in the early 1950s, Delta Steam Electric Station contained two generating units, each capable of producing 112 megawatts of electricity. Plans are to remove the site's above-ground structures, with the exception of the transmission switchyard.
"We must continue to anticipate and plan for the electrical needs of our customers well into the future," said Charles Hall, Entergy vice president of Mississippi power plant operations. "This is just one step in modernizing our part of the electrical grid and, at the same time, making this space available for a potential new power source in the future."
Entergy Mississippi, formerly Mississippi Power & Light Company, has been in operation for nearly 95 years. During that time, the company has owned and operated numerous natural gas-fired generating plants, as well as Grand Gulf Nuclear Station. As the older plants, such as Delta Steam Electric Station, reach the end of their natural lives the company has taken numerous steps to replace their generating capacity:
Upgraded Grand Gulf Nuclear Station in 2012 to increase its output to more than 1,440 megawatts.
Purchased additional output from Entergy Arkansas in 2012.
Successfully won approval from the U.S. Nuclear Regulatory Commission to extend the license to operate the plant through 2044.
Launched a solar pilot project in 2015 that includes three installations that provide 500 kilowatts of power each and are teaching us how to best utilize this renewable resource in our service area.
Joined the Midwest Independent Transmission System Operator, a regional transmission organization, in 2013. MISO operates sophisticated markets for the purchase and sale of electricity, and membership is expected to result in $1.4 billion in savings to Entergy customers in the first decade.
Purchased the Hinds Energy Facility in Jackson in 2012, a modern 450-megawatt, combined-cycle natural gas turbine unit.
Purchased the Attala Plant in Sallis in 2006, a modern 457-megawatt, combined-cycle natural gas turbine unit.
Entergy Mississippi, Inc. provides electricity to approximately 445,000 customers in 45 counties. Entergy Corporation is an integrated energy company engaged primarily in electric power production and retail distribution operations. Entergy owns and operates power plants with approximately 30,000 megawatts of electric generating capacity, including nearly 9,000 megawatts of nuclear power. Entergy delivers electricity to 2.9 million utility customers in Arkansas, Louisiana, Mississippi and Texas. Entergy has annual revenues of approximately $10.8 billion and nearly 13,000 employees.
-30-
---