News Center > Entergy Mississippi Kicks Off Super Tax Day on Super Bowl Weekend
For Immediate Release
Entergy Mississippi Kicks Off Super Tax Day on Super Bowl Weekend
01/26/2017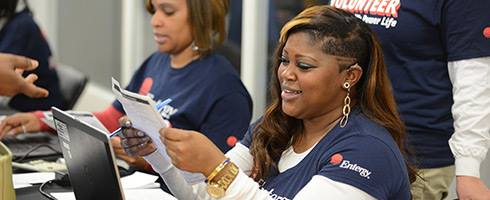 JACKSON, Mississippi – On Super Bowl weekend, volunteers with Entergy Mississippi, Jackson Asset Building Coalition and United Way are kicking off the tax season by making sure the big winners are local customers who claim their Earned Income Tax Credit.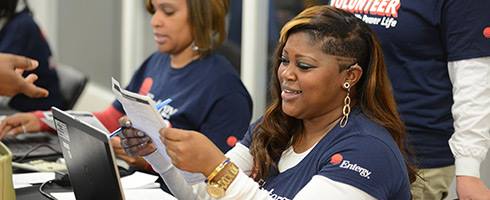 On Super Tax Day, scheduled for Feb. 4 at Jackson's MetroCenter Mall, these trained volunteers are providing free tax preparation for working families. MetroCenter Mall is also a partner in the event.
"Providing assistance in securing Earned Income Tax Credits through Super Tax Day events helps our customers and our communities," said Amy Reed, Entergy Mississippi public affairs representative. "Super Tax Day offers long-term benefits that help power customers' lives now and in the future. This Super Bowl weekend, visitors to our Volunteer Income Tax Assistance sites will be the real winners."
Entergy's support of the VITA program in the four states the utility serves – Arkansas, Louisiana, Mississippi and Texas – has resulted in approximately 93,000 customers receiving $162 million through the EITC program since 2011. In Mississippi, more than 18,800 residents have received nearly $41.4 million since Entergy Mississippi launched the program by partnering with local advocates six years ago.
To learn more about Entergy's support of Super Tax Days, please visit entergy.com/freetaxhelp.
Entergy Mississippi, Inc. provides electricity to approximately 445,000 customers in 45 counties. It is a subsidiary of Entergy Corporation. Entergy Corporation is an integrated energy company engaged primarily in electric power production and retail distribution operations. Entergy owns and operates power plants with approximately 30,000 megawatts of electric generating capacity, including nearly 10,000 megawatts of nuclear power. Entergy delivers electricity to 2.8 million utility customers in Arkansas, Louisiana, Mississippi and Texas. Entergy has annual revenues of more than $11.5 billion and more than 13,000 employees.
-30-
entergy-mississippi.com
twitter.com/EntergyMS
facebook.com/EntergyMS
---