News Release > Entergy Mississippi welcomes new executive team members
For Immediate Release
Entergy Mississippi welcomes new executive team members
07/13/2023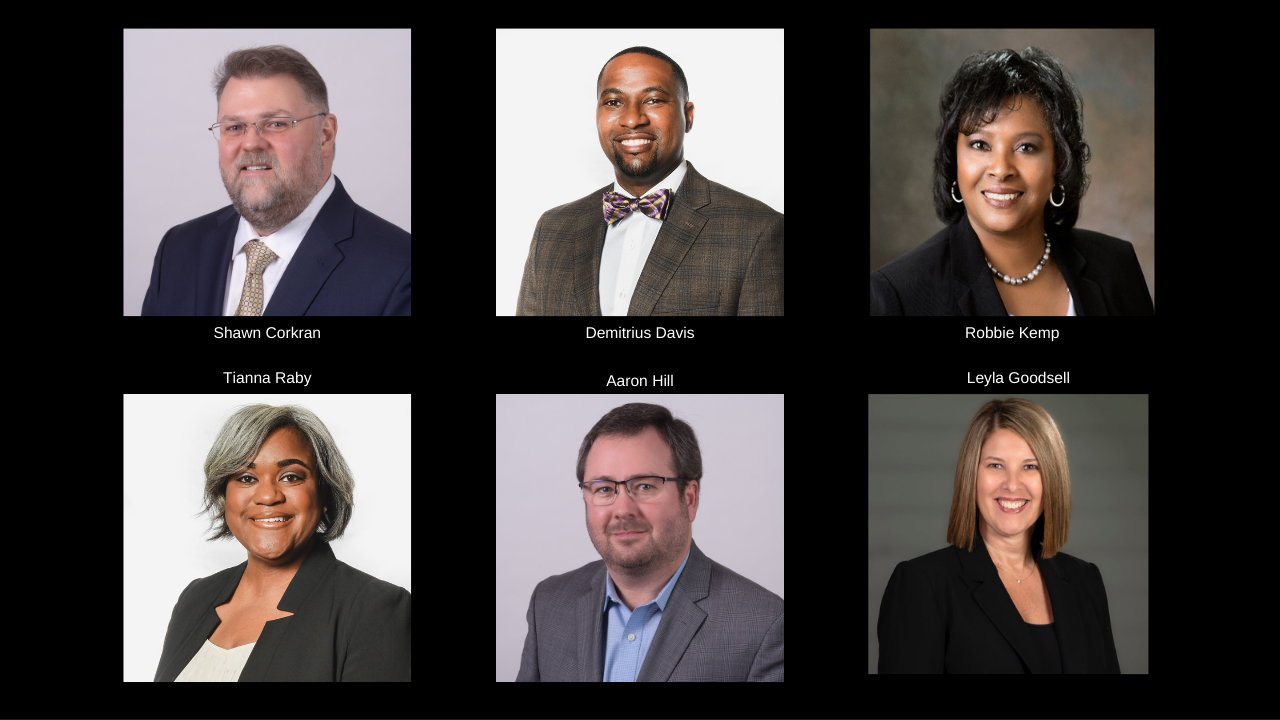 Leaders usher company into 100th anniversary and premier utility status
JACKSON, Miss. – Entergy Mississippi has appointed six new experts to its lead team, collectively bringing more than 130 years of knowledge ranging from operations to customer service to the company. The team comes together amid the company's centennial, emphasizing Entergy's strong legacy in Mississippi and unique industry position to grow sustainable value for its stakeholders.
New executive members include Vice President of Reliability Shawn Corkran, Vice President of Power Plant Operations Demitrius Davis, Vice President of Customer Service Robbie Kemp, Assistant General Counsel Tianna H. Raby, Director of Resource Planning and Market Operations Aaron Hill, and Communications Manager Leyla Goodsell.
The group sits alongside President and CEO Haley Fisackerly, Vice President of Public Affairs John Arledge, Vice President of Regulatory Affairs Jeremy Vanderloo, Director of Business and Economic Development Ed Gardner and Director of Finance David A. Gibbs, CPA.
"With these new additions to our lead team, our organization is more than prepared to step into our next century as the premier utility," said Haley Fisackerly, Entergy Mississippi president and CEO. "Our workforce is focused on providing our customers with affordable and reliable energy, and this team has the strength and innovation to steer them."
Corkran is responsible for overseeing safety, operations, construction, reliability improvement, engineering, asset planning, distribution dispatching, meter services, contract management, and emergency restoration for the company's transmission and distribution systems. Since 1992, he has held several technical and leadership positions with Entergy in Louisiana and Texas.
Davis has overall responsibility for safely managing and operating Mississippi's non-nuclear power plants. Previously, he served as vice president of operations support. In that role, he was responsible for all technical and commercial support functions required to safely operate, maintain and optimize the performance of power generation's fleet. Davis joined the company in 2020. 
Kemp's career with Entergy spans more than 36 years. In her current role, she is responsible for driving strategies to improve customer centricity and overseeing customer service for the entire Entergy Mississippi territory. Additionally, she engages in cultivating and maintaining relationships with elected officials, key community constituents, civic organizations, and commercial, governmental, and industrial business leaders.
Raby oversees regulatory legal matters for Entergy Mississippi. She joined Entergy in 2014 as senior counsel in the litigation group of the legal department and in 2017 was named managing counsel. While in litigation, she managed casualty and commercial ligation matters. Prior to her career at Entergy Mississippi, Raby was a partner in the Jackson office of a civil litigation defense firm. 
Hill's focus is the planning of fuel, generation, transmission, and operations in the MISO energy market for Entergy Mississippi. He joined Entergy in 2001, and he has served in various leadership roles at the company. In addition to resource planning, his areas of specialty include transmission and distribution planning, regulatory support, project management, and renewable integration.
Goodsell leads strategic planning of executive, internal and external communications. She joined Entergy Mississippi's communications team in 2017 responsible for implementing internal communications and social media strategies.
Many of the new team assumed their positions after their predecessors retired from the company in late 2022. 
About Entergy Mississippi
Entergy Mississippi, LLC provides electricity to approximately 461,000 customers in 45 counties. Entergy Mississippi is a subsidiary of Entergy Corporation, a Fortune 500 electric company. Entergy powers life for 3 million customers through our operating companies in Arkansas, Louisiana, Mississippi and Texas. We're investing in the reliability and resilience of the energy system while helping our region transition to cleaner, more efficient energy solutions. With roots in our communities for more than  , Entergy is a nationally recognized leader in sustainability and corporate citizenship. Since 2018, we have delivered more than $100 million in economic benefits each year to local communities through philanthropy, volunteerism and advocacy. Entergy is headquartered in New Orleans, Louisiana, and has approximately 12,000 employees. For the latest news from Entergy, visit the Newsroom.
---