News Release > Entergy New Orleans announces "Operation: Gridiron," making New Orleans grid stronger
For Immediate Release
Entergy New Orleans announces "Operation: Gridiron," making New Orleans grid stronger
10/17/2023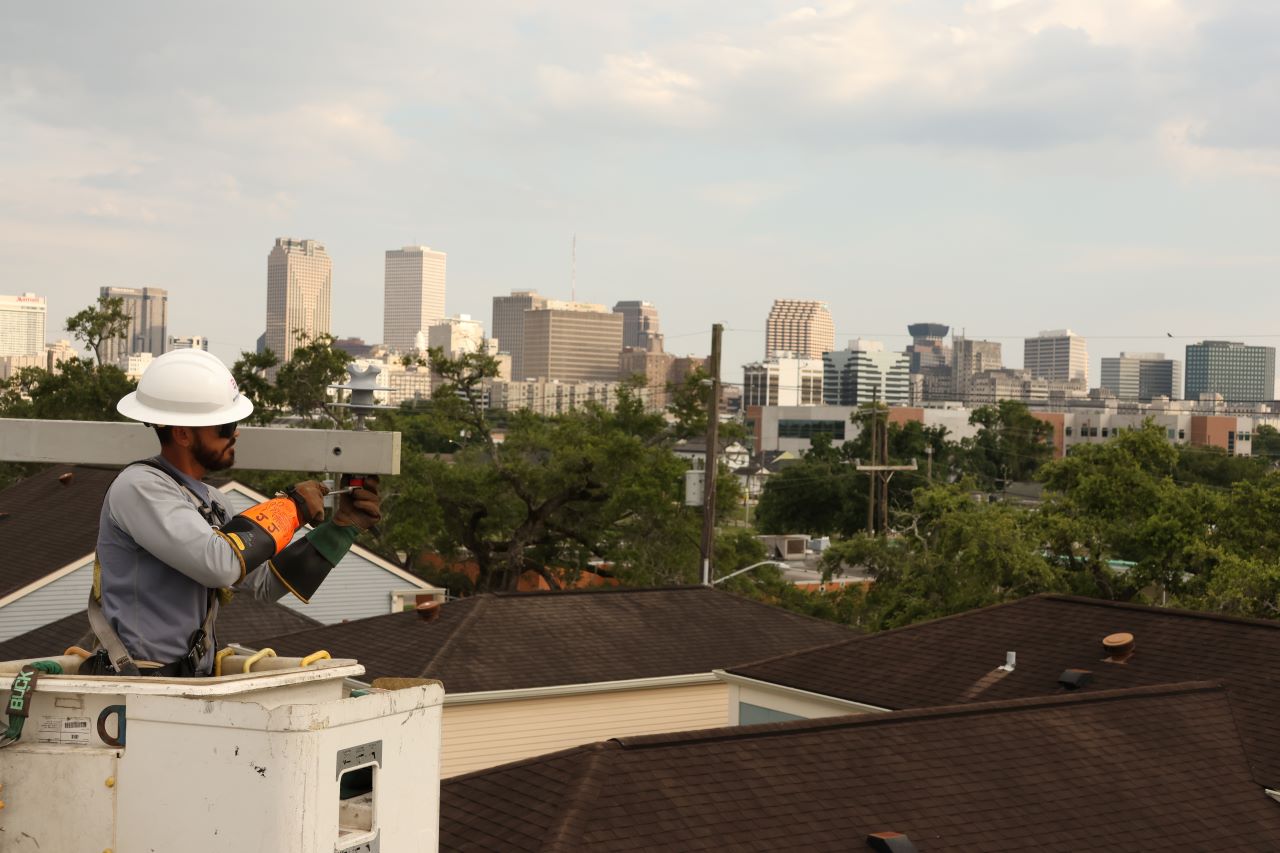 Proposed $1B investment will cut outage times by half
NEW ORLEANS – Entergy New Orleans President and CEO Deanna Rodriguez today announced the launch of "Operation Gridiron", an ambitious power infrastructure program designed to make the city's grid stronger and to better prepare our community for more frequent, stronger storms.
"In the coming weeks, you will see 'Operation: Gridiron' signs popping up all over the City," said Rodriguez. "Each of these signs marks the location of projects that will strengthen our energy infrastructure in these neighborhoods to enable us to keep the lights on longer when a storm hits, and to restore power more quickly when it is disrupted."
The "Operation: Gridiron" (OGI) plan was developed in response to a request by the New Orleans City Council following Hurricane Ida in 2021. The proposal is before the City Council for their consideration and approval.
If approved, Operation: Gridiron will provide New Orleans with one of the most storm-ready power infrastructures in the United States. Under this plan, Entergy will be:
Investing $1 billion in our grid over 10 years in two, 5-year phases
Cutting outage times by more than half and saving customers millions of dollars
Upgrading thousands of poles to withstand 150 mph winds
Hardening 650 miles of power lines  
Performing responsible work with full transparency, empowering the community to hold us accountable for the work being done
Entergy will be meeting directly with residents in the coming weeks at town hall events in each council district, beginning tonight at Dillard University in District D.
To learn more about "Operation: Gridiron" and to view improvement projects planned for specific neighborhoods, visit entergyneworleans.com/townhalls.
About Entergy New Orleans 
Entergy New Orleans, LLC provides electricity to approximately 211,000 customers and natural gas to approximately 109,000 customers in Orleans Parish, Louisiana. Entergy New Orleans is a subsidiary of Entergy Corporation, a Fortune 500 electric company. Entergy powers life for 3 million customers through our operating companies in Arkansas, Louisiana, Mississippi and Texas. We're investing in the reliability and resilience of the energy system while helping our region transition to cleaner, more efficient energy solutions. With roots in our communities for more than 100 years, Entergy is a nationally recognized leader in sustainability and corporate citizenship. Since 2018, we have delivered more than $100 million in economic benefits each year to local communities through philanthropy, volunteerism and advocacy. Entergy is headquartered in New Orleans, Louisiana, and has approximately 12,000 employees. For the latest news from Entergy, visit the Newsroom.
---