News Center > Entergy New Orleans Customers to Benefit from Fully Funded Storm Reserve
For Immediate Release
Entergy New Orleans Customers to Benefit from Fully Funded Storm Reserve
08/12/2015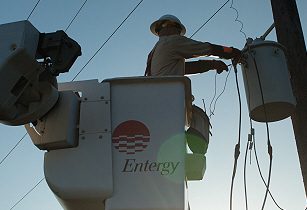 Savings passed along to customers from low-interest, securitized bonds
NEW ORLEANS -- To minimize the financial impact of a major storm restoration on customers and provide a ready source of cash to pay for storm costs, Entergy New Orleans has fully funded its storm reserve through the issuance of low-interest, securitized bonds.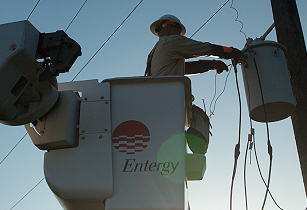 The electric storm reserve, which was established by the New Orleans City Council in 2007, now has a balance of $75 million and enhances Entergy New Orleans' liquidity by providing an immediately accessible pool of money for continuing operations and paying vendors should a major storm devastate the area. Less than 10 states around the country have authorized the use of storm reserve accounts.
"By using the available cash in storm reserves, utilities do not have to take on the financial burden of carrying storm-recovery costs or ask regulators for approval to recover those costs from customers at a later date," said Gary Huntley, vice president of regulatory affairs for Entergy New Orleans. "And since the bonds have a low interest rate, those savings are passed along to customers."
A total of $98.7 million in securitized bonds was issued on July 22, 2015. Not only was the electric storm reserve fully funded, but the rest will go toward remaining unrecovered costs from Hurricane Isaac and upfront financing costs associated with securitization.
"Securitization significantly reduces the impact of storm costs on customers by spreading them out over several years," Huntley said. "Without it, storm costs would have to be recovered from customers through a rate proceeding at the utility's average rate of return."
With regard to the portion that pertains to the company's storm reserve, securitization results in estimated customer savings of $32 million. With regard to the portion that pertains to the company's remaining Isaac storm costs, securitization results in estimated customer savings of $24.4 million.
As a result of the securitization approved by the City Council in May 2015, Entergy New Orleans is replacing the electric "Emergency Storm Reserve Fund" with the new "Storm Securitization Rider" on customer bills and is completely eliminating the "Emergency Storm Reserve Fund" line item from the bills of all Entergy New Orleans gas customers.
"The billing line-item change will begin this month and last for 10 years," Huntley said. "Since the cost is spread out, a typical electric residential customer using 1,000 kWh of electricity can expect to see an estimated increase of only $1.10 per month."
Entergy New Orleans, Inc. is an electric and gas utility that serves Louisiana's Orleans Parish. The company provides electricity to more than 172,000 customers and natural gas to some 105,000 customers. Entergy New Orleans is a subsidiary of Entergy Corporation.
Entergy Corporation is an integrated energy company engaged primarily in electric power production and retail distribution operations. Entergy owns and operates power plants with approximately 30,000 megawatts of electric generating capacity, including nearly 10,000 megawatts of nuclear power, making it one of the nation's leading nuclear generators. Entergy delivers electricity to 2.8 million utility customers in Arkansas, Louisiana, Mississippi and Texas. Entergy has annual revenues of more than $12 billion and approximately 13,000 employees.
-30-
entergyneworleans.com
facebook.com/EntergyNOLA
Twitter: @EntergyNOLA
---