News Center > Entergy New Orleans Files Application to Construct Rooftop Solar Systems
For Immediate Release
Entergy New Orleans Files Application to Construct Rooftop Solar Systems
10/09/2017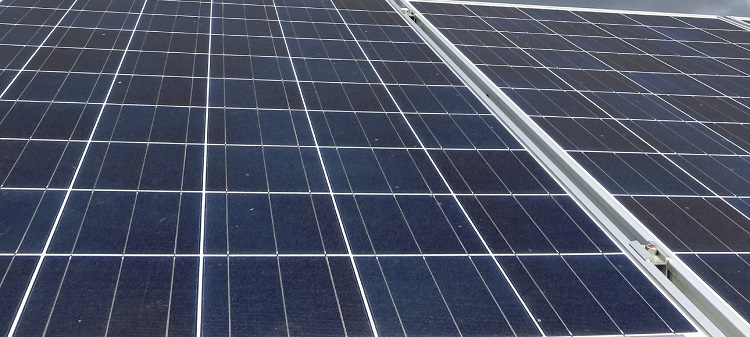 CONTACT
Yolanda Pollard
(504) 576-4132
ypollar@entergy.com
Charlotte J. Cavell
(504) 576-4132
ccavell@entergy.com
Existing buildings and properties to be utilized in land-constrained Orleans Parish
NEW ORLEANS – Entergy New Orleans, Inc. filed an application with the New Orleans City Council on Friday, Oct. 6 seeking approval of a project to construct 5 megawatts of commercial-scale rooftop solar systems as part of its commitment to pursue up to 100 MW of renewable resources. In May 2017, Entergy New Orleans selected three proposals from its 2016 Renewables RFP totaling approximately 45 MW, and the company will continue working towards the full 100 MW.
The project proposed in the application involves constructing multiple distributed generation-scale solar systems on identified rooftops in Orleans Parish. The project will use existing buildings and properties, including customer-owned sites that will be secured under long-term leases, as well as one company-owned site that will serve as a demonstration project.
"Installing rooftop solar systems makes sense for us to pursue due to land constraints within Orleans Parish," said Charles Rice, president and CEO of Entergy New Orleans. "While expansive tracts of open land may be available to build a larger-scale solar project in other parts of the country, it just isn't as feasible here due to higher costs and wetlands issues. That's why we're pursuing several different solar resources, including this project."
Future additions of solar resources will complement the company's 1 MW solar pilot project in New Orleans East that was put into service last year, which integrates state-of-the-art battery-storage technology.
In addition to helping the company achieve its 100 MW commitment, several other potential benefits of the rooftop solar project include:
allowing Entergy New Orleans to gain additional real-world experience with operating and maintaining these systems;
siting the generating resources in Orleans Parish, near the load they will serve;
assessing possible opportunities for siting projects to better achieve distribution grid benefits;
being able to facilitate possible future energy-storage (battery) investments;
economic development benefits to Orleans Parish through increased local investment and use of local labor;
use of existing rooftops means that land is not taken out of commerce for other economic development purposes; and
allowing Entergy New Orleans to work directly with its customers to help achieve their goals around sustainability and/or carbon reduction.
"As I've said before, we're committed to including renewable technologies in our generation portfolio, but it has to be done in a manner that allows us to maintain reliability while keeping costs as low as possible for our customers," said Rice. "We believe the rooftop solar project will further diversify our generation portfolio while allowing us to engage with our customers in new and different ways, and we look forward to working with the city council and other stakeholders to move it forward."
Entergy New Orleans, Inc. is an electric and gas utility that serves Louisiana's Orleans Parish. The company provides electricity to more than 198,000 customers and natural gas to more than 106,000 customers. Entergy New Orleans is a subsidiary of Entergy Corporation.
Entergy Corporation is an integrated energy company engaged primarily in electric power production and retail distribution operations. Entergy owns and operates power plants with approximately 30,000 megawatts of electric generating capacity, including nearly 9,000 megawatts of nuclear power. Entergy delivers electricity to 2.9 million utility customers in Arkansas, Louisiana, Mississippi and Texas. Entergy has annual revenues of approximately $10.8 billion and nearly 13,000 employees.
-30-
entergyneworleans.com
facebook.com/EntergyNOLA
Twitter: @EntergyNOLA
---