News Center > Entergy New Orleans Welcomes Algiers Electric Customers
For Immediate Release
Entergy New Orleans Welcomes Algiers Electric Customers
09/01/2015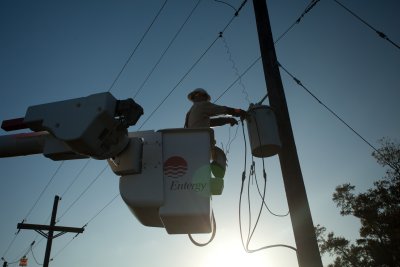 Algiers gas customers already part of Entergy New Orleans will continue to receive service
NEW ORLEANS -- As of today, Entergy New Orleans, Inc. welcomes some 22,500 electric customers in Algiers that were previously served by Entergy Louisiana, LLC.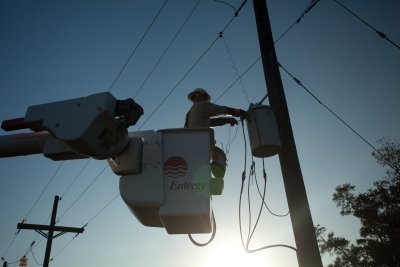 This Sept. 1 transfer of Algiers electric customers from Entergy Louisiana to Entergy New Orleans was approved by the New Orleans City Council on May 14, 2015, and consolidates electric service for all Orleans Parish customers into one company operating under the council's sole retail regulatory jurisdiction. Entergy Louisiana is regulated by the Louisiana Public Service Commission.
"Since Algiers is in Orleans Parish and we already provide residents with gas service, it makes sense that we would provide them with electric service too. We're glad they're now part of our area," said Charles Rice, president and CEO of Entergy New Orleans. "The transaction will be seamless for customers and will not affect day-to-day utility operations for any of our new or existing customers on the east or west banks of Orleans."
Although they are now under the Entergy New Orleans umbrella, Algiers customers will continue on the rate path set by the council on July 10, 2014, when it approved the Algiers rate case settlement that included an increase in base rates spread over four years through 2017. They also will notice Entergy New Orleans rather than Entergy Louisiana at the top of their electric bills. What's more, they will see a council-authorized "Storm Securitization Rider" that will allow them to be part of the fully funded $75 million Entergy New Orleans storm reserve – a fund that provides an immediately accessible pool of money for continuing operations and paying vendors should a major storm devastate the area.
Since first approaching the council about the transfer last fall, both Entergy New Orleans and Entergy Louisiana have kept all Orleans Parish customers informed through multiple communications channels and community meetings.
"We want to assure everyone that the level and quality of service our customers receive won't change," said Rice. "The same dedicated employees who have served them in the past will continue to serve them in the future. Our east and west bank Customer Care Centers are still open. Consolidating utility service in New Orleans simply streamlines the regulatory process, saving time and resources for both the companies and the council."
Entergy New Orleans, Inc. is an electric and gas utility that serves Louisiana's Orleans Parish. The company provides electricity to more than 194,000 customers and natural gas to some 105,000 customers. Entergy New Orleans is a subsidiary of Entergy Corporation.
Entergy Corporation is an integrated energy company engaged primarily in electric power production and retail distribution operations. Entergy owns and operates power plants with approximately 30,000 megawatts of electric generating capacity, including nearly 10,000 megawatts of nuclear power, making it one of the nation's leading nuclear generators. Entergy delivers electricity to 2.8 million utility customers in Arkansas, Louisiana, Mississippi and Texas. Entergy has annual revenues of more than $12 billion and approximately 13,000 employees.
-30-
entergyneworleans.com
facebook.com/EntergyNOLA
Twitter: @EntergyNOLA
---