News Release > Entergy's new partnership to address the racial wealth gap, empower HBCU students for future success
For Immediate Release
Entergy's new partnership to address the racial wealth gap, empower HBCU students for future success
11/15/2023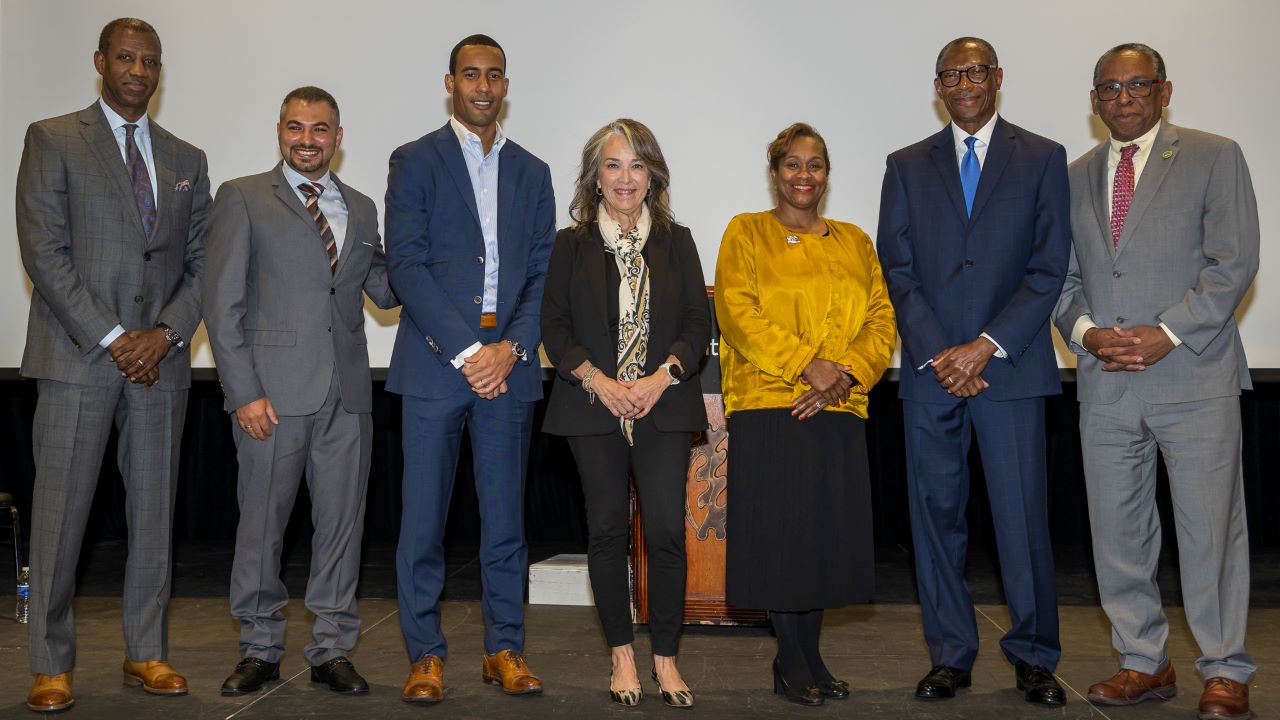 Pilot program will provide students at Dillard, SUNO and Xavier access to financial aid, resources and investment accounts to build a brighter, more prosperous tomorrow
NEW ORLEANS – At a press conference today, Entergy launched a new initiative – The Power of Prosperity – a partnership with Single Stop and Stackwell to support Historically Black College and University, or HBCU, students to ensure their success and position them to build generational wealth. The Power of Prosperity initiative will be offered free of charge to 1,500 freshmen and first-year transfer students at Dillard University, Southern University at New Orleans and Xavier University of Louisiana through a $700,000 donation provided by Entergy shareholders to the university partners. The program is being launched as a one-year pilot for HBCUs in Orleans parish, with plans to expand to other HBCUs in Entergy's service territory in the future.
"We are proud to stand with Dillard, Southern and Xavier University to launch The Power of Prosperity initiative," said Deanna Rodriguez, president and CEO of Entergy New Orleans. "Entergy is committed to fostering the success of our region's HBCUs. This partnership with Single Stop and Stackwell will help close the racial wealth gap by connecting scholars with the resources to succeed academically and begin building generational wealth. We are confident their success will make a positive impact on the community we serve."
The Power of Prosperity program will help remove barriers to students' academic success by providing students and their families with free access to financial support and resources through Single Stop. Single Stop is a national nonprofit that combats poverty and promotes economic mobility by connecting individuals to available resources through their "one-stop shop" platform. A study conducted by The RAND Corporation found that college students who used Single Stop services, including its tax services, have a 15% higher rate of academic persistence than their peers. On average, families served by Single Stop are eligible for benefits and supports valued at more than $17,000.
Watch the news conference
"We are honored to join forces with Entergy in this significant initiative," said Martin Hanna, president and CEO of Single Stop. "Single Stop is steadfast in its commitment to empowering students and communities by providing seamless access to crucial public benefits and community resources. Incorporating our comprehensive platform into this effort is a pivotal move towards equipping students and their families with the support needed for lasting economic stability."
The second component of The Power of Prosperity is designed to equip students with the knowledge and tools to begin building generational wealth. Students will be provided with $100 seeded investment accounts and access to financial literacy education and coaching through a partnership with Stackwell Capital, a digital investment platform designed to help close the racial wealth gap by empowering more people in the Black community to leverage the power of the stock market to grow their wealth.
"At Stackwell, we believe that in order to do groundbreaking work, you have to be on the ground," said Trevor Rozier-Byrd, founder and CEO at Stackwell. "We are excited to further our investment in the New Orleans community through The Power of Prosperity initiative in partnership with Entergy and Single Stop. This initiative is a testament to our collective belief in the transformative power of HBCUs and their talented students that will be leaders in our community for generations to come."
The impact of The Power of Prosperity program extends to the broader community with an estimated economic impact of more than $25 million in terms of the added financial aid and investment accounts for students.
With roots in the New Orleans community stretching back over a century, Entergy is dedicated to eradicating poverty and creating opportunities for the community we serve. Entergy recognizes that generational wealth is a foundation for economic stability, access to opportunity and long-term prosperity – and understands the vital role that HBCUs play in shaping the landscape for its students and communities. In recognition of these realities, Entergy's partnership with the HBCUs will help remove barriers to student success, equip them with tools and knowledge and build a path to multigenerational wealth for a brighter tomorrow.
"Recognizing that education alone is not sufficient to close the racial wealth gap, our goal is for students to graduate with a degree and an investment account that will help them build generational wealth," said Rodriguez.
Learn more about Entergy's commitment to building a more diverse, inclusive and equitable workforce in its communities here.
About Entergy
Entergy is a Fortune 500 company that powers life for 3 million customers through our operating companies in Arkansas, Louisiana, Mississippi and Texas. We're investing in the reliability and resilience of the energy system while helping our region transition to cleaner, more efficient energy solutions. With roots in our communities for more than 100 years, Entergy is a nationally recognized leader in sustainability and corporate citizenship. Since 2018, we have delivered more than $100 million in economic benefits each year to local communities through philanthropy, volunteerism and advocacy. Entergy is headquartered in New Orleans, Louisiana, and has approximately 12,000 employees. Learn more at entergy.com and connect with @Entergy on social media. #WePowerLife
About Single Stop
A nonprofit organization founded in 2007, Single Stop's mission is to equip others to build pathways to economic well-being by leveraging partnerships and technology to connect people to valuable resources. By combining their community networks and cutting-edge technology, Single Stop's unique one-stop-shop model helps organizations provide their clients with centralized access to tools essential for building a pathway to a sustainable future.  
Single Stop is a company of The Fedcap Group. Since 1935, The Fedcap Group has developed scalable, innovative, and potentially disruptive solutions to some of society's most pressing needs. The work of The Fedcap Group is structured within four major areas of practice—workforce development, educational services, health services, and economic development—and delivered through a growing number of top-tier companies—each focused on helping people achieve long-term financial well-being.
About Stackwell
Stackwell Capital, Inc., is a leading fintech company that has created a digital investment platform for the Black community. With a mission to eliminate the racial wealth gap in America, Stackwell provides the financial investment tools and guidance necessary to help build lasting wealth, equity, and equal opportunity. Stackwell has developed a unique ecosystem of strategic partners in financial services, higher education, professional sports, and created an ever-growing NIL student-athlete ambassador program. Stackwell was a member of the 2022 Financial Solutions Lab and MassChallenge U.S. Early-Stage accelerator programs. For more information, visit stackwellcapital.com.
---