News Center > Entergy Provides Preliminary Fourth Quarter Earnings Guidance
For Immediate Release
Entergy Provides Preliminary Fourth Quarter Earnings Guidance
01/22/2014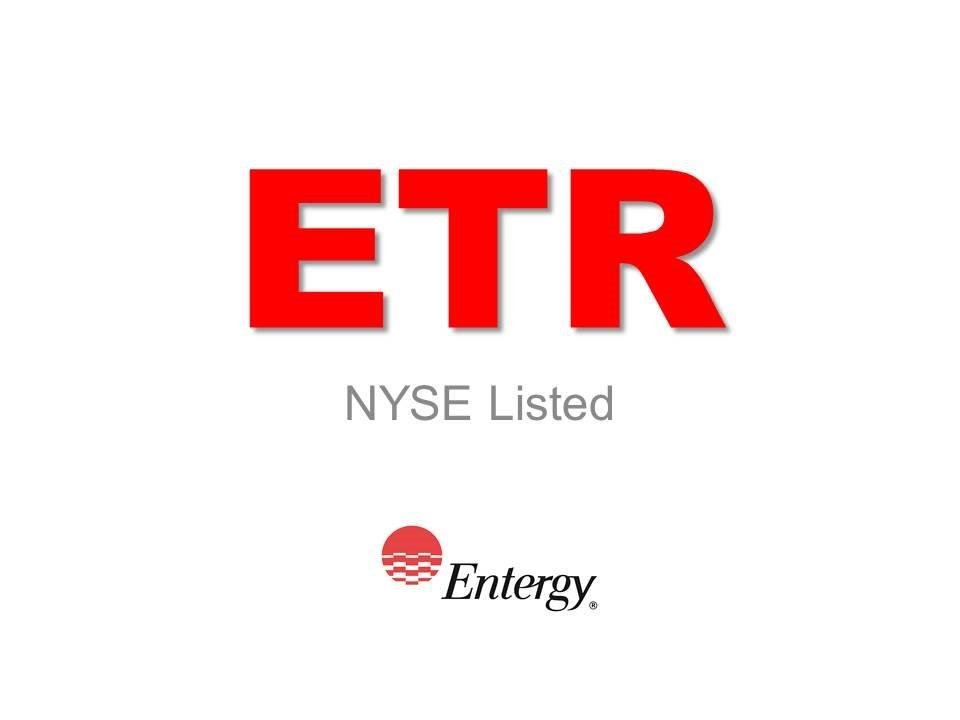 NEW ORLEANS – Entergy Corporation (NYSE: ETR) today indicated that it expects fourth quarter 2013 as-reported earnings of approximately $0.81 per share and operational earnings of approximately $0.99per share. Results for fourth quarter 2012 were $1.66 per share on an as-reported basis and $1.72 per share on an operational basis. Entergy also affirmed previously issued operational earnings guidance for 2014.
As-reported results are prepared in accordance with generally accepted accounting principles (GAAP) and are comprised of operational earnings (described below) and special items. Special items were recorded for:
an impairment and other expenses associated with the planned closure of the Vermont Yankee Nuclear Power Station and the related settlement agreement reached with the state of Vermont in fourth quarter 2013,
expenses for the implementation of the human capital management strategic imperative in fourth quarter 2013, and
expenses to pursue the spin-off and merger of the transmission business in both periods, which were offset in the current quarter by a tax benefit (because the costs became deductible with the termination of the transaction).
As indicated below, income tax is cited as a quarter-over-quarter variance explanation at Utility, Entergy Wholesale Commodities and Parent & Other. On an overall company basis, the effective income tax rate for 2013 was approximately 24 percent, including the tax benefit related to terminating the transmission transaction noted above.
Utility
The decrease in Utility fourth quarter 2013 operational earnings was due primarily to higher income tax expense, as well as higher expenses for non-fuel operation and maintenance, depreciation and other taxes. Both periods reflected income tax benefits. The unfavorable variance was due to a larger tax benefit recognized in fourth quarter 2012 following a settlement with the Internal Revenue Service. These items were partially offset by an increase in Utility net revenue attributable to increased sales volume, including the effects of favorable weather in fourth quarter 2013, and pricing adjustments.
Entergy Wholesale Commodities
The factors driving the quarter-over-quarter increase in operational earnings at Entergy Wholesale Commodities were a gain on the sale of the District Energy business (which closed in November 2013), higher other income and lower income tax expense. These items were partially offset by lower net revenue and higher non-fuel O&M and depreciation expenses.
During fourth quarter 2013, revenues were reduced by mark-to-market activity. As part of an asymmetric and protective risk management hedging strategy, additional financial power sales were conducted in fourth quarter 2013 to offset the exercise of in-the-money call options and to lock in margins. These additional sales did not qualify for hedge accounting treatment, and increases in forward prices after those sales were made accounted for the majority of the negative mark-to-market variance. Entergy further noted that it expects the underlying transactions to result in earnings in first quarter 2014 as these positions settle.
Partially offsetting in net revenue was higher nuclear production due to fewer refueling and unscheduled outage days. There were no fall refueling outages in 2013 compared to 19 refueling days in fourth quarter 2012.
Parent & Other
Parent & Other results were lower due primarily to the income tax expense on the EWC District Energy sale noted above.
Earnings Guidance
Entergy affirmed its previously issued 2014 operational earnings guidance to be in the range of $4.60 to $5.40 per share.
Entergy will report fourth quarter earnings results before the market opens on Tuesday, Feb. 11, 2014, and host a teleconference at 9 a.m. CT that day to discuss the earnings announcement and the company's financial performance. The teleconference may be accessed by dialing (719) 325-2115, confirmation code 6761108, no more than 15 minutes prior to the start of the call or by visiting Entergy's website at www.entergy.com. The presentation slides also will be available on Entergy's website before the market opens on the day of the call. A replay of the teleconference will be available for seven days thereafter by dialing (719) 457-0820, confirmation code 6761108.
Entergy Corporation is an integrated energy company engaged primarily in electric power production and retail distribution operations. Entergy owns and operates power plants with approximately 30,000 megawatts of electric generating capacity, including more than 10,000 megawatts of nuclear power, making it one of the nation's leading nuclear generators. Entergy delivers electricity to 2.8 million utility customers in Arkansas, Louisiana, Mississippi and Texas. Entergy has annual revenues of more than $10 billion and approximately 15,000 employees.
-30-
Additional investor information can be accessed online at 
www.entergy.com/investor_relations.
In this news release, and from time to time, Entergy Corporation makes certain "forward-looking statements" within the meaning of the Private Securities Litigation Reform Act of 1995. Except to the extent required by the federal securities laws, Entergy undertakes no obligation to publicly update or revise any forward-looking statements, whether as a result of new information, future events or otherwise.
Forward-looking statements involve a number of risks and uncertainties. There are factors that could cause actual results to differ materially from those expressed or implied in the forward-looking statements, including (a) those factors discussed in this news release and in: (i) Entergy's most recent Annual Report on Form 10-K, any subsequent Quarterly Reports on Form 10-Q and (ii) Entergy's other reports and filings made under the Securities Exchange Act of 1934; (b) uncertainties associated with rate proceedings, formula rate plans and other cost recovery mechanisms; (c) uncertainties associated with efforts to remediate the effects of major storms and recover related restoration costs; (d) nuclear plant relicensing, operating and regulatory risks, including any changes resulting from the nuclear crisis in Japan following its catastrophic earthquake and tsunami; (e) legislative and regulatory actions and risks and uncertainties associated with claims or litigation by or against Entergy and its subsidiaries; and (f) economic conditions and conditions in commodity and capital markets during the periods covered by the forward-looking statements, in addition to other factors described elsewhere in this release and subsequent securities filings.
---