News Center > Entergy Receives Nuclear Regulatory Commission Approval to Continue Operating Indian Point Unit 3 While Seeking License Renewal
For Immediate Release
Entergy Receives Nuclear Regulatory Commission Approval to Continue Operating Indian Point Unit 3 While Seeking License Renewal
12/09/2015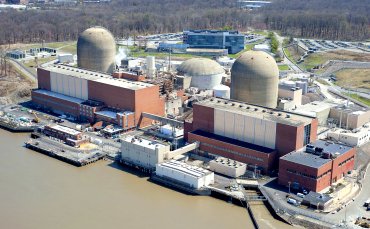 Provides safe, reliable and clean electricity for millions of New Yorkers
BUCHANAN, NY -- Entergy Corporation (NYSE: ETR) has received the federal Nuclear Regulatory Commission's notice that while pursuing license renewal, it can continue to operate the Indian Point nuclear power plant's Unit 3 under its existing license, ensuring clean and safe power for millions of New Yorkers.
Indian Point Unit 3's initial 40-year license would have expired at midnight on Saturday, December 12 had Entergy not applied for a renewed license eight years ago. Entergy can continue to operate the plant under the federal government's "timely renewal" provision and until the NRC makes a final determination on the company's license renewal request.
A final decision on Indian Point's license renewal application is not expected for several years. NRC Staff has spent more than 37,000 hours in thorough reviews and inspections related to Indian Point's license renewal application. The details of the NRC's notice about timely renewal were communicated in a publicly available inspection report issued in late November, which can be viewed here: http://www.safesecurevital.com/pdf/NRC-approval-of-Unit-3-LRC.
Indian Point's economic, environmental and electric grid reliability benefits are numerous. At a time when global leaders are concluding negotiations in Paris on how to combat climate change and when New York State is trying to meet its own and federal clean air goals, Indian Point prevents the emission of approximately 8.5 million tons of carbon dioxide annually, or the equivalent of taking 1.6 million vehicles off the road, while generating about 25 percent of the power used in New York City and Westchester County annually.
The other operating plant at Indian Point, Unit 2, received a similar approval from the NRC in September 2013 prior to it entering the period beyond its initial 40-year license.
Since purchasing the plants, the company has invested more than $1 billion upgrading and enhancing the facility and preparing the plants for continued safe operation during the 20-year period of a renewed operating license.
Entergy will be operating unit 3 in accordance with NRC requirements and license renewal commitments it has made. As always, the NRC will provide continuous oversight through this period.
NRC Staff, in its published Safety Evaluation Report, has recommended that the licenses for the two operating units at Indian Point be renewed for an additional 20 years, noting the plants can be operated safely and that there are no environmental impacts that would preclude license renewal.
Additionally, while not part of the license renewal review, Indian Point's security program is regularly inspected by the NRC. Entergy has invested more than $100 million at IPEC since 9/11 to strengthen security, and its security program meets all NRC performance review and inspection criteria.
Entergy purchased Unit 3 from the New York Power Authority in 2000 and Unit 2 from Con Ed in 2001.
For additional details regarding Indian Point's continued operations visit www.safesecurevital.com.
Entergy Corporation is an integrated energy company engaged primarily in electric power production and retail distribution operations. Entergy owns and operates power plants with approximately 30,000 megawatts of electric generating capacity, including nearly 10,000 megawatts of nuclear power, making it one of the nation's leading nuclear generators. Entergy delivers electricity to 2.8 million utility customers in Arkansas, Louisiana, Mississippi and Texas. Entergy has annual revenues of more than $12 billion and approximately 13,000 employees.
-30-
Entergy's online address is www.entergy.com
---