News Center > Entergy Recognized as One of the 50 Most Community-Minded Companies in the United States
For Immediate Release
Entergy Recognized as One of the 50 Most Community-Minded Companies in the United States
06/16/2021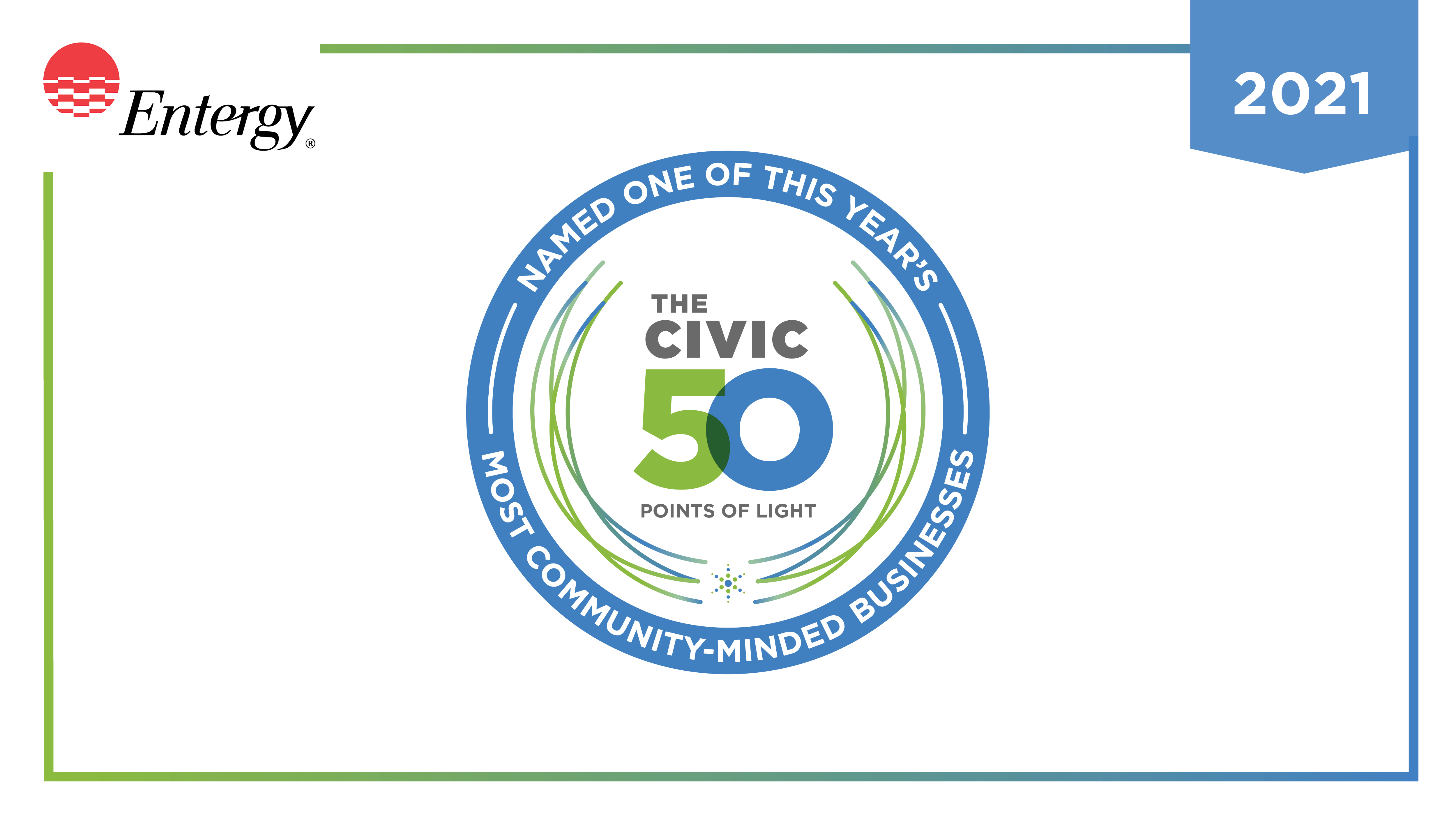 NEW ORLEANS – Points of Light, the world's largest organization dedicated to volunteer service, has named Entergy Corporation as a 2021 honoree of The Civic 50.
For the sixth consecutive year, Entergy has been recognized as one of the 50 most community-minded companies in the United States. The Civic 50 provides a national standard for corporate citizenship and showcases how companies can use their time, skills and resources to drive social impact in their communities and company.
"Our success as a company is inextricably tied to the sustainability and quality of life in the communities we serve," said Patty Riddlebarger, vice president of corporate social responsibility at Entergy. "This recognition is a testament to the commitment and dedication of Entergy employees to power life for the communities where we live and work."
While this recognition reinforces our business strategy to grow a world-class energy business that delivers long-term, sustainable value for our customers, employees, communities and owners, Entergy has long promoted a culture of community involvement and volunteerism.
Through its Community Connector program, Entergy offers 16 hours of volunteer paid time off and volunteer grants, based on the number of hours served, to all employees. Since tracking began in the Community Connectors volunteer portal in April 2008, Entergy employees and retirees have given more than one million hours in volunteer service.
In 2020 alone, Entergy employees and retirees contributed 95,000 volunteer hours valued at $3.4 million. More than 3,600 of the total volunteer hours were dedicated to pro bono service, resulting in $932,000 of in-kind legal services.
"Points of Light believes that corporate leadership and commitment to civic engagement is critical to strengthening communities," said Natalye Paquin, president and CEO, Points of Light. "We thank Entergy for their investment in the communities where they live and work, and look forward to supporting them in leveraging their time, talent and assets to make transformational change."
Since it was launched in 2012, The Civic 50 has provided a roadmap for good corporate citizenship and showcases how committed companies are moving social impact, civic engagement and community to the center of their business. The honorees are companies with annual U.S. revenues of at least $1 billion and are selected based on four dimensions of their corporate citizenship and social impact programs – investment of resources, integration across business functions, institutionalization through policies and systems and impact measurement. To learn more about The Civic 50 and honorees, visit www.Civic50.org.
Entergy shareholders annually contribute $16-$18 million in shareholder-funded grants to approximately 2,000 nonprofit organizations to improve our communities in the areas of education, workforce development, arts, health and environment. To learn more about how Entergy is delivering on its business strategy and powering life throughout the communities we serve, view Entergy's 2020 Integrated Report.
About Entergy Corporation
Entergy Corporation (NYSE: ETR) is an integrated energy company engaged in electric power production, transmission and retail distribution operations. Entergy delivers electricity to 3 million utility customers in Arkansas, Louisiana, Mississippi and Texas. Entergy owns and operates one of the cleanest large-scale U.S. power generating fleets with approximately 30,000 megawatts of electric generating capacity, including 7,000 megawatts of nuclear power. Headquartered in New Orleans, Louisiana, Entergy has annual revenues of $10 billion and more than 13,000 employees. Learn more at entergy.com and follow @Entergy on social media.
-30-
---