News Center > Entergy Repairing Damage to Critical Infrastructure
For Immediate Release
Entergy Repairing Damage to Critical Infrastructure
08/31/2017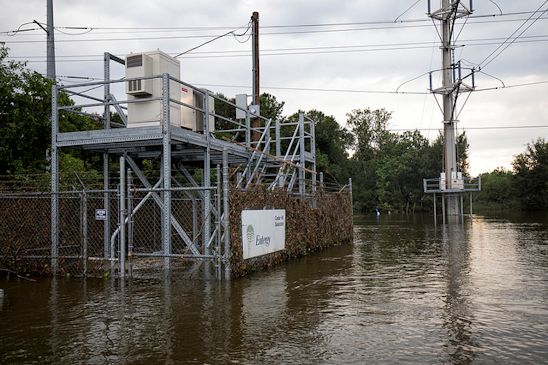 Crews working to restore more than 64,000 customers
BEAUMONT, Texas – Flooding is significantly impacting Entergy Texas' ability to restore power to customers in some areas. Several substations that distribute electric service to many customers over large areas are experiencing outages due to flooding. In addition, multiple transmission lines that feed areas are also affected.
At 1 p.m. about 61,500 customers remained without power. More than 3,300 resources are working on restoration and Entergy has worked around the clock to repair the electrical system so power can be restored. The extensive flooding, combined with repeated damage, prevents us at this time from estimating a time when we will restore power to all customers.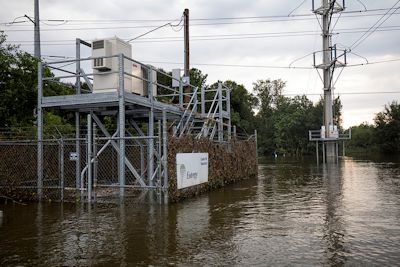 The peak number of outages across our system was 85,000 Wednesday morning. While the company has restored more than 200,000 outages since Hurricane Harvey made landfall a week ago, the flooding from Harvey has caused the outage numbers to remain steady.    
"This event is unprecedented. The continued flooding of the area makes restoration efforts difficult.  We have a number of our facilities, like substations, flooded; additionally, flooded roadways makes it difficult to access areas to begin restoring power," said Vernon Pierce, vice president of customer service for Entergy Texas. "We appreciate everyone's patience as we work to get the power restored to everyone."
High-water vehicles, air boats and helicopters are all being used to get crews into the hardest hit areas to restore power.
For specific information about damage and restoration information for the various locations, visit entergystormcenter.com or visit http://www.etrviewoutage.com/external/tx.aspx
Entergy Texas, Inc. provides electricity to more than 440,000 customers in 27 counties. It is a subsidiary of Entergy Corporation. Entergy Corporation is an integrated energy company engaged primarily in electric power production and retail distribution operations. Entergy owns and operates power plants with approximately 30,000 megawatts of electric generating capacity, including nearly 9,000 megawatts of nuclear power. Entergy delivers electricity to 2.9 million utility customers in Arkansas, Louisiana, Mississippi and Texas. Entergy has annual revenues of approximately $10.8 billion and nearly 13,000 employees.
-30-
Twitter: @EntergyTX
Facebook: Facebook.com/EntergyTX
---