News Center > Entergy Reports Second Quarter Earnings
For Immediate Release
Entergy Reports Second Quarter Earnings
08/02/2016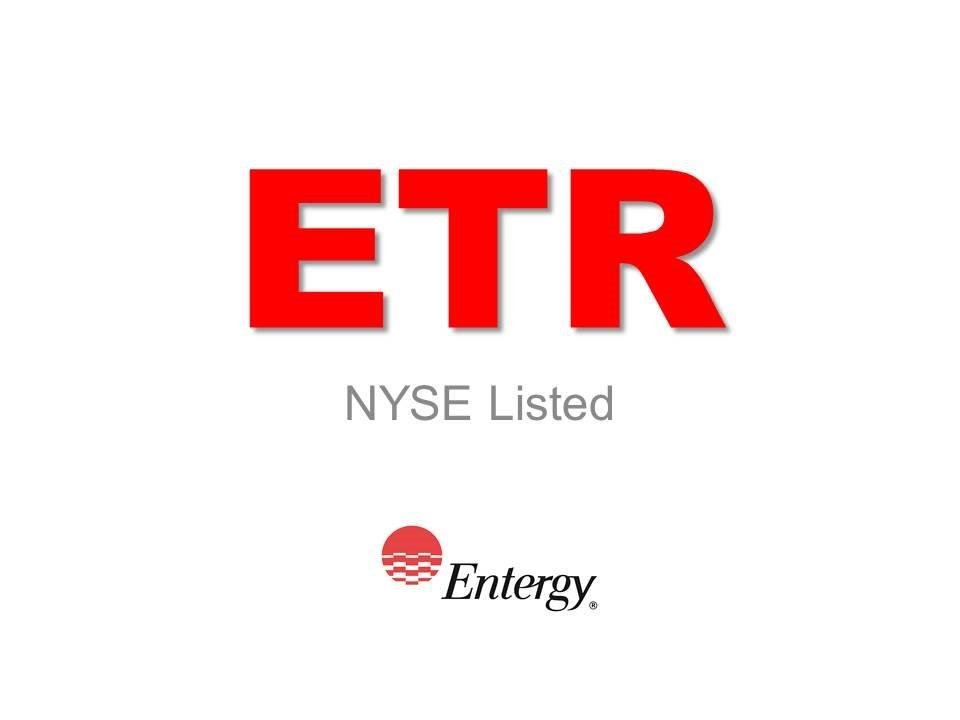 Solid second quarter results position company to meet full year goals
NEW ORLEANS – Entergy Corporation (NYSE: ETR) reported second quarter 2016 earnings per share of $3.16 on an as-reported basis and $3.11 on an operational basis.
Consolidated Earnings (GAAP and Non-GAAP Measures)

Second Quarter 2016 (See Appendix A and Appendix C for reconciliation of GAAP to non-GAAP measures and description of special items)

(Per share in $)

 

 

 

 

Utility, Parent & Other

EWC

Consolidated

As-Reported

1.77

1.39

3.16

  Specials

-

0.05

0.05

Operational

1.77

1.34

3.11

 

 

 

 

Included in As-Reported and Operational:

  Weather

(0.09)

-

(0.09)

  Income Taxes, Net of Sharing

0.68

1.33

2.01

 

 

 

 

Utility, Parent & Other Adjusted

1.18

 

 

 

 

 

 
"We delivered solid results through the first half of the year, and we continue to make progress toward meeting our objective of steady, predictable growth at the Utility while reducing our EWC footprint," said Entergy chairman and chief executive officer Leo Denault. "As-reported earnings for both businesses were higher than expected, with Utility, Parent & Other Adjusted earnings substantially higher than last year and in line with our growth expectations for our core business. We are confident we can deliver on our 2016 commitments, as well as our Utility, Parent & Other long-term outlook."
Business highlights included the following:
Entergy updated its consolidated operational EPS guidance range.
Self-build resources were selected in ELL and ETI RFPs, as well as a PPA for ELL.
EAI filed its first forward test year FRP.
The PUCT approved ETI's TCRF.
Moody's Investors Service upgraded EMI to positive outlook.
Consolidated Earnings (GAAP and Non-GAAP Measures)

Second Quarter and Year-to-Date 2016 vs. 2015 (See Appendix A for reconciliation of GAAP to non-GAAP measures and description of special items)

 

Second Quarter

Year-to-Date

 

2016

2015

Change

2016

2015

Change

As-Reported Earnings ($ in millions)

567.3

148.8

418.5

797.3

446.9

350.4

Less Special Items

9.6

(1.1)

10.7

(3.3)

(5.7)

2.4

Operational Earnings

557.7

149.9

407.8

800.6

452.6

348.0

Weather Impact

(16.3)

(2.9)

(13.4)

(41.8)

11.4

(53.2)

 

 

 

 

 

 

 

As-Reported Earnings (per share in $)

3.16

0.83

2.33

4.45

2.48

1.97

Less: Special Items

0.05

-

0.05

(0.02)

(0.03)

0.01

Operational Earnings

3.11

0.83

2.28

4.47

2.51

1.96

Weather Impact

(0.09)

(0.02)

(0.07)

(0.23)

0.06

(0.29)

 

 

 

 

 

 

 
Totals may not foot due to rounding
Consolidated Results 
Second quarter 2016 EPS were $3.16 on an as-reported basis and $3.11 on an operational basis, compared to second quarter 2015 as-reported and operational EPS of 83 cents. Current period results were favorably impacted by income tax items, which resulted from resolution of previous positions at Utility, as well as a tax election at EWC. Summary discussions by business are below.
Additional details, including information on operating cash flow by business, are provided in Appendix A and a comprehensive analysis of quarterly and year-to-date variances is provided in Appendix B.
Utility, Parent & Other Results
For second quarter 2016, Utility, Parent and Other EPS were $1.77 on an as-reported basis and $1.18 on an adjusted basis. In comparison, second quarter 2015 as-reported EPS were 85 cents and adjusted EPS were 87 cents. The current period results reflected growth in the Utility business, including effects of new rate actions that recover investments and improve returns, as well as income tax items recorded during the quarter.
Utility, Parent & Other second quarter 2016 results included income tax items for resolution of previous positions, which drove 68 cents EPS for income taxes, net of a reserve of approximately 6 cents for guaranteed customer sharing. Weather was milder than normal in both the current and prior periods, with the earnings effect more negative in second quarter 2016 compared to 2015.
Net revenue increased quarter-over-quarter driven by the Union acquisition and EAI's 2015 rate case. Revenue increases for the Union acquisition included amounts to recover operating expenses for the asset.  Industrial sales growth also contributed to the increase in net revenue.
Industrial sales were higher on continued growth for new and expansion customers as well as higher sales to existing customers. New and expansion customers across several sectors continued to operate, ramp up and come online.  For existing customers, petroleum refiners comprised the majority of that increase as they continued to operate at high capacity levels compared to last year.
Utility non-fuel O&M was lower than second quarter 2015 due partly to lower pension and OPEB expenses. Fossil spending was also lower due to outage scope, partially offset by spending for Union, which was acquired earlier this year. 
Appendix C contains additional details on Utility financial and operational measures, including a schedule of Utility, Parent & Other Adjusted EPS calculations which exclude special items and weather and normalizes income taxes.
Entergy Wholesale Commodities Results
EWC earned $1.39 per share on an as-reported basis and $1.34 per share on an operational basis for second quarter 2016. EWC recorded a 2 cents per share loss in second quarter 2015 on both an as-reported basis and an operational basis.
The EWC quarter-over-quarter increase was due largely to income tax items recorded in the current quarter, which increased EPS $1.33. Current quarter results were also affected by 2015 impairments, which reduced fuel, non-fuel O&M and depreciation expenses, as well as spent nuclear fuel litigation proceeds (a portion of which was considered "special" as discussed below). Conversely, net revenue declined as a result of lower energy and capacity prices as well as lower volume which resulted from the extended refueling outage at Indian Point 2.
EWC second quarter 2016 as-reported EPS included 5 cents for special items resulting from the decisions to close certain nuclear plants. These special items included 12 cents for a portion of litigation proceeds received from the DOE in connection with capitalized spent nuclear fuel storage costs that were previously impaired and written off, partially offset by 7 cents for severance and retention costs and capital that was expensed because the plants are impaired.
Appendix D contains additional details on EWC financial and operational measures, including a schedule of EWC Operational Adjusted EBITDA calculations.
Earnings Guidance
Entergy updated its 2016 operational guidance to be $6.60 to $7.40 per share and affirmed its Utility, Parent & Other Adjusted EPS guidance range of $4.20 to $4.50. The updated guidance range for Entergy includes tax benefits recorded in second quarter 2016, year-to-date weather, the extended outage at Indian Point 2 and lower commodity prices. See webcast presentation slides for additional details.
The company has provided 2016 earnings guidance with regard to the non-GAAP measures operational earnings per share and Utility, Parent and Other Adjusted EPS. These measures exclude from the corresponding GAAP financial measures the effect of special items, which are non-routine items, such as impairment charges, gains or losses on asset sales, and other gains or losses occurring as a result of strategic decisions such as the company's recent decisions to shut down certain of its nuclear plants. Consistent with SEC rules, the company has not provided a reconciliation of such non-GAAP guidance to guidance presented on a GAAP basis because it cannot reasonably estimate all of the special items that may occur for the periods presented. The company's current estimate for special items in 2016 relates to the decisions to close certain nuclear plants and for DOE litigation awards for those plants; those anticipated special items total approximately 35 cents per share. Other special items may occur during the periods presented, the impact of which cannot reasonably be estimated at this time.
Earnings Teleconference
A teleconference will be held at 10 a.m. CT on Tuesday, August 2, 2016, to discuss Entergy's second quarter earnings announcement and the company's financial performance. The teleconference may be accessed by visiting Entergy's website at www.entergy.com or by dialing (855) 893-9849, conference ID 85416349, no more than 15 minutes prior to the start of the call. The webcast slide presentation is also posted to Entergy's website concurrent with this release, which was issued before market open on the day of the call. A replay of the teleconference will be available on Entergy's website at www.entergy.com and by telephone. The telephone replay will be available through August 9, 2016, by dialing (855) 859-2056, conference ID 85416349. This release and the webcast slide presentation are also available on the Entergy Investor Relations mobile web app at iretr.com.
Entergy Corporation is an integrated energy company engaged primarily in electric power production and retail distribution operations. Entergy owns and operates power plants with approximately 30,000 megawatts of electric generating capacity, including nearly 10,000 megawatts of nuclear power. Entergy delivers electricity to 2.8 million utility customers in Arkansas, Louisiana, Mississippi and Texas. Entergy has annual revenues of approximately $11.5 billion and more than 13,000 employees.
Entergy Corporation's common stock is listed on the New York and Chicago exchanges under the symbol "ETR."
Details regarding Entergy's results of operations, regulatory proceedings and other matters are available in this earnings release, a copy of which will be filed with the SEC, and the webcast slide presentation. Both documents are available on Entergy's Investor Relations website at www.entergy.com/investor_relations and on Entergy's Investor Relations mobile web app at iretr.com.
-30-
Cautionary Note Regarding Forward-Looking Statements  
In this news release, and from time to time, Entergy Corporation makes certain "forward-looking statements" within the meaning of the Private Securities Litigation Reform Act of 1995. Such forward-looking statements include, among other things, Entergy's 2016 earnings guidance, its current financial and operational outlook, and other statements of Entergy's plans, beliefs or expectations included in this news release. Except to the extent required by the federal securities laws, Entergy undertakes no obligation to publicly update or revise any forward-looking statements, whether as a result of new information, future events or otherwise.
 
Forward-looking statements are subject to a number of risks, uncertainties and other factors that could cause actual results to differ materially from those expressed or implied in such forward-looking statements, including (a) those factors discussed elsewhere in this news release and in Entergy's most recent Annual Report on Form 10-K, any subsequent Quarterly Reports on Form 10-Q and Entergy's other reports and filings made under the Securities Exchange Act of 1934; (b) uncertainties associated with rate proceedings, formula rate plans and other cost recovery mechanisms; (c) uncertainties associated with efforts to remediate the effects of major storms and recover related restoration costs; (d) nuclear plant relicensing, operating and regulatory risks, including any changes resulting from the nuclear crisis in Japan following its catastrophic earthquake and tsunami; (e) changes in decommissioning trust fund values or earnings or in the timing or cost of decommissioning FitzPatrick, Pilgrim or VY or any of Entergy's other nuclear plant sites; (f) legislative and regulatory actions and risks and uncertainties associated with claims or litigation by or against Entergy and its subsidiaries; (g) risks and uncertainties associated with strategic transactions that Entergy or its subsidiaries may undertake, including the risk that any such transaction may not be completed as and when expected and the risk that the anticipated benefits of the transaction may not be realized and (h) economic conditions and conditions in commodity and capital markets during the periods covered by the forward-looking statements.
 
For definitions of certain operational performance measures, as well as GAAP and non-GAAP financial measures and abbreviations and acronyms used in the quarterly materials, see Appendix F and Appendix G.
View complete earnings release (PDF)
---