News Center > Entergy and River Parishes Community College Collaborate on Training Center
For Immediate Release
Entergy and River Parishes Community College Collaborate on Training Center
04/16/2018
David Freese
|
504-576-4132
|
dfreese@entergy.com
Endeavor Mutually Benefits Both Entities and Gonzales Economy

GONZALES, La. – Entergy Corporation and River Parishes Community College have collaborated to create a training center on the school's Gonzales campus. The endeavor will provide training for Entergy employees who are responsible for operating and maintaining the company's fleet of natural gas, coal, oil, hydroelectric and solar power plants spread across Texas, Louisiana, Arkansas and Mississippi.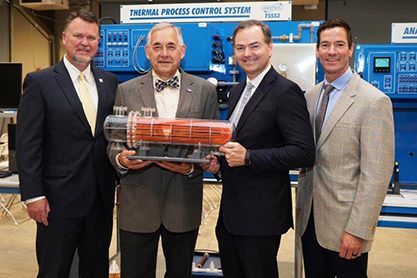 Pictured from left to right Dr. Monty Sullivan, President, Louisiana Community and Technical College System; Dr. Dale Doty, Chancellor, River Parishes Community College; Phillip May, President & CEO, Entergy Louisiana, LLC; and Dale Claudel, Entergy Vice President, Power Generation, examine training models at the River Parishes Community College Power Generation Training Center grand opening.
"Our power generation group needed a new training center," said Dale Claudel, vice president, power generation. "After exploring several options across our territory, we are pleased to team with the staff at River Parishes Community College to use their facilities and instructors to train our employees."

"It's critical that we join with industry to create workforce development solutions," said Bruce Waguespack, vice chancellor for workforce development, River Parishes Community College. "Our joint program with Entergy is a model for collaborative opportunities with other industrial companies. It benefits our staff that will be part of developing comprehensive training programs and benefits students enrolling in customized training."

Hands-on training courses for Entergy employees cover general and specific topics that include power plant fundamentals, simulator training, instrument and controls circuitry troubleshooting, millwright training, welding and scaffolding.

Additionally, the endeavor will help the company enhance its instructor-led, hands-on curriculum to upgrade skill levels of current employees, boost training of new employees and facilitate their on-boarding.

Company officials expect to send up to 400 employees each year for training at RPCC from across its four-state territory, boosting the local economy by providing accommodations, meals and other needs of the attendees.

Entergy Louisiana, LLC provides electric service to more than 1 million customers and natural gas service to approximately 93,000 customers in the greater Baton Rouge area. The company has operations in southern, central and northeastern Louisiana.

Entergy Corporation is an integrated energy company engaged primarily in electric power production and retail distribution operations. Entergy owns and operates power plants with approximately 30,000 megawatts of electric generating capacity, including nearly 9,000 megawatts of nuclear power. Entergy delivers electricity to 2.9 million utility customers in Arkansas, Louisiana, Mississippi and Texas. Entergy has annual revenues of approximately $11 billion and more than 13,000 employees.

River Parishes Community College focuses on building the workforce of today and tomorrow through specific skill training and providing transferrable courses and curricula leading to certification and associate degrees. RPCC works closely with its communities to provide programs for personal, professional and academic growth.
                                                                  -30-
                                       Entergy's online address is entergy.com
                          River Parishes Community College https://www.rpcc.edu/
                                                                  -30-
---