News Center > Entergy's Louisiana Operating Companies Prepared to Respond to Severe Weather
For Immediate Release
Entergy's Louisiana Operating Companies Prepared to Respond to Severe Weather
04/11/2020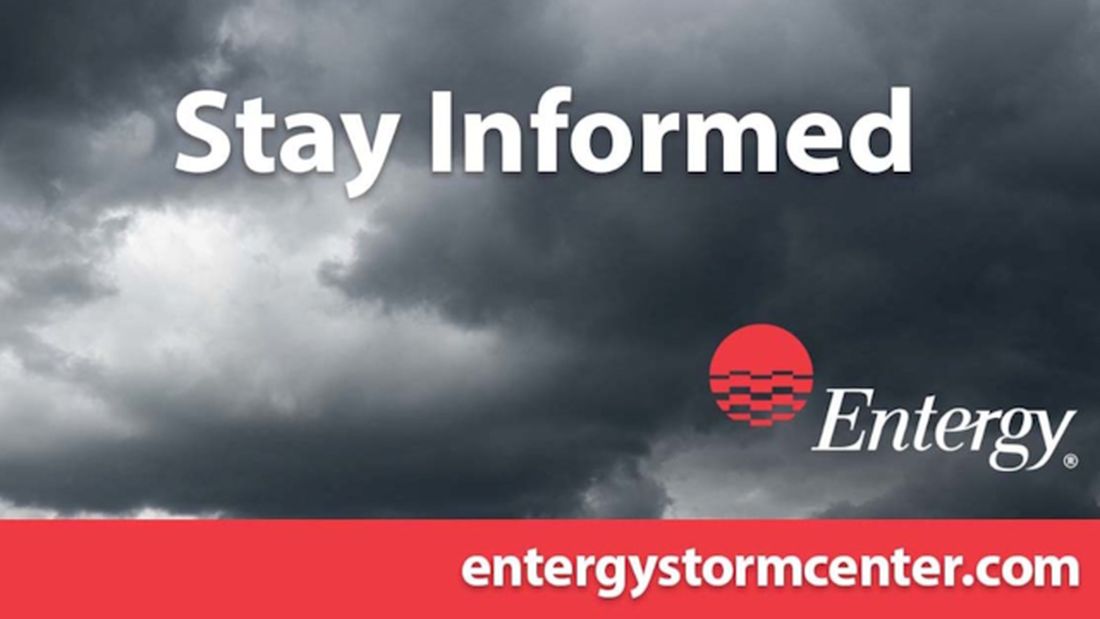 NEW ORLEANS – Entergy's Louisiana utilities are closely monitoring the weather and are prepared to respond to outages should severe weather impact Louisiana Sunday.
Forecasters anticipate strong thunderstorms will move across the state Sunday, with some areas potentially seeing heavy rainfall, hail, strong winds in excess of 60 mph and tornadoes —weather conditions that can down limbs, trees and cause damage to the electrical system.
Entergy Louisiana and Entergy New Orleans know how essential power is to customers, especially during the COVID-19 pandemic. Together, the companies have a detailed, rehearsed plan to assemble and organize the workforce needed to safely and quickly restore electric and gas services if affected by these storms.
A storm team of approximately 1,500, including support personnel and contractors, have been mobilized to restore service when it is safe to do so.
"During these challenging and uncertain times, we know how critical power is to the communities we serve," said Eli Viamontes, vice president of Entergy utility distribution operations. "We have made necessary preparations to respond to outages, and we'll continue to deliver for our customers and communities despite the circumstances."
The companies' plans include maintaining additional safety precautions during the pandemic, such as adjusting crew staging locations to help team members maintain social distancing. As with all storm preparation, part of the planning includes making sure there is an adequate supply of materials like utility poles, transformers and wires, for example. Because of the current landscape with COVID-19, there is added safety equipment and measures to consider, such as masks and hand sanitizer.
As crews respond to these storms, and anytime customers see workers in the field, they should stay away from their work zones. This helps ensure everyone's safety. If customers need to report a problem with their service or get bill payment help, they should call 1-800-ENTERGY. 
Here is how you can get information:
Download our app for your smartphone at entergy.com/app.
Sign up for text alerts. From your cellphone, text R-E-G to 368374.
Visit the Entergy Storm Center website and our View Outages page.
Follow us on Twitter or Facebook.
Call us at 800-9OUTAGE (800-968-8243).
Follow updates in your local news media, like radio, television and newspapers.
As you make your own preparations:
Charge battery-operated devices such as smartphones in advance of the storms.
Follow instructions from emergency management officials.
Make sure you have basic emergency and first aid supplies. Find out more on the Entergy Storm Center website.
Limit opening your refrigerator during an outage to keep food colder for a longer period.
Freeze containers of water for ice to help keep food cold in the freezer if your power goes out.
Entergy New Orleans, LLC is an electric and gas utility that serves Louisiana's Orleans Parish. The company provides electricity to more than 200,000 customers and natural gas to more than 108,000 customers. Entergy New Orleans, LLC is a subsidiary of Entergy Corporation.
Entergy Louisiana, LLC provides electric service to more than 1 million customers and natural gas service to more than 93,000 customers in the greater Baton Rouge area. It has operations in southern, central and northern Louisiana.
Entergy Corporation is an integrated energy company engaged primarily in electric power production and retail distribution operations. Entergy owns and operates power plants with approximately 30,000 megawatts of electric generating capacity, including nearly 9,000 megawatts of nuclear power. Entergy delivers electricity to 2.9 million utility customers in Arkansas, Louisiana, Mississippi and Texas. Entergy has annual revenues of $11 billion and approximately 13,600 employees.
-30-
EntergyNewOrleans.com
facebook.com/EntergyNOLA
Twitter: @EntergyNOLA
EntergyLouisiana.com
facebook.com/EntergyLA
Twitter: @EntergyLA
---