News Release > Entergy's Louisiana Utilities Finalizing Storm Preparations Ahead of Intensifying Hurricane Ida
For Immediate Release
Entergy's Louisiana Utilities Finalizing Storm Preparations Ahead of Intensifying Hurricane Ida
08/28/2021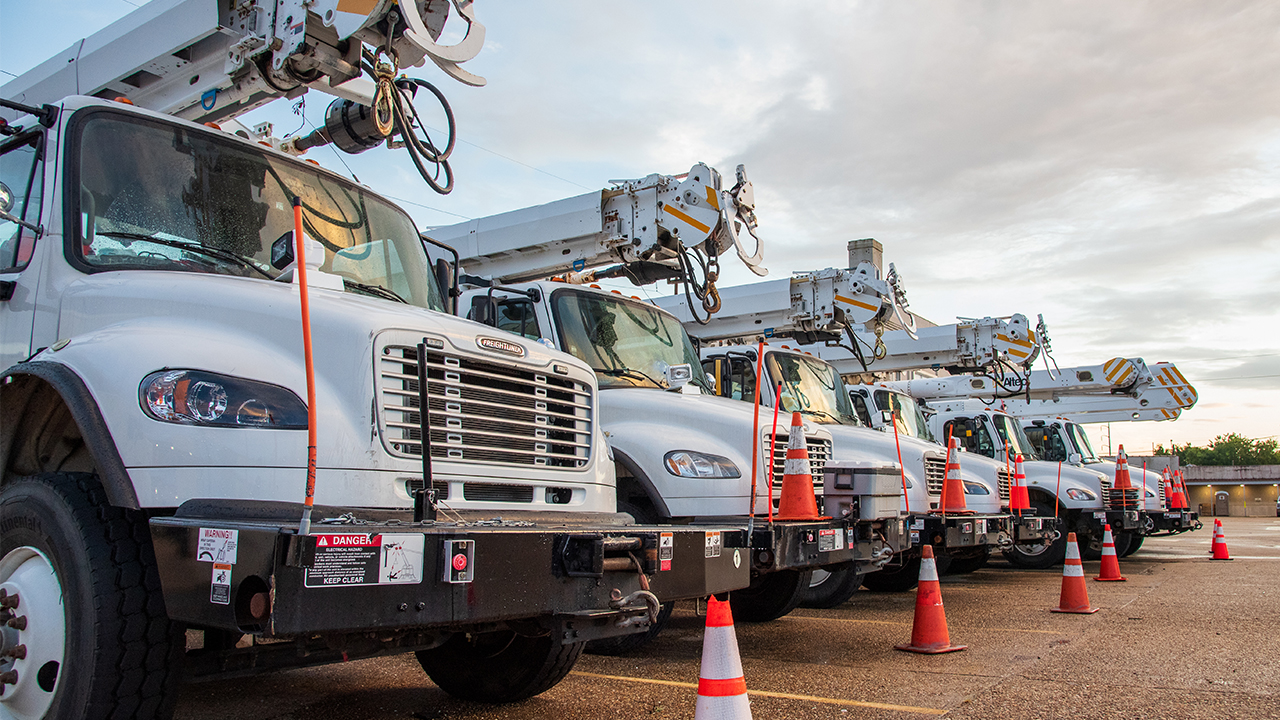 Entergy New Orleans, LLC and Entergy Louisiana, LLC are finalizing storm preparations ahead of an intensifying Hurricane Ida, which is now forecast to make landfall along the central-Louisiana coast tomorrow as a destructive and extremely dangerous major hurricane, bringing with it the danger of life-threatening storm surge and catastrophic wind damage.
While the system's path and intensity could change, forecasters expect it to bring severe thunderstorms, strong winds, heavy rains, high tides and coastal flooding to portions of Louisiana.
Customers should finalize their storm preparations and follow the guidance of local and state officials. Based on historical restoration times, customers in the direct path of a storm as intense as Hurricane Ida could experience outages for more than three weeks. While 90% of customers will be restored sooner, customers in the hardest-hit areas should plan for the possibility of experiencing extended power outages.
In addition to the company's local workforce, Entergy Louisiana and Entergy New Orleans have requested mutual assistance. Workers from across the country will continue pouring into Louisiana to assist in restoring power following Ida. With the additional requested resources, the companies' anticipate mobilizing a storm team of approximately 16,000, a number that could fluctuate based on the storm's path and intensity.
Entergy has moved equipment and crews from the path of the storm to quickly begin restoration work when safe to do so after the storm passes. Additionally, crews have added flood protections for equipment in other areas that could see high water. High-water vehicles, rear-alley machines, marsh buggies, drones and helicopters have been secured to assist in restoration efforts.
Crews will not move back into the area to begin restoration until it is safe to do so. While some work can be done on the ground, crews cannot begin using bucket trucks until sustained winds are less than 30 mph. As crews learn more about the damage, a plan will be put in place that restores power to critical infrastructure as well as the greatest number of customers safely in the shortest amount of time, something that will be dependent upon damages and resources needed.
Crews will continue to practice social distancing while in the field due to the COVID-19 pandemic, and Entergy asks that customers do the same. For the safety of crews and customers, please stay away from work zones. If there is a need to report a service problem, customers should call 1-800-ENTERGY.
Keeping customers informed before, during and after a storm is important to Entergy. Here are some of the platforms we use to provide updates:
Entergy New Orleans, LLC is an electric and gas utility that serves Louisiana's Orleans Parish. The company provides electricity to more than 200,000 customers and natural gas to more than 108,000 customers. Entergy New Orleans, LLC is a subsidiary of Entergy Corporation.
Entergy Louisiana, LLC provides electric service to more than 1 million customers and natural gas service to more than 93,000 customers in the greater Baton Rouge area. It has operations in southern, central and northern Louisiana.
Entergy Corporation (NYSE: ETR) is an integrated energy company engaged in electric power production, transmission and retail distribution operations. Entergy delivers electricity to 3 million utility customers in Arkansas, Louisiana, Mississippi and Texas. Entergy owns and operates one of the cleanest large-scale U.S. power generating fleets with approximately 30,000 megawatts of electric generating capacity, including 7,000 megawatts of nuclear power. Headquartered in New Orleans, Louisiana, Entergy has annual revenues of $10 billion and more than 13,000 employees. Learn more at entergy.com and follow @Entergy on social media.                
-30-
---