News Center > Entergy's Natural Gas Customers Getting New Tools Through Meter Upgrades
For Immediate Release
Entergy's Natural Gas Customers Getting New Tools Through Meter Upgrades
05/14/2020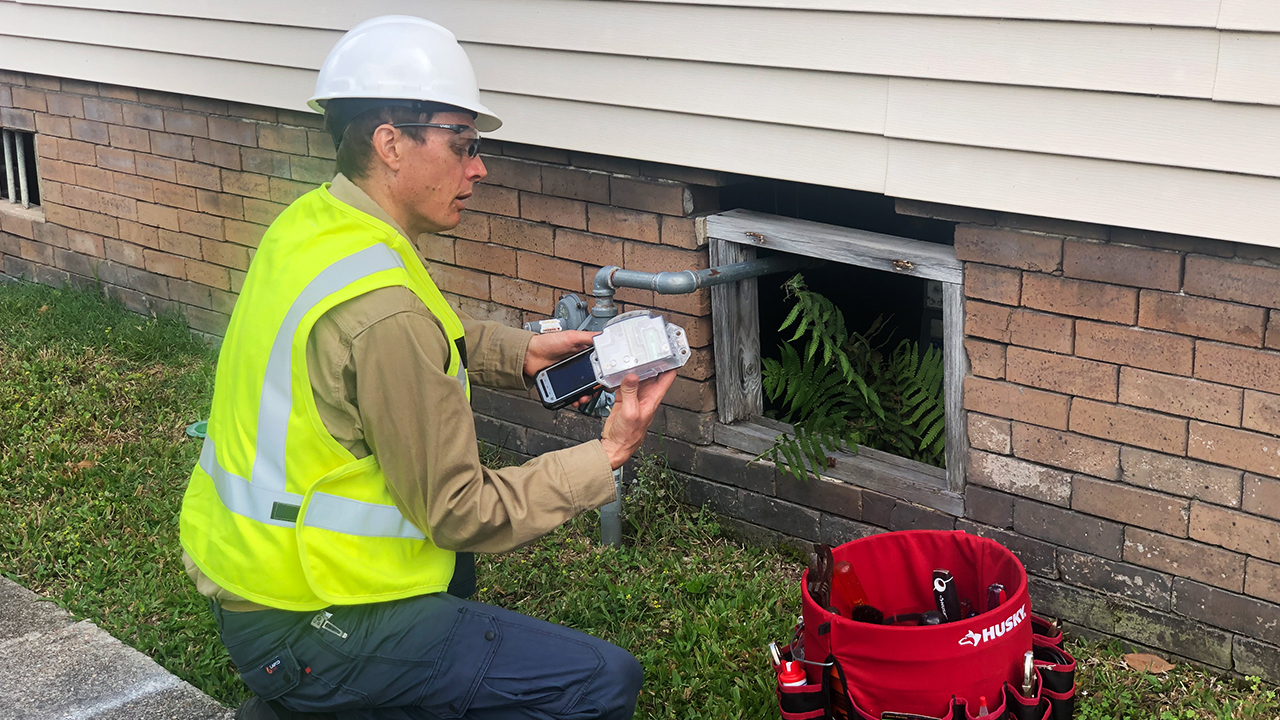 NEW ORLEANS – Entergy's natural gas customers will soon have access to data and tools to help them better manage their energy use.
Entergy took its initial steps toward building a smarter energy future for gas customers by recently adding the first smart communications module to a gas meter in New Orleans. The company plans to install some 200,000 smart devices over the next year that will provide detailed information on gas usage to its gas customers in Orleans Parish and the greater Baton Rouge areas.
"This is a significant event for our company," said Tad Patella, director of Entergy's gas distribution business. "These smart modules are going to provide us with important data we need to continue to deliver a reliable product and allow our customers to more closely monitor their usage. We want to be more efficient in everything we do, and this meter install puts us on the path to accomplishing that."
Along with the installation of smart modules to existing gas meters, the gas business is in the midst of several infrastructure improvement projects, including the replacement of 11 miles of pipe annually in Baton Rouge through 2024. In New Orleans, approximately 26 miles of vintage piping materials have been replaced with another $100 million replacement program on the horizon.
Entergy's multiyear rollout of advanced meters began in January 2019 with the installation of the company's first electric advanced meter. The modules being installed on gas meters serve a similar function to their electric counterparts. Advanced meters will provide several future benefits, including new online tools to help customers better manage their energy usage and potentially save money on customer bills.
Entergy's goal is to complete advanced meter deployment for the entire system — representing some three million customers — by the end of 2021.
About Entergy Louisiana
Entergy Louisiana, LLC provides electric service to more than 1 million customers and natural gas service to more than 93,000 customers in the greater Baton Rouge area. It has operations in southern, central and northern Louisiana.
About Entergy New Orleans
Entergy New Orleans, LLC is an electric and gas utility that serves Louisiana's Orleans Parish. The company provides electricity to more than 209,000 customers and natural gas to more than 110,000 customers. Entergy New Orleans is a subsidiary of Entergy Corporation.
About Entergy Corporation
Entergy Corporation (NYSE: ETR) is an integrated energy company engaged primarily in electric power production and retail distribution operations. Entergy owns and operates power plants with approximately 30,000 megawatts of electric generating capacity, including 8,000 megawatts of nuclear power. Entergy delivers electricity to 2.9 million utility customers in Arkansas, Louisiana, Mississippi and Texas. Entergy has annual revenues of $11 billion and approximately 13,600 employees.
-30-
Entergyneworleans.com
facebook.com/EntergyNOLA
Twitter: @EntergyNOLA
EntergyLouisiana.com
facebook.com/EntergyLA
Twitter: @EntergyLA
---