News Center > Entergy Shareholders Give $8.7M in Charitable Contributions to Help Communities Thrive
For Immediate Release
Entergy Shareholders Give $8.7M in Charitable Contributions to Help Communities Thrive
07/22/2020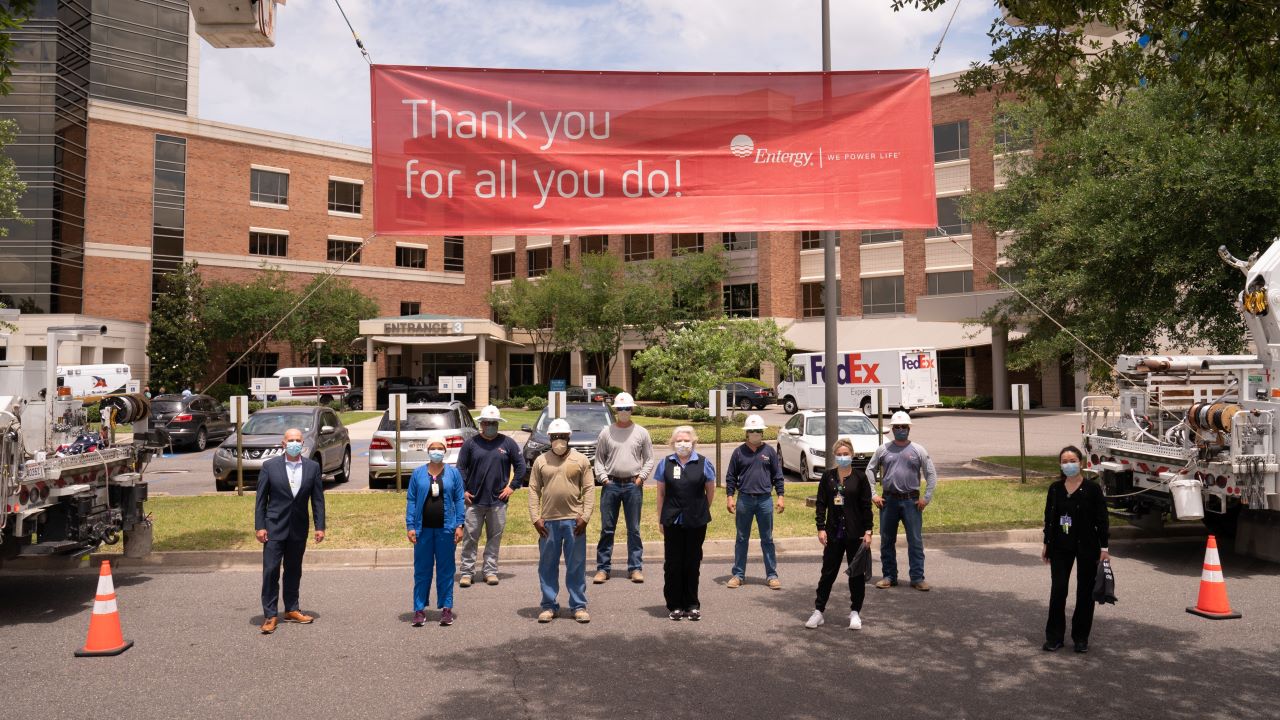 First and second quarter 2020 grants include almost $3 million in COVID-19 community relief
NEW ORLEANS – Entergy Corporation and the Entergy Charitable Foundation have helped power stronger, healthier communities in 2020 by contributing more than $8.7 million to 915 nonprofit organizations across the company's service area during the first two quarters of the year. Of the $8.7 million in contributions, almost $3 million was dedicated to Entergy's COVID-19 relief efforts and Entergy's The Power to Care program, which helps customers who need financial assistance to pay their bills.
"It is a privilege to partner with so many dedicated nonprofits to help build stronger and healthier communities," said Patty Riddlebarger, vice president of Entergy's corporate social responsibility program. "We value these partnerships now more than ever as so many of our customers are struggling with economic hardships brought on by the COVID-19 pandemic. We are proud to do our part to help provide critical services for those who are most vulnerable."
These grants provided funding and support for broad-based initiatives ranging from education and workforce development, to poverty solutions, the arts and community improvement initiatives in regions served by Entergy in Arkansas, Louisiana, Michigan, Mississippi, New York and Texas. All contributions come from shareholder profit.
Significant year-to-date contributions include:
$250,000 to American Red Cross – the funds go toward Entergy's $500,000, two-year commitment to support American Red Cross's Disaster Responder Program. The grant will help streamline the response process in times of disaster, allowing funds to arrive more quickly to help affected communities in Entergy's service area. Since 2015, Entergy shareholders have committed more than $1.4 million to area communities through grants to local chapters of the American Red Cross and through the company's support of the Red Cross's Disaster Responder Program.
$290,000 to Jobs for America's Graduates – funds will help sustain JAG's core programs and enable the program to deliver services virtually in light of the COVID-19 pandemic. This is Entergy's largest single grant to the national JAG organization and will support both the national organization as well as JAG state affiliates in Arkansas, Mississippi and Louisiana – states where Entergy has a strong presence.
$1.2 million in United Way matching contributions – Entergy shareholders match employee donations, doubling the impact of employee giving. Since 2000, Entergy's contributions to United Way have exceed $42 million.
Working with our community partners, Entergy's social responsibility initiatives delivered more than $100 million in benefits to our communities in 2019. Entergy Corporation and the Entergy Charitable Foundation awarded more than $17 million in grants to more than 2,000 nonprofits in 2019. And Entergy employees and retirees engaged in 115,000 hours of volunteer service, valued at approximately $3.75 million, to a variety of charitable causes. To learn more about Entergy's commitment to powering the lives of the communities it serves, visit entergy.com/community.
For more information about the Entergy Charitable Foundation grants, including application, deadline and eligibility details, visit the Entergy website.
About Entergy Corporation
For more than 100 years, Entergy has powered life in our communities through strategic philanthropy, volunteerism and advocacy. Entergy's corporate social responsibility initiatives help create and sustain thriving communities, position the company for sustainable growth and are aligned with the United Nations Sustainable Development Goals. Our top CSR priorities are education/workforce development, poverty solutions/social services and environmental programs. Each year, Entergy contributes $16-18 million in shareholder-funded grants to more than 2,000 nonprofit organizations in the communities where we operate. In addition, our employees volunteer approximately 115,000 hours in those communities, valued at a $3.75 million economic impact.
Entergy Corporation (NYSE: ETR) is an integrated energy company engaged primarily in electric power production and retail distribution operations. Entergy owns and operates power plants with approximately 30,000 megawatts of electric generating capacity, including 8,000 megawatts of nuclear power. Entergy delivers electricity to 2.9 million utility customers in Arkansas, Louisiana, Mississippi and Texas. Entergy has annual revenues of $11 billion and approximately 13,600 employees.
-30-
entergy.com
Twitter: @Entergy
Facebook: facebook.com/Entergy
---