News Release > Entergy Texas Announces 11 Agencies Receiving Funds to Help Hurricane Victims
For Immediate Release
Entergy Texas Announces 11 Agencies Receiving Funds to Help Hurricane Victims
11/20/2020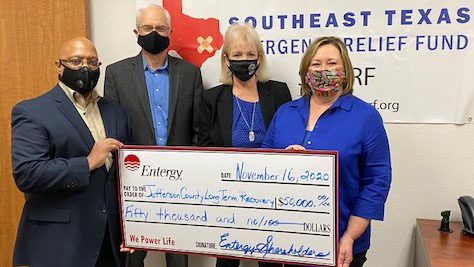 As southeast Texas recovers from the devastating impacts caused by Hurricanes Laura and Delta, Entergy Texas, Inc. is contributing $160,000 to local non-profits focused on helping residents recover from this active storm season. 
These funds are a part of the previously announced $360,000 contribution to help the community rebuild following Hurricanes Laura and Delta. In addition to the $160,000 to local organizations, the company allocated $200,000 from an American Red Cross Disaster Responder Partnership to directly aid communities affected by Hurricanes Laura and Delta.
"The Gulf Coast endured an unprecedented hurricane season this year, and our communities were hit by two back-to-back hurricanes that caused significant damage across southeast Texas," said Sallie Rainer, president and CEO of Entergy Texas. "I can't thank our customers and communities enough for their support of our crews working on the front lines restoring power. Just as we were there for our communities immediately following the storms, we're going to be a part of the rebuilding effort."
To distribute the funds, Entergy turned to the Foundation for Southeast Texas, a nonprofit, public charity that accepts funds from donors, manages them and distributes them to nonprofits in the local community.
Local organizations receiving funding include:
Orange County Disaster Rebuild, $62,500
Jefferson County Long-Term Recovery, $50,000
Catholic Charities, $10,000
Southeast Texas Food Bank, $10,000
Community Care Prayer Outreach, $5,000
Salvation Army Orange, $5,000
United Christian Care Center Vidor, $5,000
United Board of Missions, $5,000
Christian Care Center, $2,500
Christian Loving Care, $2,500
Hardin County Strong, $2,500
 "This has been a devastating hurricane season with our area being hit by not just one, but two major hurricanes," said Mellie Bevilacqua, executive director of the Foundation for Southeast Texas. "We're proud to partner with Entergy Texas to distribute these funds to local organizations who are directly involved in the hurricane relief effort in southeast Texas."
About Entergy Texas
Entergy Texas, Inc. provides electricity to approximately 461,000 customers in 27 counties. Entergy Corporation is an integrated energy company engaged primarily in electric power production and retail distribution operations. Entergy owns and operates power plants with approximately 30,000 megawatts of electric generating capacity, including 8,000 megawatts of nuclear power. Entergy delivers electricity to 2.9 million utility customers in Arkansas, Louisiana, Mississippi and Texas. Entergy has annual revenues of $11 billion and approximately 13,600 employees.
---