News Release > Entergy Texas' annual fan donation helps low-income customers stay cool and save money
For Immediate Release
Entergy Texas' annual fan donation helps low-income customers stay cool and save money
06/14/2023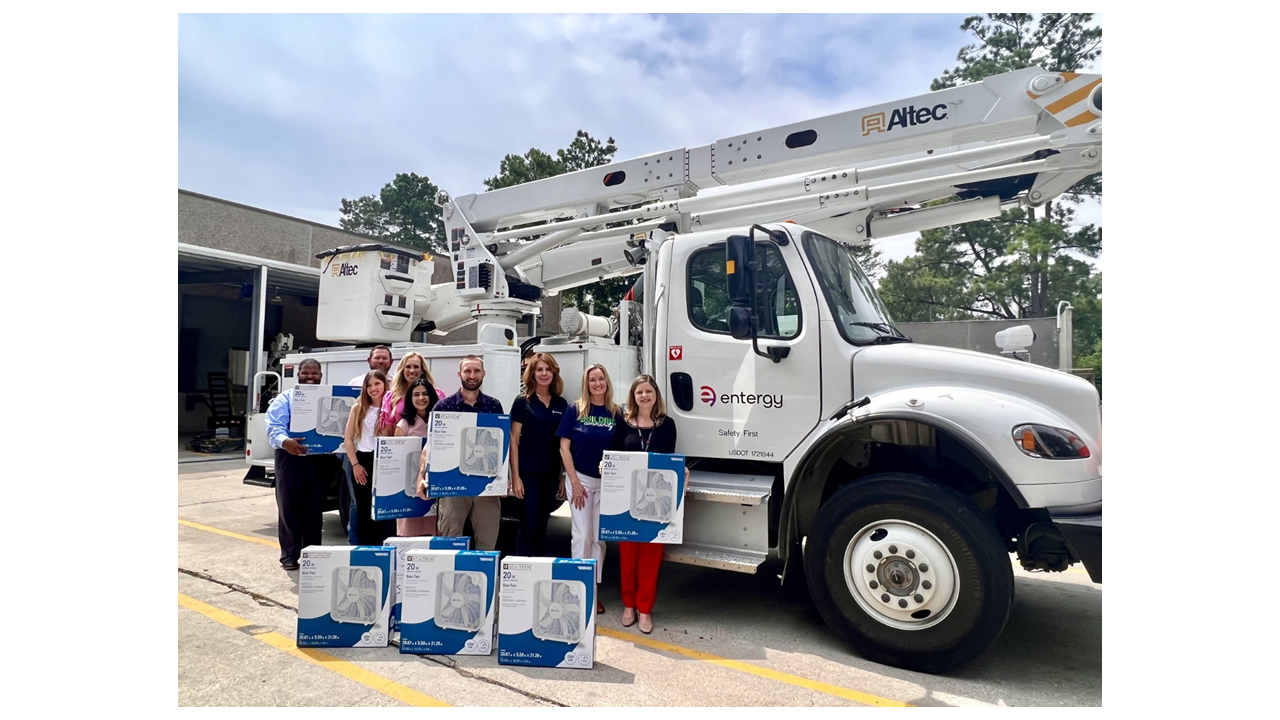 The company is donating 1,300 fans to help Southeast Texas families
THE WOODLANDS, TEXAS – Heating and cooling costs make up about 55% of an average customer's electric bill, so taking steps to save energy can help customers better manage usage when temperatures are hot. Fans are a simple tool that can provide relief from the summer heat and allow customers to save money on their energy bill, which is why Entergy Texas is donating 1,300 box fans to 36 cities and agencies across Southeast Texas.
"Summertime brings warmer temperatures, which can translate into financial stress for customers on a tight budget," said Stuart Barrett, vice president of customer service for Entergy Texas. "Our annual fan distribution program allows us to help low-income customers stay cool and save money."
Since 2000, Entergy Texas has donated a total of 27,100 fans to Texas families through community partnerships. The following cities and agencies receiving fans this year include:
| | | |
| --- | --- | --- |
| City of Dayton, Police Dept. | Community Care Prayer Outreach | Navasota   |
| City of Daisetta | Caring Christians Sharing | Somerville |
| Some Other Place | Christian Care Center | Community Assistance Center |
| Salvation Army - Beaumont | Christian Loving Care Center | St. Vincent De Paul - Sacred Heart |
| United Christian Care Center | Tri-County CAP, Inc. | Interfaith of the Woodlands |
| Salvation Army - Orange | Normangee | The Mission NE   |
| St. Vincent de Paul - Winnie | Midway   | Cleveland Senior Center |
| United Board of Missions | Trinity   | Corrigan City Hall |
| Riverside | Huntsville | Covenant with Christ |
| New Waverly | Madisonville | Shepherd Senior Center |
| Calvert   | Franklin   |   |
| Bremond | Kosse |   |
In addition to the fan distribution program, Entergy Texas offers several resources to help customers manage their bill. For more information, visit www.entergy-texas.com/bill-help.
About Entergy Texas 
Entergy Texas, Inc. provides electricity to approximately 499,000 customers in 27 counties. Entergy Texas is a subsidiary of Entergy Corporation, a Fortune 500 company headquartered in New Orleans. Entergy powers life for 3 million customers through its operating companies across Arkansas, Louisiana, Mississippi and Texas. Entergy is creating a cleaner, more resilient energy future for everyone with our diverse power generation portfolio, including increasingly carbon-free energy sources. With roots in the Gulf South region for more than a century, Entergy is a recognized leader in corporate citizenship, delivering more than $100 million in economic benefits to local communities through philanthropy and advocacy efforts annually over the last several years. Our approximately 12,000 employees are dedicated to powering life today and for future generations. For the latest news from Entergy, visit the Newsroom.
---