News Center > Entergy Texas Earns 2019 ENERGY STAR® Partner of the Year Award
For Immediate Release
Entergy Texas Earns 2019 ENERGY STAR® Partner of the Year Award
05/08/2019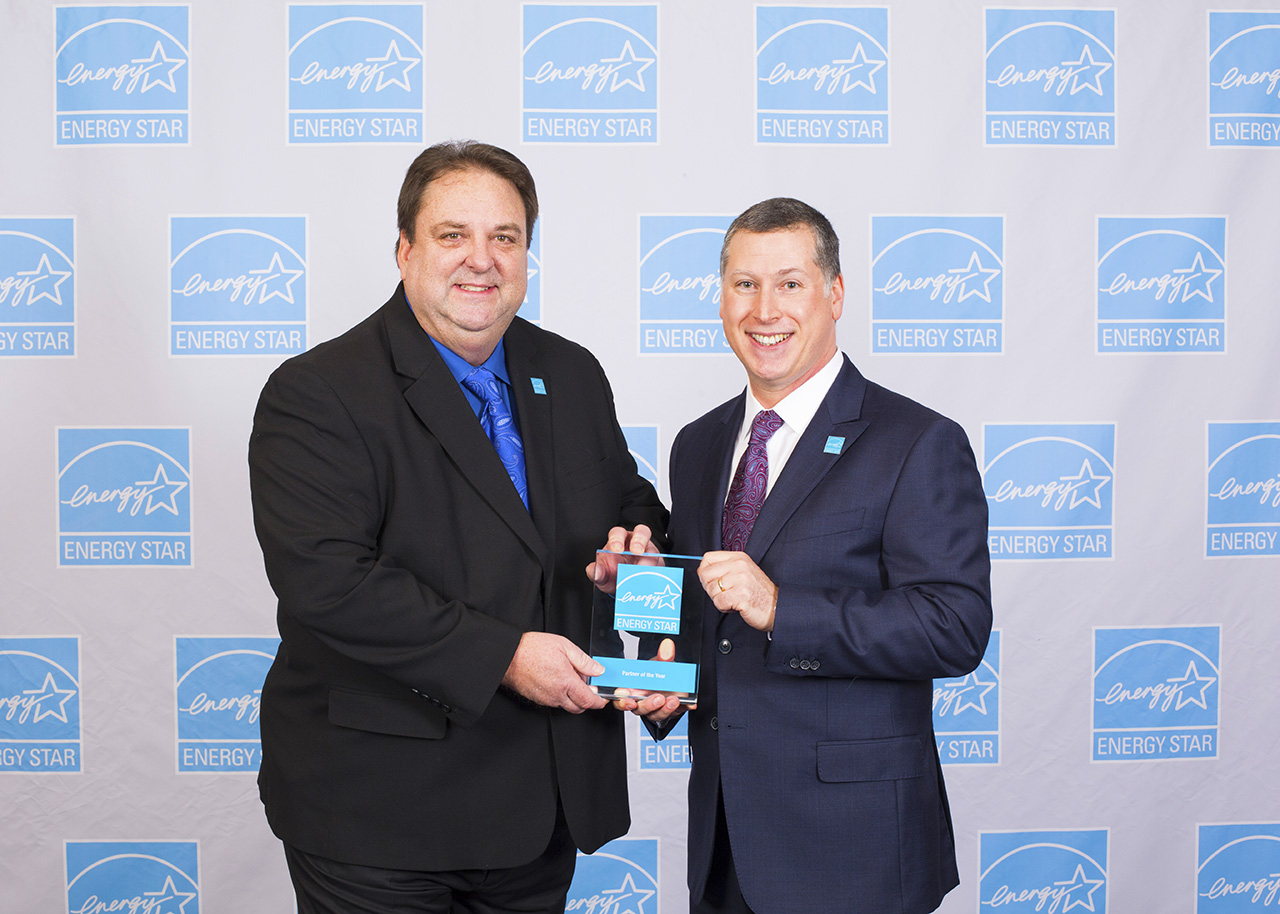 Entergy Texas is proud to announce that it received the 2019 ENERGY STAR® Partner of the Year Award for its outstanding efforts in promoting energy efficiency in residential new construction.
With its Entergy Solutions programs, Entergy Texas helped customers save more than 1,385,000 kilowatt hours of electricity. Other key accomplishments included coordinating and sponsoring HVAC training for more than 86 HVAC contractors, home energy rating companies, and home builders in the Houston and Golden Triangle markets and distributing more than 3,500 ENERGY STAR-branded promotional products during builder meetings, model home visits and industry events.
Entergy Texas' accomplishments were be recognized by the U.S. Environmental Protection Agency and the U.S. Department of Energy at a ceremony in Washington, D.C. on April 11.
"This is the fifth time in eight years that Entergy Texas has been awarded the Partner of the Year honor by the EPA," said Kelley Carson, Energy Efficiency Program Manager. "The energy efficiency team works hard to help design energy efficiency programs that reduce emissions, reduce energy consumption and save the consumer money in the long run."
"I applaud the 2019 ENERGY STAR Award Winners," said EPA Assistant Administrator for Air and Radiation Bill Wehrum. "Their innovation and leadership enhance America's economic competitiveness. Reducing costly energy waste improves air quality and public health while protecting the environment."
Besides its work with ENERGY STAR, Entergy Texas' energy efficiency programs have had great results. Approximately 144,000 customers have participated, receiving more than $95 million in program incentives since 2002.  The energy savings are enough to power 40,246 homes for a year, and the programs have resulted in the removal of 336,093 metric tons of CO2 from the air -- that is the equivalent of taking 71,357 cars off the road.
The ENERGY STAR Partner of the Year award recognizes ENERGY STAR partner businesses and organizations in good standing that demonstrate superior leadership, innovation and commitment to environmental protection through energy efficiency and ENERGY STAR.
For a complete list of 2019 winners and more information about ENERGY STAR's awards program, visit energystar.gov/awardwinners.
Entergy Texas, Inc. provides electricity to approximately 450,000 customers in 27 counties. Entergy Corporation is an integrated energy company engaged primarily in electric power production and retail distribution operations. Entergy owns and operates power plants with approximately 30,000 megawatts of electric generating capacity, including nearly 9,000 megawatts of nuclear power. Entergy delivers electricity to 2.9 million utility customers in Arkansas, Louisiana, Mississippi and Texas. Entergy has annual revenues of approximately $11 billion and more than 13,000 employees.         
-30-
entergytexas.com
Twitter: @EntergyTX
Facebook: Facebook.com/EntergyTX
About ENERGY STAR
ENERGY STAR® is the government-backed symbol for energy efficiency, providing simple, credible, and unbiased information that consumers and businesses rely on to make well-informed decisions. Thousands of industrial, commercial, utility, state, and local organizations—including more than 40 percent of the Fortune 500®—rely on their partnership with the U.S. Environmental Protection Agency (EPA) to deliver cost-saving energy efficiency solutions. Since 1992, ENERGY STAR and its partners helped save American families and businesses nearly 4 trillion kilowatt-hours of electricity and achieve over 3 billion metric tons of greenhouse gas reductions. In 2017 alone, ENERGY STAR and its partners helped Americans avoid $30 billion in energy costs. More background information about ENERGY STAR can be found at: energystar.gov/about and energystar.gov/numbers.
---