News Center > Entergy Texas Helps Repair Veterans Memorial Wall in Dayton
For Immediate Release
Entergy Texas Helps Repair Veterans Memorial Wall in Dayton
05/20/2019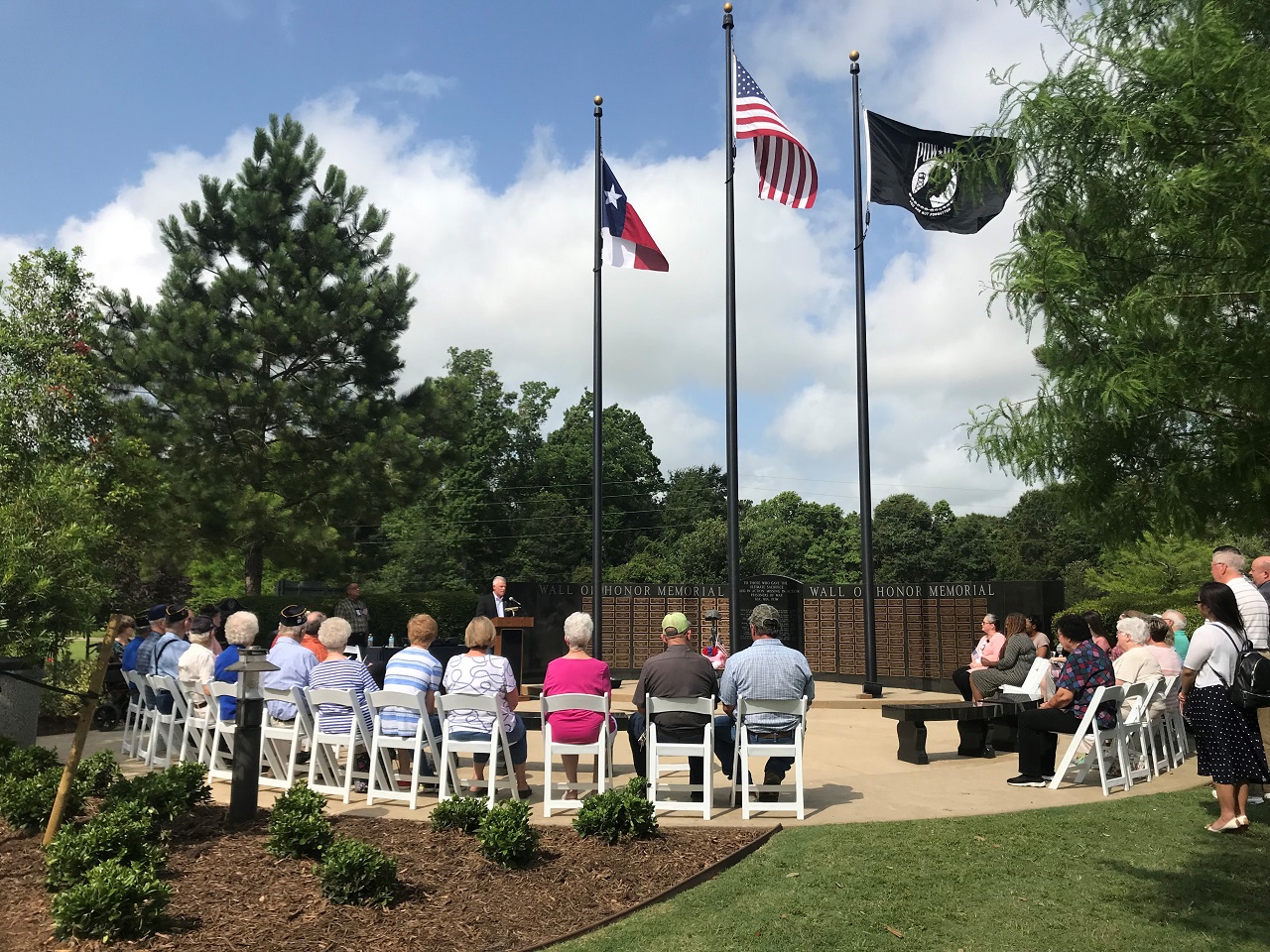 Flags flying above beautiful black granite walls, surrounded by tall trees and a peaceful fountain set the scene for a special ceremony commemorating the refurbishment of the Wall of Honor Memorial in Dayton.
The memorial wall's foundation, which was damaged by flooding during Hurricane Harvey, had cracks in several places where expertly hand-painted murals depict various military scenes. In addition, water and humidity pulled plaques holding the names of soldiers away from the wall.
When learning of the destruction, Entergy Texas donated more than $7,700 to help repair the wall, as well as create a new drainage system to help prevent flooding from occurring again. 
City and community leaders in Dayton joined Entergy at the wall, located just outside the Dayton Community Center, to celebrate its repair and also to pay respects to all veterans for their sacrifice and dedication in protecting the freedom we enjoy today.
"As we approach another Memorial Day, it is fitting that we gather at this wall to remember those who served our country -- especially those who paid the ultimate price," said Frank Shannon, director of region customer service for Entergy Texas, Inc. "As a veteran myself, it gives me great pride to know that Entergy played a part in restoring the wall to its former glory. It is a fitting tribute to the resiliency that we have when faced with all types of adversity, be it natural or manmade."
Entergy Texas, Inc. provides electricity to approximately 450,000 customers in 27 counties. Entergy Corporation is an integrated energy company engaged primarily in electric power production and retail distribution operations. Entergy owns and operates power plants with approximately 30,000 megawatts of electric generating capacity, including nearly 9,000 megawatts of nuclear power. Entergy delivers electricity to 2.9 million utility customers in Arkansas, Louisiana, Mississippi and Texas. Entergy has annual revenues of approximately $11 billion and more than 13,000 employees.         
-30-
entergytexas.com
Twitter: @EntergyTX
Facebook: Facebook.com/EntergyTX
---