News Center > Entergy Texas marks 22 years of fan donations
For Immediate Release
Entergy Texas marks 22 years of fan donations
08/01/2022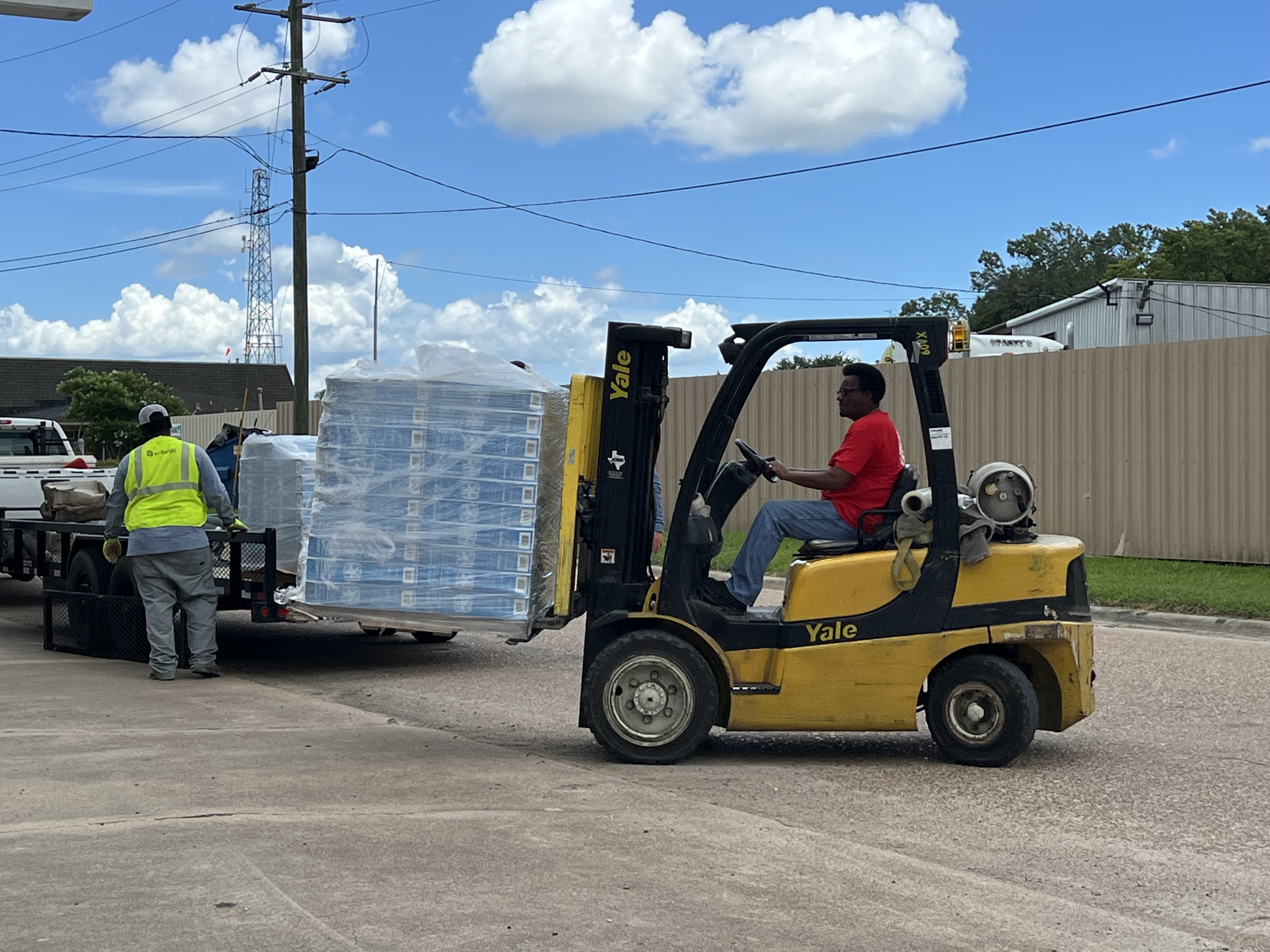 The annual fan distribution program helps low-income customers stay cool and save money
THE WOODLANDS, Texas – Entergy Texas, Inc. marks 22 years of donating fans to help low-income customers in the community stay cool and save money. This year, the company is donating 1,300 boxed fans to 36 cities and agencies across Southeast Texas, bringing the total number of fans donated to 25,800 since the program started in 2000.
"This summer has been extremely hot, and everyone is feeling the impact," said Stuart Barrett, vice president of customer service for Entergy Texas. "We continue to donate fans because we know a simple tool can go a long way in helping our customers feel relief. Not only does it help them stay cool, but it also helps them save money."
"We couldn't do this without our amazing local cities and agencies who help us with distribution to low-income customers across southeast Texas," said Barrett. "Thanks to everyone involved for helping our customers in the communities where we live and work."
The following cities and agencies receiving fans this year include:
Bremond City Hall
Calvert City Hall
Caring Christians Sharing in Sour Lake
Christian Care Center in Silsbee
Christian Community Center in Navasota
City of Daisetta
City of Dayton, Police Department
Cleveland Senior Center
Community Assistance Center in Conroe
Community Care Prayer Outreach in Nederland
Corrigan City Hall
Covenant with Christ in Cleveland
Franklin City Hall
Good Shepherd Mission in Huntsville
Hardin County United Appeals in Kountze
Hospitality Center in Port Arthur
Interfaith of the Woodlands
Kosse City Hall
Midway City Hall
New Waverly City Hall
Normangee City Hall
Riverside City Hall
SAAM Place in Somerville
Salvation Army in Beaumont
Salvation Army in Orange
Salvation Army Boys & Girls Club of Port Arthur
Shepherd Senior Center
Some Other Place in Beaumont
Son-shine Outreach Center in Madisonville
St. Vincent De Paul – Sacred Heart in Conroe
St. Vincent de Paul in Winnie
The Mission Northeast in New Caney
Tri-County CAP, Inc. in Woodville
Trinity City Hall
United Board of Missions in Port Arthur
United Christian Care Center in Vidor
In 2021, Entergy Texas awarded more than 100 non-profit partners and community organizations with $1.4 million in grants. The grants provided funding and support for broad-based initiatives ranging from education and workforce development to poverty solutions, the arts and community improvement initiatives across Southeast Texas.
Temperatures are hitting record-breaking numbers this year, with recordings in Southeast Texas rising significantly from 2021. Extreme heat can drive up electricity use, but it doesn't have to come at a cost. Customers concerned about their bill payments or having trouble paying their bill should reach out to the company online or by phone at 1-800 ENTERGY (1-800-368-3749). Our representatives can review your account or help with bill assistance options that may work best for you and your family.
Here are more options to manage costs or receive bill assistance:
Level Billing – Entergy averages your bill over a rolling 12-month period, so you have a consistent bill each month of the year. You will pay about the same every month with no surprises.
Pick-A-Date – Choose the day of the month you get billed to line up with your budget and manage your cash flow.
Deferred Payment – Contact us with more details and we may be able to make deferred payment arrangements. Call 1-800-ENTERGY (1-800-368-3749).
Payment Extension – Qualifying customers who need additional time to pay their bill can call our automated answering system at 1-800-ENTERGY (1-800-368-3749) or request an extension through myEntergy.
Power to Care – Through Entergy's The Power to Care program, local nonprofit agencies can provide emergency bill payment assistance to seniors and disabled individuals in crisis. Find out more at entergy-texas.com/bill-help/.
LIHEAP – LIHEAP (Low Income Home Energy Assistance Program) provides money to help people with energy bills and other energy-related expenses. LIHEAP is funded through the federal government and works with community action agencies to help people pay for and keep electric service in their homes. For information on resources visit entergy-texas.com/bill-help/.
Another useful way to manage your bill is to monitor your usage by using our free Entergy mobile phone app where customers with a smart meter can track usage and discover ways to be more energy efficient before the next bill arrives.
About Entergy Texas
Entergy Texas, Inc. provides electricity to more than 486,000 customers in 27 counties. Entergy Texas is a subsidiary of Entergy Corporation, a Fortune 500 company headquartered in New Orleans. Entergy powers life for 3 million customers through its operating companies across Arkansas, Louisiana, Mississippi and Texas. Entergy is creating a cleaner, more resilient energy future for everyone with our diverse power generation portfolio, including increasingly carbon-free energy sources. With roots in the Gulf South region for more than a century, Entergy is a recognized leader in corporate citizenship, delivering more than $100 million in economic benefits to local communities through philanthropy and advocacy efforts annually over the last several years. Our approximately 12,500 employees are dedicated to powering life today and for future generations.
---