News Center > Entergy Texas Reaches Settlement on Bright Future Plan
For Immediate Release
Entergy Texas Reaches Settlement on Bright Future Plan
10/26/2018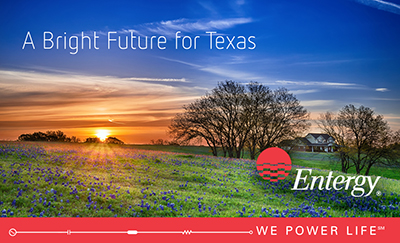 Entergy Texas, Inc. has reached a settlement agreement with the Public Utility Commission Staff and the intervening parties in its rate case, filed on October 5, 2018.  This agreement, pending approval by the Public Utility Commission of Texas, will keep rates low, while continuing to grow the economy by investing in new infrastructure to ensure reliable and cost effective electricity for customers. As part of this plan, Entergy Texas is also passing along substantial savings from federal tax reform directly to its customers.  These tax savings, along with investments in infrastructure to reduce outages and improve service, will result in more affordable and reliable energy to customers. 
            "We are pleased to reach an agreement with the parties in the case that benefits customers and helps ensure reliable and affordable energy for Southeast Texas," said Sallie Rainer, president and CEO of Entergy Texas.  "We are committed to investments that minimize disruptions from outages and give our customers more tools and technology to better control their energy usage."
            Entergy Texas will flow back approximately $200 million in tax savings to customers over a period of up to four years, depending on customer class.  This credit will be reflected in a "TCJA Rider" on customer bills. In addition, customer bills will be credited $25 million over a period of up to four years for lower federal tax rates in 2018, which will be reflected in a "Federal Income Tax Credit" Rider. Customers saw these rates in effect on an interim basis starting October 17, 2018.  Final implementation of these rates is subject to approval of the settlement by the Public Utility Commission; a ruling from the Commission is expected in the coming months. 
            In addition to the tax credit, the settlement also allows Entergy to recover in rates approximately $1.2 billion in improvements to modernize its system to improve reliability and provide affordable energy to customers. Some of these major upgrades include improvements to power plant facilities, new transmission/substation projects, upgrading distribution facilities, and improving Entergy Texas's customer service systems.
               Depending on a customer's usage, residential customers will see average monthly bills essentially stay the same, or see a slight decrease.  This amount reflects the net effect of recovering the cost of new investments in rates while also reducing rates to reflect federal income tax savings.     
Changes in Residential Customer Bills, effective Oct. 17

 

FORMER RATES

NEW RATES

DIFFERENCE

KWH

MONTHLY BILLING

MONTHLY BILLING

AMOUNT

PERCENT

1,000

$116.45

$116.48

$0.03

0.03%

1,500

$165.85

$164.63

($1.23)

-0.74%

3,000

$314.07

$309.07

($5.01)

-1.59%
Entergy Texas, Inc. provides electricity to approximately 458,000 customers in 27 counties. Entergy Corporation is an integrated energy company engaged primarily in electric power production and retail distribution operations. Entergy owns and operates power plants with approximately 30,000 megawatts of electric generating capacity, including nearly 9,000 megawatts of nuclear power. Entergy delivers electricity to 2.9 million utility customers in Arkansas, Louisiana, Mississippi and Texas. Entergy has annual revenues of approximately $10.8 billion and nearly 13,000 employees.
-30-
entergytexas.com
Twitter: @EntergyTX
Facebook: Facebook.com/EntergyTX
---