News Center > Entergy wins EEI Emergency Response Award
For Immediate Release
Entergy wins EEI Emergency Response Award
06/21/2022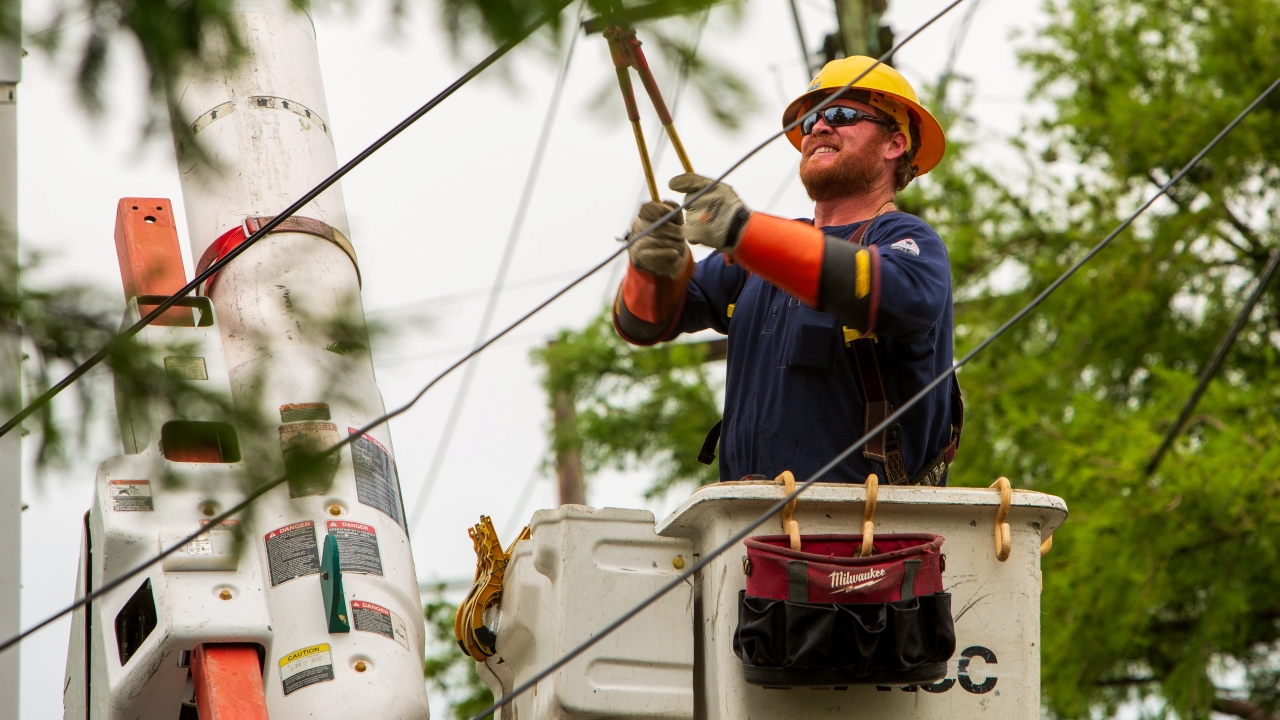 The company was recognized for its mutual assistance work
NEW ORLEANS – Recognizing the hard work and dedication of the men and women of Entergy, the Edison Electric Institute awarded Entergy Corporation with its Emergency Assistance Award. 
The company was recognized for its outstanding power restoration efforts supporting Duke Energy following a severe winter storm that hit Virginia, North Carolina and South Carolina in January. Including this year's honor, Entergy has received 43 awards from EEI for its restoration and mutual assistance work. 
More than 200 Entergy baseload contractors traveled to Virginia and the Carolinas to help restore power to Duke Energy customers. They spent four days working in extremely cold temperatures and in a wintry mix with significant icing, sleet and snow, along with high winds. 
Presented to EEI member companies, the Emergency Response Awards recognize recovery and assistance efforts of electric companies following service disruptions caused by extreme weather or other natural events. The winners were chosen by a panel of judges following an international nomination process, and the awards were presented today during EEI 2022, EEI's annual thought leadership forum. 
"Over the past year, electric companies confronted severe storms and extreme weather events, including hurricanes, tornadoes, and winter storms, that impacted customers and communities across the nation," said EEI President Tom Kuhn. "Despite challenging conditions, Entergy and its employees worked around the clock to restore power safely and as quickly as possible following the January winter storm. I congratulate and applaud Entergy and their employees for their continued dedication to the customers and communities that they serve, and I am honored to present them with this well-deserved award." 
"We are honored to receive these awards from EEI recognizing our employees' efforts to restore service to our customers and to help others," said Willie Wilson, Entergy's vice president of storm operations. "When storms impact our customers, we are thankful to other companies who assist us. In return, we were pleased to answer the call to safely and efficiently restore power for customers in Virginia, North Carolina and South Carolina. We stand storm ready, and this includes helping to restore electric power wherever needed." 
About EEI
EEI is the association that represents all U.S. investor-owned electric companies. Our members provide electricity for more than 235 million Americans, and operate in all 50 states and the District of Columbia. As a whole, the electric power industry supports more than 7 million jobs in communities across the United States. In addition to our U.S. members, EEI has more than ​65 international electric companies, with operations in more than 90 countries, as International Members, and hundreds of industry suppliers and related organizations as Associate Members.
About Entergy
Entergy (NYSE: ETR), a Fortune 500 company headquartered in New Orleans, powers life for 3 million customers through its operating companies across Arkansas, Louisiana, Mississippi and Texas. Entergy is creating a cleaner, more resilient energy future for everyone with our diverse power generation portfolio, including increasingly carbon-free energy sources. With roots in the Gulf South region for more than a century, Entergy is a recognized leader in corporate citizenship, delivering more than $100 million in economic benefits to local communities through philanthropy and advocacy efforts annually over the last several years. Our approximately 12,500 employees are dedicated to powering life today and for future generations. Learn more at entergy.com and follow @Entergy on social media. #WePowerLife
---