News Center > Entergy's Louisiana Utilities Send Crews to Battered Northeast
For Immediate Release
Entergy's Louisiana Utilities Send Crews to Battered Northeast
03/03/2018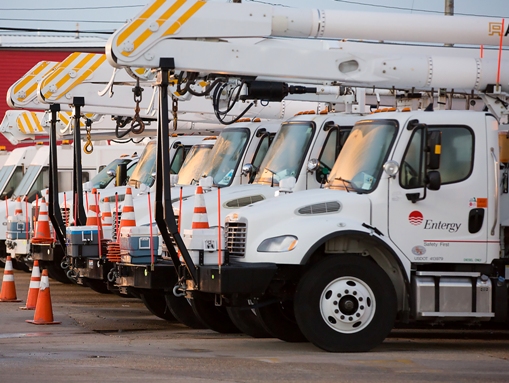 CONTACT
Michael Burns
504-576-4132
mburns@entergy.com
Charlotte J. Cavell
504-576-4132
ccavell@entergy.com
Some 200 employees and contractors from across the state to assist with power restoration
NEW ORLEANS – Winter Storm Riley's powerful blow to the East Coast continued to be felt Sunday with approximately 1 million homes and businesses in 16 states still in the dark. As part of Entergy's mutual assistance contingent, some 200 Louisiana employees and contractors are on their way to help restore power to those who need it.
The crews and support personnel are making their way to help customers of PECO Energy Company in Pennsylvania and FirstEnergy Corp. in New Jersey once it is safe to do so. They were drawn from work groups around the state, leaving enough personnel to manage local needs.
"We are glad to do our part in helping restore power following this powerful winter storm and in helping those affected get their lives back to normal as quickly as possible," said Melonie Stewart, interim vice president of customer service in Louisiana. "We have benefited from the restoration assistance of other companies many times over the years, so we take pride in helping others when we're called upon to do so."
Entergy participates in mutual assistance agreements with utility companies across the country as well as within the Entergy family. When Entergy companies need help after major storms, other utilities send restoration workers to help safely restore power to customers. Likewise, when other utilities need outside help, Entergy crews travel to assist. In fact, their efforts have been recognized by the Edison Electric Institute for 20 consecutive years.
Entergy Louisiana, LLC provides electric service to more than 1 million customers and natural gas service to nearly 93,000 customers in the greater Baton Rouge area. The company has operations in southern, central and northeastern Louisiana.
Entergy New Orleans, LLC is an electric and gas utility that serves Louisiana's Orleans Parish. The company provides electricity to more than 200,000 customers and natural gas to more than 106,000 customers. Both companies are subsidiaries of Entergy Corporation.
Entergy Corporation is an integrated energy company engaged primarily in electric power production and retail distribution operations. Entergy owns and operates power plants with approximately 30,000 megawatts of electric generating capacity, including nearly 9,000 megawatts of nuclear power. Entergy delivers electricity to 2.9 million utility customers in Arkansas, Louisiana, Mississippi and Texas. Entergy has annual revenues of approximately $11 billion and more than 13,000 employees.
B-ROLL AVAILABLE
B-roll of Entergy crews leaving from Gretna Sunday morning for the Northeast is available here. The footage includes a soundbite from Jesse Smith, a line supervisor with Entergy Louisiana.
-30-
Twitter: @EntergyLA
Twitter: @EntergyNOLA
---