News Center > Faries, Rial, Clemons, Cook Representing Entergy Arkansas in Local Communities
For Immediate Release
Faries, Rial, Clemons, Cook Representing Entergy Arkansas in Local Communities
09/05/2019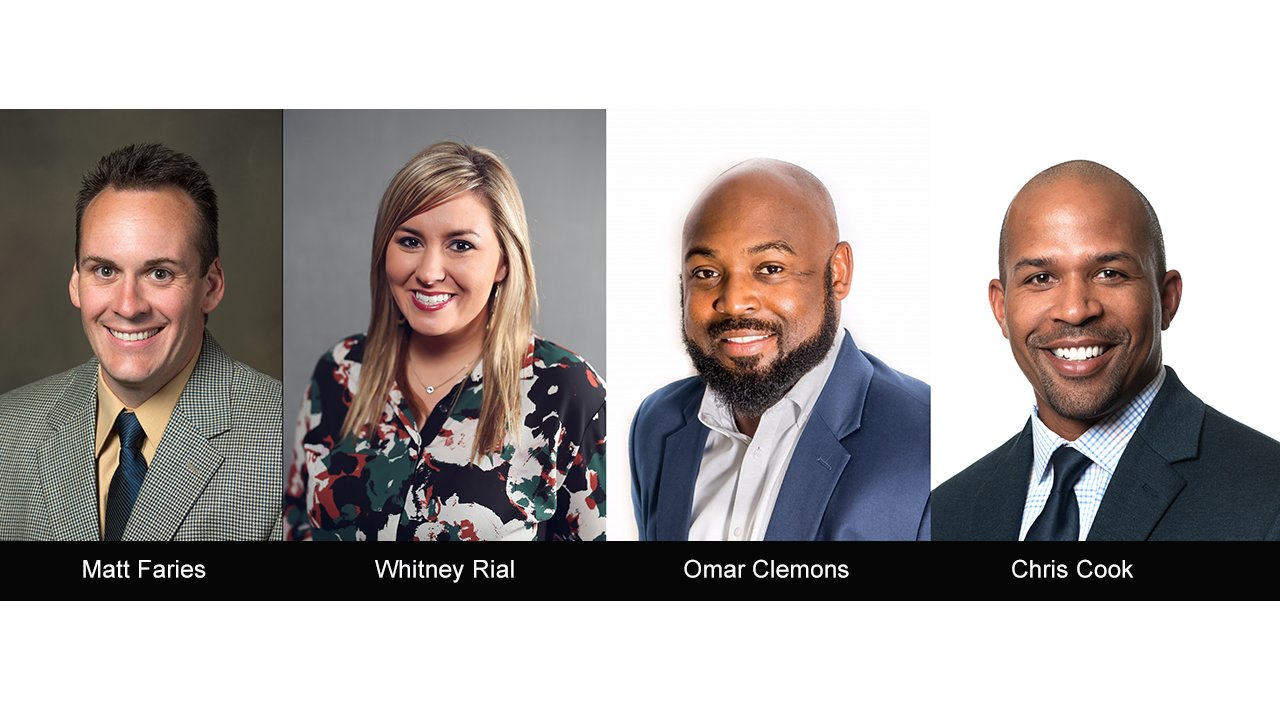 Entergy Arkansas has new customer service representatives in four communities in the state: Matt Faries in the Walnut Ridge area; Whitney Rial in the Marion area; Omar Clemons in the Russellville area and Chris Cook in the Monticello area.
Customer service representatives are responsible for maintaining relationships with community leaders and elected officials. They also represent Entergy Arkansas in a general sense to all customers in their assigned multi-county areas on matters of customer service and reliability.
Matt Faries, Walnut Ridge
Faries is the new customer service representative in the Walnut Ridge area. He replaces David Burnette, who retired recently. Faries has been with Entergy Arkansas 11 years, serving first as a distribution design engineer and later as a customer service representative, both based in the Marion office.
Before joining Entergy Arkansas, Faries worked as an industrial automation designer at Gateway Engineering. Faries is a licensed professional mechanical engineer. He earned his B.S. in engineering at Arkansas State University in Jonesboro.
Whitney Rial, Marion
Rial has joined the Entergy Arkansas team as a customer service representative in northeast Arkansas. Reial will be based in Marion. She replaces Matt Faries, who has transferred to a similar position in Walnut Ridge. 
Rial joins Entergy Arkansas following a six-year career with Ritter Communications, where she worked in sales, marketing and customer service. Ritter Communications is an independent communications provider offering business, residential and wholesale customers advanced internet, phone, video and hosted services. Prior to that Rial worked in retail for Verizon Wireless.
Rial earned a B.S. in public relations from Arkansas State University in Jonesboro.
Omar Clemons, Russellville
Clemons is the new customer service representative for the Russellville area. He replaces Mike Duncan, who retired recently. Clemons has been a lineman and, later, serviceman, with Entergy Arkansas since 2001, all in the Russellville area.
Clemons is a member of the Russellville Chamber of Commerce board, a 2018 graduate of the Russellville Leadership Program and president of the River Valley Progressive Men's Club. He is also an associate minister at Trinity Missionary Baptist Church.
As he turns all his attention to customer service work, one of Clemons' special skills may find a wider audience: He's an award-winning competitive barbecue chef.
Chris Cook, Monticello
Chris Cook has been named the new customer service representative in southeast Arkansas. He replaces Casey Perkins, who retired.
Cook comes to customer service from the Southeast Region engineering group where he is a senior engineering associate in Monticello. Prior to this, he was a journeyman lineman, operations coordinator and ultimately a line supervisor, all in Pine Bluff since joining Entergy Arkansas in 2005. 
Cook has earned a BBA and MBA and has served his country as a member of the United States Air Force.
-30-
---