News Release > Grand Gulf Nuclear Station Secures Deep Roots in Mississippi
For Immediate Release
Grand Gulf Nuclear Station Secures Deep Roots in Mississippi
11/30/2016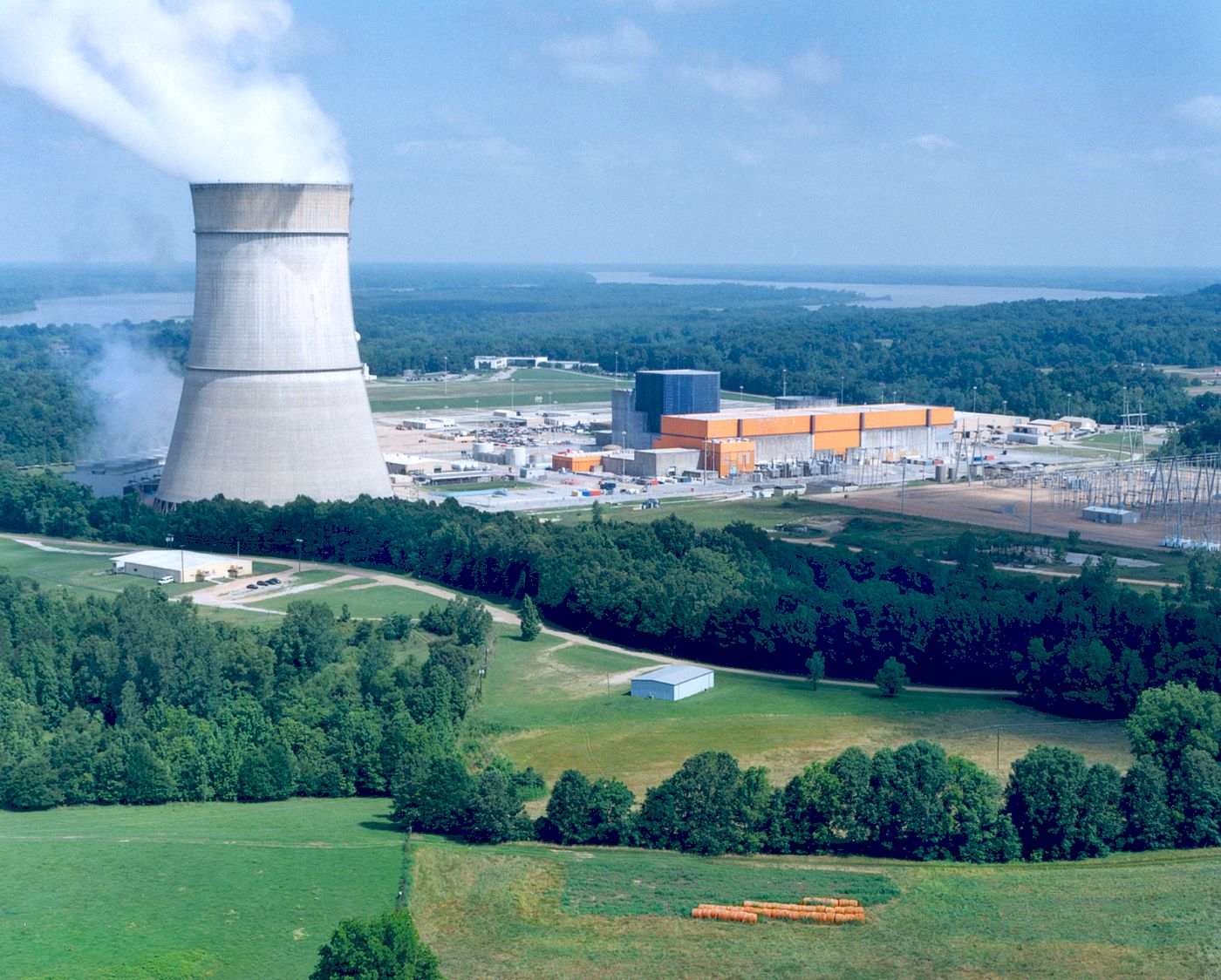 U.S. NRC Extends License by 20 Years, Confirms Plant's Safe, Secure Operations
PORT GIBSON, Miss. – Entergy's Grand Gulf Nuclear Station has been approved to provide customers safe, secure and reliable energy for two additional decades, thanks to an operating license extension granted by the U.S. Nuclear Regulatory Commission. A ceremony was held today in the NRC's corporate offices in Rockville, Md.
         The extension comes after five years of intensive reviews and assessments to ensure the plant's safety, operational capability and environmental impact will meet or exceed standards into the future. The license extension validates that Grand Gulf is poised to continue operations through the year 2044, two additional decades past the original licensing date.
         "We are pleased with the Nuclear Regulatory Commission's decision – it demonstrates their confidence in our ability to operate Grand Gulf safely and securely for the benefit of our customers, employees and shareholders," said Vin Fallacara, Grand Gulf site vice president.
         Grand Gulf, the only nuclear plant to produce power in Mississippi, generates just under 20 percent of the state's electricity while emitting no greenhouse gases. By operating virtually emission-free, the plant actually prevents the annual release of 11,038 short tons of sulfur dioxide, 8,105 tons of nitrogen oxide and 7 million metric tons of carbon dioxide.
         Additionally, Grand Gulf employs more than 700 highly skilled employees with an annual payroll of $73 million. The facility pays more than $29.5 million in state and local taxes. Grand Gulf and its employees maintain a strong presence in the communities they serve by spending millions of dollars with local companies and charitable contributions that promote community development, education and the environment.
         Beginning operations in 1985, Grand Gulf – like all other nuclear power plants in the United States – was originally licensed to operate for 40 years.
         Recognizing the plant's immense value to its stakeholders, Entergy in 2011 filed an early application for a license extension of 20 years, a regulatory process that involves years of work to verify the plant can operate safely, reliability and securely past its original license date.
         A major upgrade completed in 2012 increased the plant's efficiency and generation by about 13 percent, making the facility the largest single-unit nuclear power plant in the country and the fifth largest in the world.
         The action was part of an overall plan to generate more power to meet customers' needs. Today, Grand Gulf is the most affordable source of electric energy in Mississippi.
         Extending the operation of Grand Gulf allows Entergy to maximize its utility-region nuclear portfolio. Entergy Arkansas already has sought and received license extensions for both units at Arkansas Nuclear One, with those approvals dating back to 2001.
          Grand Gulf is owned and operated by System Energy Resources, Inc. (90 percent) and Cooperative Energy (formerly South Mississippi Electric Power Association, 10 percent).
         "Grand Gulf has been an integral part of Cooperative Energy's generation portfolio providing power for our members for more than 30 years," said Brad Edwards, Cooperative Energy's vice president of power production. "We recognize and appreciate the hard work that made this possible and we look forward to safe and reliable operation of the unit through the license extension."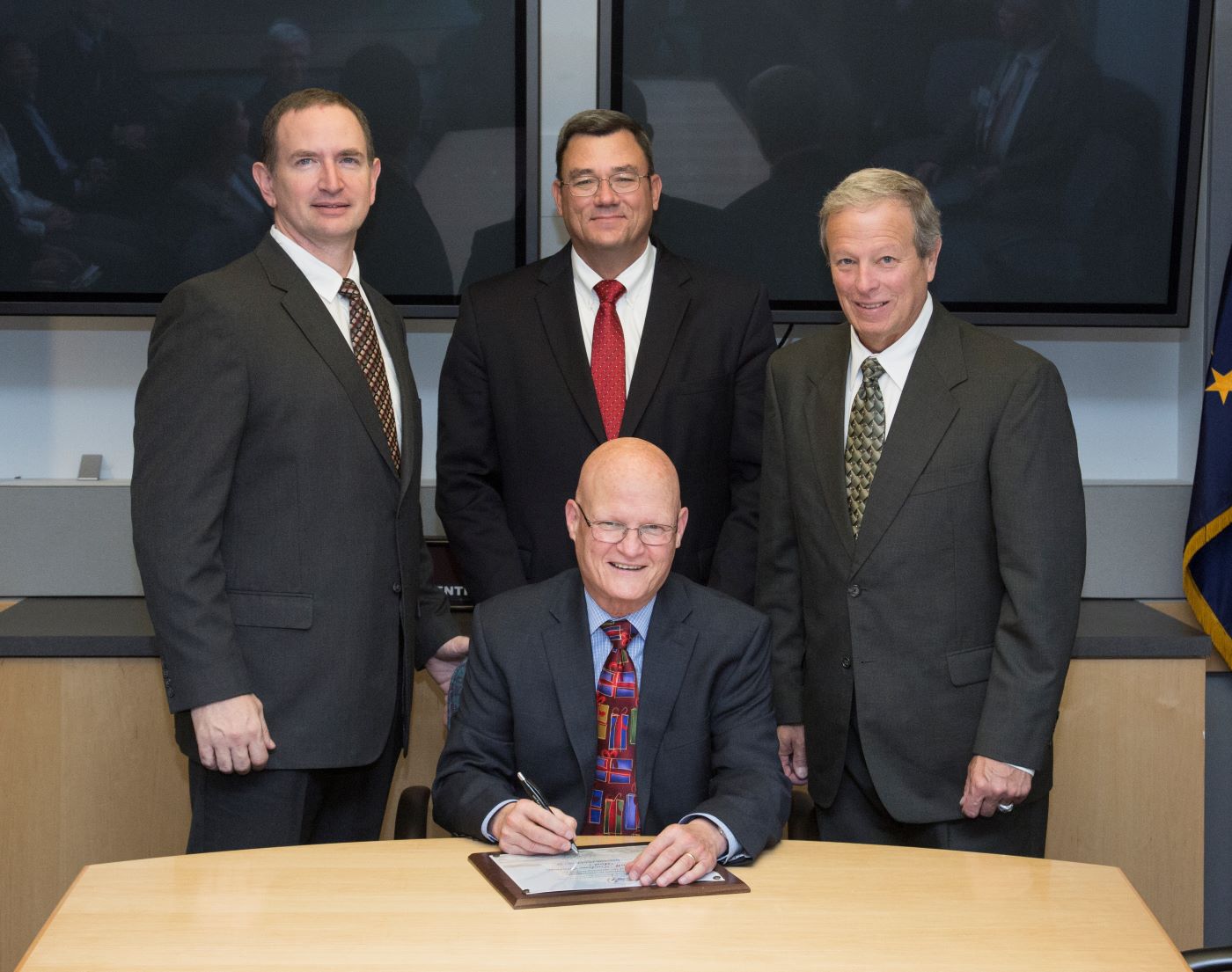 From left: Patrick Williams (Grand Gulf director of engineering), Nathan Brown (Cooperative Energy Senior VP/Chief Operating Officer) and Tom Coutu (Grand Gulf director of regulatory and performance improvement) join William M. Dean (NRC Director, Office of Nuclear Reactor Regulation) for the signing ceremony.
         Cooperative Energy, formerly South Mississippi Electric Power Association, serves as the only not-for-profit wholesale electric power provider headquartered in Mississippi. In this role, Cooperative Energy generates and transmits electricity for 11 Member distribution systems located in the southern and western portions of the state. Cooperative Energy and its 11 Member cooperatives provide power to more than 423,000 homes and business across the state.
         Entergy Corporation is an integrated energy company engaged primarily in electric power production and retail distribution operations. Entergy owns and operates power plants with approximately 30,000 megawatts of electric generating capacity, including nearly 10,000 megawatts of nuclear power. Entergy delivers electricity to 2.8 million utility customers in Arkansas, Louisiana, Mississippi and Texas. Entergy has annual revenues of approximately $11.5 billion and more than 13,000 employees.
-30-
---