News Center > Harvey Knocks Out Power to Thousands of Customers
For Immediate Release
Harvey Knocks Out Power to Thousands of Customers
08/27/2017
Kacee Kirschvink
|
504-576-4132
|
kkirsch@entergy.com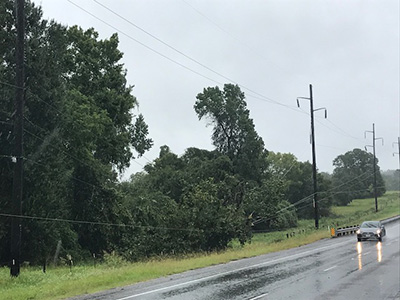 As more than two feet of rainfall continues to swell waterways, flood roadways and saturate grounds that cause even the healthiest of trees to fall, power outages continued to rise overnight.
At 10 a.m., 28,000 customers were without power, with some areas impossible to access because of the flooded conditions. Those hardest hit areas include Conroe, New Caney, Huntsville and Cleveland.
Nearly 600 Entergy employees and contractors are working to restore power as quickly and as safely as possible. This includes resources that have come from Louisiana to assist with restoration, and additional resources have been requested. It could be several days for power to be restored to the majority of Entergy customers. The continued storms, flooding, high winds and damage resulting from it have hampered restoration efforts.
"More heavy rain is predicted for some areas, and these areas have already had over 20 inches of rain. Our customers should expect additional power outages as the storm continues," said Vernon Pierce, vice president of customer service for Entergy Texas. "We know how important it is for our customers to have power, and we are doing whatever we can to get it restored safely. I ask for your patience as we continue working to get the lights on."
Customers are urged to stay away from power lines, even if they think the line is dead. Contact Entergy immediately to report the situation. For more emergency tips and the latest on outages and storm information, visit the Entergy Storm Center.
Entergy Texas, Inc. provides electricity to more than 440,000 customers in 27 counties. It is a subsidiary of Entergy Corporation. Entergy Corporation is an integrated energy company engaged primarily in electric power production and retail distribution operations. Entergy owns and operates power plants with approximately 30,000 megawatts of electric generating capacity, including nearly 9,000 megawatts of nuclear power. Entergy delivers electricity to 2.9 million utility customers in Arkansas, Louisiana, Mississippi and Texas. Entergy has annual revenues of approximately $10.8 billion and nearly 13,000 employees.
-30-
entergytexas.com
Twitter: @EntergyTX
Facebook: Facebook.com/EntergyTX
---