News Release > Harvey's Rainfall Flooding Parts of Entergy Texas Area
For Immediate Release
Harvey's Rainfall Flooding Parts of Entergy Texas Area
08/26/2017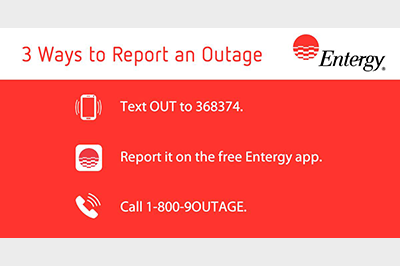 Rising waters and a deluge of rainfall from what is now Tropical Storm Harvey continues to hammer areas of the Entergy Texas territory.
As of 8:30 a.m. more than 7,600 Entergy Texas customers were without power. That number has steadily increased overnight, as rain bands from Harvey continued to pound the Houston area with more than 15 inches of rain, with more forecast for the coming week. Crews are safely restoring power as quickly as possible, but the storm's continued wind, rain, flooding and falling trees could make it difficult to access Entergy's equipment and slow restoration.
Harvey made landfall as a Category 4 hurricane Friday night, and its wrath is expected to cause continued power outages across the Texas Gulf Coast.  Since landfall, Entergy crews have worked to restore customers as soon as safely possible. 
 "We follow a restoration plan that concentrates on getting service restored to essential customers first like hospitals, police, fire, communications, water, sanitary services and transportation providers," said Vernon Pierce, vice president of customer service for Entergy Texas. "Then, Entergy crews turn their attention to making repairs to the electrical system that will return service to the largest number of customers in the shortest period of time, then the next largest number and so on until power is restored to everyone."
Customers are urged to stay away from power lines, even if they think the line is dead. Contact Entergy immediately to report the situation. For more emergency tips, visit the Entergy Stormcenter.
Entergy Texas, Inc. provides electricity to more than 440,000 customers in 27 counties. It is a subsidiary of Entergy Corporation. Entergy Corporation is an integrated energy company engaged primarily in electric power production and retail distribution operations. Entergy owns and operates power plants with approximately 30,000 megawatts of electric generating capacity, including nearly 9,000 megawatts of nuclear power. Entergy delivers electricity to 2.9 million utility customers in Arkansas, Louisiana, Mississippi and Texas. Entergy has annual revenues of approximately $10.8 billion and nearly 13,000 employees.
-30-
entergytexas.com
Twitter: @EntergyTX
Facebook: Facebook.com/EntergyTX
---