News Center > IRS-certified Entergy Arkansas volunteers to provide free tax prep assistance
For Immediate Release
IRS-certified Entergy Arkansas volunteers to provide free tax prep assistance
02/01/2023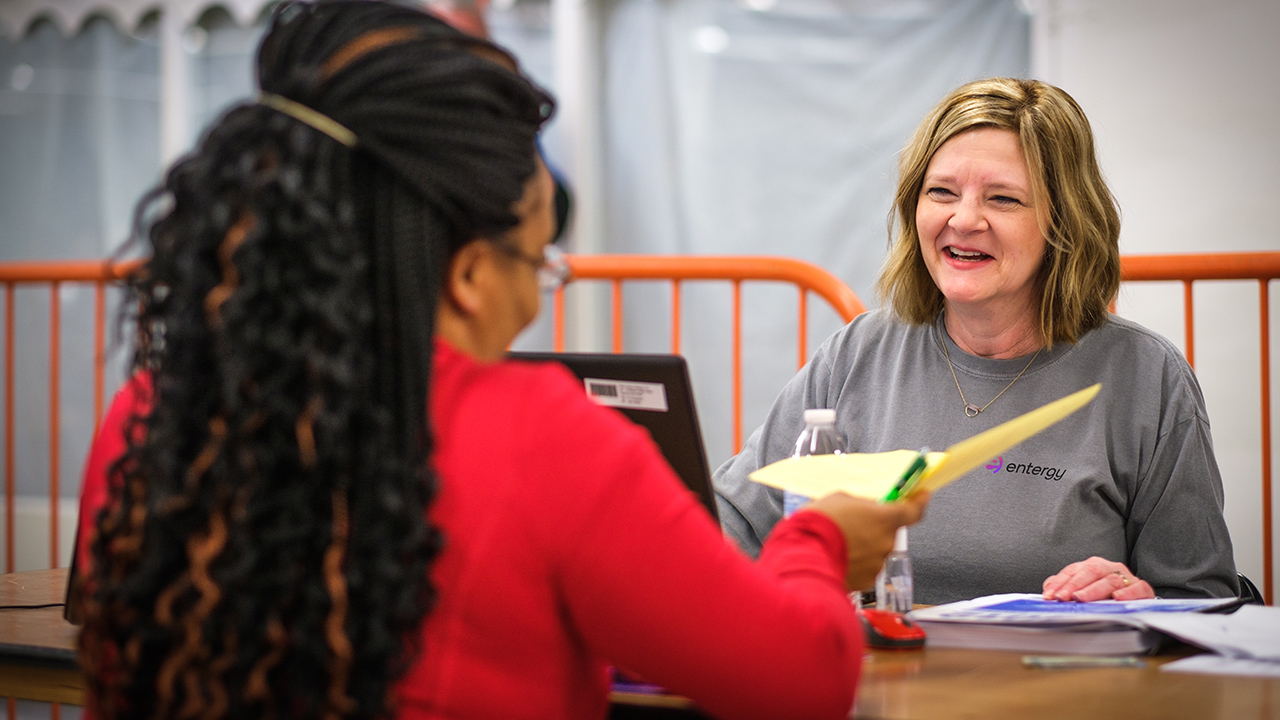 Super Tax Day strives to eliminate poverty for our neediest customers
LITTLE ROCK, Ark. – Entergy Arkansas and community partners will host several Super Tax Day events to kick off the tax preparation season, with IRS-certified volunteers on hand to help low- and moderate-income families file for free. Federal and state tax returns must be filed by April 15, and Super Tax Day events are scheduled across the state Feb. 4, 18, 25 and March 25.
"Entergy employees Power Life with a direct, positive impact on the quality of life of our customers," said Liz Brister, Entergy's manager of low-income programs. "Through volunteering their time in helping prepare taxes during Super Tax Day events and assisting customers in claiming funds they have earned, Entergy makes a positive impact in the communities we serve."
For more than 14 years, IRS-certified volunteers have provided free tax preparation for low-to-moderate income taxpayers at Volunteer Income Tax Assistance (VITA) sites throughout the Entergy service area, including locations across Arkansas.
The federal Earned Income Tax Credit (EITC) is one of the nation's most effective means of lifting Americans out of poverty, and VITA site volunteers will help customers determine if they are eligible for the credit.
In 2022, more than 12,000 Entergy customers received $21.7 million in federal tax refunds through Earned Income Tax Credits. Since 2009, Entergy's Super Tax Day program has helped return $320 million to 177,000 working families throughout the company's service area in Arkansas, Louisiana, Mississippi and Texas.
Super Tax Day dates, time and locations are listed below –
Saturday, Feb. 4
Southern Bancorp
J Austin White Cultural Center
185 S Main St
Eudora
9 a.m. to 1 p.m.
United Way of the Ouachitas
233 Hobson Ave
Hot Springs
8:30 a.m. to noon
Saturday, Feb. 18
Southern Bancorp
425 E Plaza
West Helena
9 a.m. to 1 p.m.
Southern Bancorp
Dunbar Community Center
1001 W 16th St
Little Rock
9 a.m. to 1 p.m.
Central Arkansas Development Council
Benton Senior Center
1800 Citizens Plaza
Benton
8 a.m. to 11 a.m.
Central Arkansas Development Council
Arkadelphia Senior Center
1305 North 10th St
Arkadelphia
1 to 4 p.m.
Saturday, Feb. 25
Southern Bancorp
103 W Main
Lockesburg
9 a.m. to 1 p.m.
Southern Bancorp
2421 NW Ave
El Dorado
9 a.m. to 1 p.m.
Southern Bancorp
120 S 2nd
Blytheville
9 a.m. to 1 p.m.
Saturday, March 25
United Way of Northeast Arkansas
St. Bernards Hospital Auditorium
225 E Washington Ave
Jonesboro
9 a.m. to 4 p.m.
Free tax preparation services are provided at VITA sites throughout the 2023 tax season. In some VITA locations, local community partners are offering appointments for tax preparation services, drop-off tax prep services, financial coaching, budget workshops, free legal services and more. For more information on Entergy's Super Tax Day and VITA, visit entergy.com/freetaxhelp. Customers can also file on their own at www.getyourrefund.org.
Entergy Arkansas provides electricity to approximately 728,000 customers in 63 counties. Entergy Arkansas is a subsidiary of Entergy Corporation (NYSE: ETR), an integrated energy company engaged in electric power production, transmission and retail distribution operations. Entergy delivers electricity to 3 million utility customers through its operating companies in Arkansas, Louisiana, Mississippi and Texas. Entergy owns and operates one of the cleanest large-scale U.S. power generating fleets with approximately 24,000 megawatts of electric generating capacity, including 5,000 megawatts of nuclear power. Entergy has annual revenues of $10 billion and approximately 12,000 employees.
CUTLINE
IRS-certified Entergy volunteers will provide free tax preparation assistance to low- and moderate-income customers across the service area at Super Tax Day events.
---