News Center > Lewis Creek Levee Remains Intact; More Preventive Measures on the Way
For Immediate Release
Lewis Creek Levee Remains Intact; More Preventive Measures on the Way
05/27/2015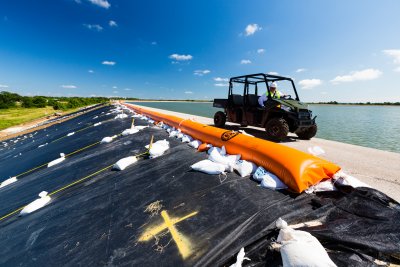 THE WOODLANDS, TEXAS -- Repairs continue at the Lewis Creek levee after recent heavy rainfall resulted in soil movement in some areas earlier this week.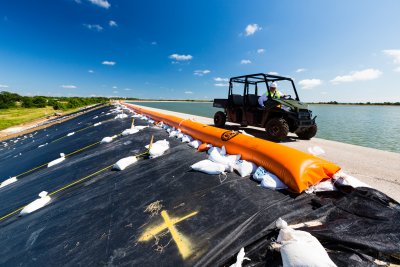 With additional heavy rainfall a possibility, Entergy Texas, Inc. stepped up placement of additional protective coverings along the levee as an extra precaution.
"We want to reassure residents in the area that the additional protective coverings are in no way an indication of new problems," said Sallie Rainer, president and CEO of Entergy Texas. "In light of forecasts that predict continued thunderstorms over the next several days, and out of an abundance of caution, we made the decision to take this extra step to protect the area."
The company will continue to work around the clock with remediation efforts. Repair efforts will continue until all are complete.
Entergy Texas, Inc. delivers electricity to more than 430,000 customers and 27 counties. It is a subsidiary of Entergy Corporation. Entergy is an integrated energy company engaged primarily in electric power production and retail distribution operations. Entergy owns and operates power plants with approximately 30,000 megawatts of electric generating capacity, including nearly 10,000 megawatts of nuclear power, making it one of the nation's leading nuclear generators. Entergy delivers electricity to 2.8 million utility customers in Arkansas, Louisiana, Mississippi and Texas.
-30-
Entergy Texas' online address is entergytexas.com
---