News Center > Mobile Substations Arriving, Connections Underway
For Immediate Release
Mobile Substations Arriving, Connections Underway
09/04/2017
Kacee Kirschvink
|
504-576-4132
|
kkirsch@entergy.com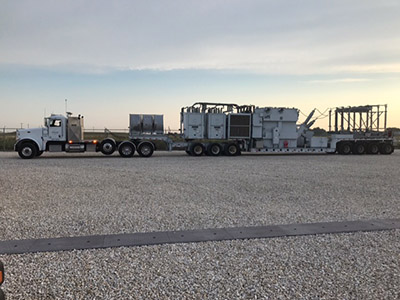 Mobile substations to reenergize locations that can take power served by five damaged substations are underway.
Mobile substations have arrived at some of the locations, and others are on their way. These substations include Amelia and Bevil substations in Beaumont, Vidor Substation in Vidor, Viway Substation in Rose City and McDonald Substation in Hardin County.           
Special reconfigurations to properly connect the mobile substations to the electrical grid are ongoing. While customers will see their power restored, temporary disruptions in electrical service are possible during continued restoration activities over the next few weeks.
As of 11 a.m., 15,500 customers remained without power - down from 192,000 customers affected by Harvey, which made landfall near Corpus Christi as a Category 4 hurricane on Aug. 25.
Expected restoration times vary depending on location. Customers have been notified as to when they can expect their service to be restored. Many customers have seen multiple outages as the storm has moved through and as crews have worked to restore power. Some areas still are underwater and inaccessible until floodwaters recede.
Mobile substations are proven and effective. They can be used for long periods of time, but they still take time to deploy. They are not like generators that can just be plugged in to work. Set up can take several days while crews make connections, lay foundation mats on saturated grounds, build transmission lines and match voltages. In addition, as power is restored to new areas, Entergy may need to reconfigure, causing additional temporary outages.
Some mobile substations will be placed in semi-public areas. As with any large piece of electrical equipment, safety is a primary concern. Temporary fencing will surround the mobile substations, and no one other than qualified workers should pass these barriers.
A team of about 2,300 people from four states are working to restore power. The historic and catastrophic flooding caused by Harvey has been a major hurdle to crews' accessibility in certain areas and caused severe damage to the five substations affected by water.
Entergy Texas will continue to communicate with affected customers throughout the restoration process, and asks all of our customers to please be patient as we rebuild and restore.
For specific information about damage and restoration information for the various locations, visit entergystormcenter.com or visit View Outages. For more information about the five damaged substations, visit entergy.com/Harvey.
Entergy Texas, Inc. provides electricity to more than 440,000 customers in 27 counties. It is a subsidiary of Entergy Corporation. Entergy Corporation is an integrated energy company engaged primarily in electric power production and retail distribution operations. Entergy owns and operates power plants with approximately 30,000 megawatts of electric generating capacity, including nearly 9,000 megawatts of nuclear power. Entergy delivers electricity to 2.9 million utility customers in Arkansas, Louisiana, Mississippi and Texas. Entergy has annual revenues of approximately $10.8 billion and nearly 13,000 employees.
-30-
Twitter: @EntergyTX
---