News Release > Nettleton High School students visit Arkansas Nuclear One
For Immediate Release
Nettleton High School students visit Arkansas Nuclear One
05/01/2023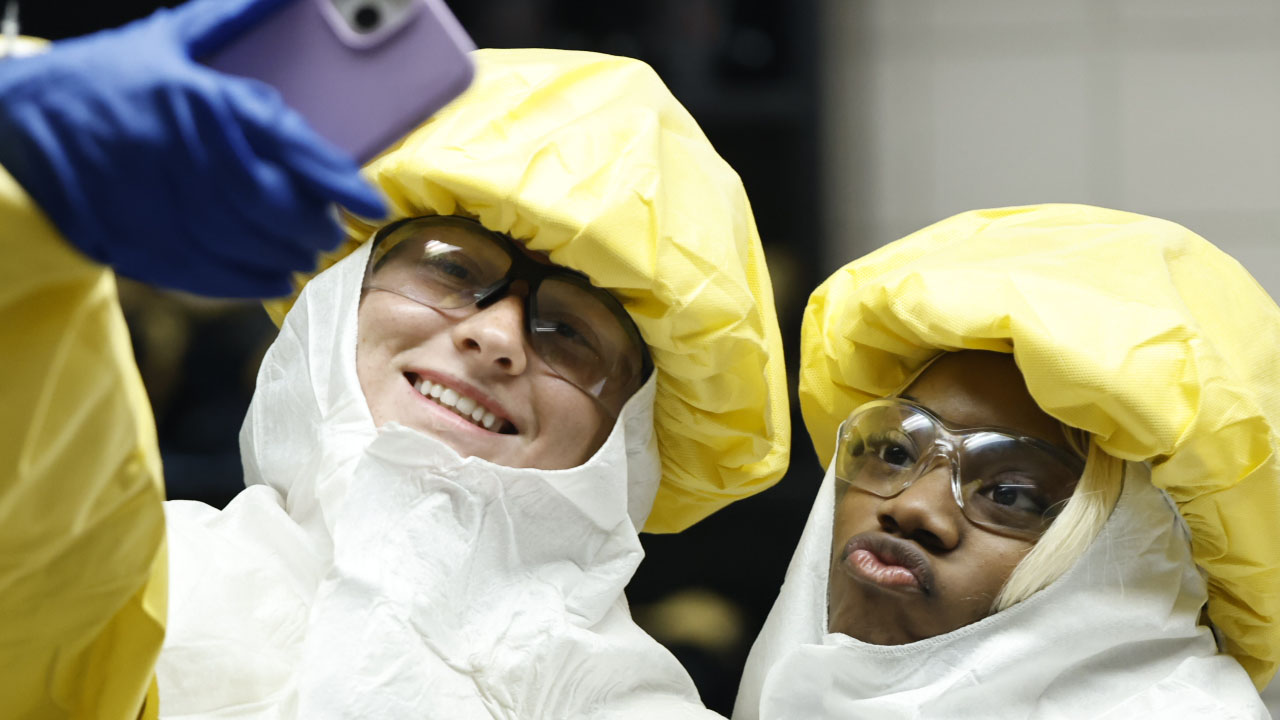 RUSSELLVILLE, Ark. – Nearly 30 science students from Nettleton High School toured Arkansas Nuclear One on Wednesday to learn about the benefits of clean, carbon-free nuclear power.
Students got the chance to learn about all the opportunities the nuclear industry has to offer. They were able to dress out in protective clothing like a radiation protection technician, and learn what an operator does and the planning needed for emergency response.
Students were amazed at the amount of training a nuclear employee undergoes to ensure the community stays safe. Operators go through training every five weeks to stay prepared for anything. They learned how radiation protection technicians are constantly monitoring areas to make sure employees receive the lowest amount of dose possible.
"I love teaching students about Arkansas Nuclear One and the opportunities the nuclear industry has," said Mike Martin, Arkansas Nuclear One shift manager. "Investing in our communities and educating students about the benefits of clean, carbon free electricity is so beneficial. We want students to be interested in pursuing a career in the nuclear industry."
More than ten employees volunteered their time to make sure these students had a good time and learned about what employees do at ANO.
Arkansas Nuclear One is a source of safe, clean, secure and reliable power located in Russellville. The site is home to two pressurized water reactors. For more than 40 years, the station has provided low cost power to customers in Arkansas. The two units generate enough power to meet approximately 56 percent of the total energy demand of Entergy Arkansas' 700,000 customers.
In addition to electricity, ANO also generates a significant positive economic impact in the River Valley. Entergy remains one of the area's premiere employers and attracts highly-skilled, well compensated workers who live and invest in the community. The station currently employs approximately 900 full-time workers and more than 100 baseline contractors employed to assist in daily plant activities.
About Entergy
Entergy Nuclear, headquartered in Jackson, Mississippi, is a subsidiary of Entergy Corporation. Entergy Nuclear owns, operates and supports a fleet of five reactors in four locations, generating enough clean, carbon-free electricity to power millions of homes. Entergy (NYSE: ETR) is a Fortune 500 company that powers life for 3 million customers through our operating companies in Arkansas, Louisiana, Mississippi and Texas. We're investing in the reliability and resilience of the energy system while helping our region transition to cleaner, more efficient energy solutions. With roots in our communities for more than 100 years, Entergy is a nationally recognized leader in sustainability and corporate citizenship. Since 2018, we have delivered more than $100 million in economic benefits each year to local communities through philanthropy, volunteerism and advocacy. Entergy is headquartered in New Orleans, Louisiana, and has approximately 12,000 employees. Learn more at entergy.com and follow @Entergy on social media. #WePowerLife
---