News Center > New 600KW Solar Rooftop Partnership with the University of New Orleans
For Immediate Release
New 600KW Solar Rooftop Partnership with the University of New Orleans
12/05/2019
Stephanie Pyle
|
(504) 576-4132
|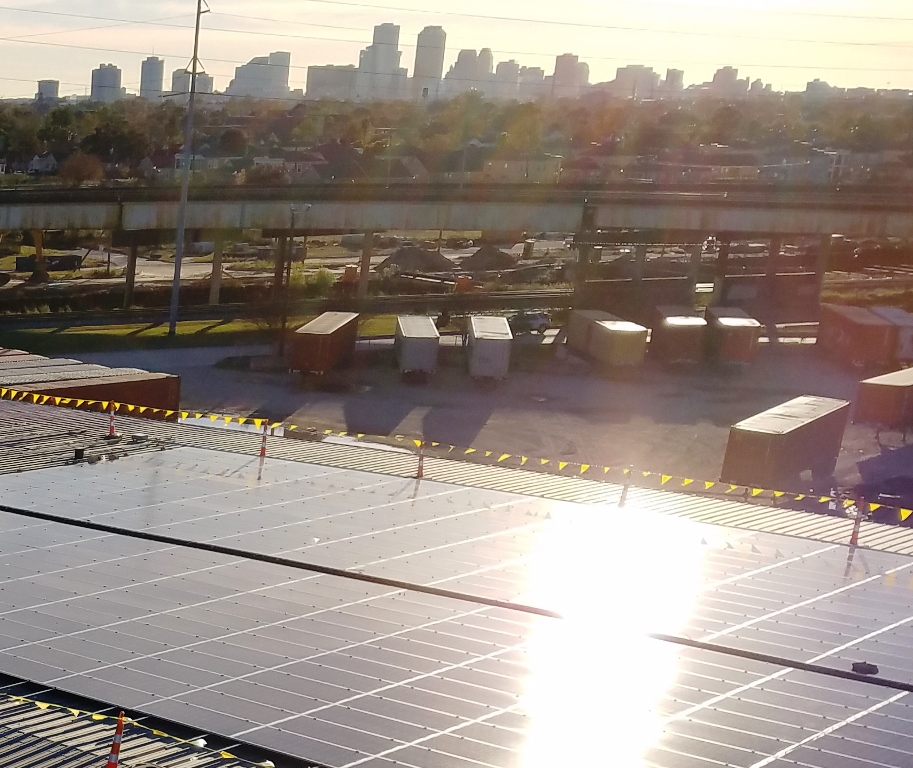 Entergy New Orleans (ENO) is committed to building partnerships with the community we serve. Recently, plans were finalized with the University of New Orleans (UNO) for a solar installation, atop two buildings at the University, that will add 600-Kilowatts of clean energy to the New Orleans' grid. This partnership with UNO is an exciting and important step for ENO's commercial rooftop solar program, and the community.
The Company and the University are pleased that this project will aide in bringing New Orleans to the forefront of cities powered by renewable energy by adding to ENO's already clean energy mix.
In addition to furthering New Orleans' energy sustainability, this partnership also helps decarbonize our city and demonstrates that ENO & UNO are committed to the environment and renewable energy.
"We are committed to finding innovative ways to increase renewable energy for the benefit of our customers and the communities we serve," said David Ellis, President & CEO of Entergy New Orleans. "Entergy New Orleans' partnership with the University of New Orleans builds on that commitment and opens new opportunities for renewable energy education and outreach."
In April, Entergy renewed its commitment to a lower carbon energy future announcing a new climate objective by 2030 of emitting 50 percent less carbon dioxide for every unit of electricity, based on 2000's numbers.
"The University of New Orleans is one of the city's most important public assets," said John Nicklow, President of the University of New Orleans. "Contributing to renewable power with the installation of these rooftop solar panels shows a partnership not just with Entergy, but with the community as well. Our hope is to leverage this opportunity for both educational and community outreach for the University in the areas of renewable energy, sustainability and related fields."
For more on Entergy's commitment to the environment, visit entergy.com, and for other ways Entergy New Orleans is integrating solar energy into its distribution grid for the benefit of all customers, visit entergyneworleans.com.
Entergy New Orleans, LLC is an electric and gas utility that serves Louisiana's Orleans Parish. The company provides electricity to more than 200,000 customers and natural gas to more than 106,000 customers. The company is a subsidiary of Entergy Corporation.
Entergy Corporation is an integrated energy company engaged primarily in electric power production and retail distribution operations. Entergy owns and operates power plants with approximately 30,000 megawatts of electric generating capacity, including nearly 9,000 megawatts of nuclear power. Entergy delivers electricity to 2.9 million utility customers in Arkansas, Louisiana, Mississippi and Texas. Entergy has annual revenues of $11 billion and approximately 13,500 employees.

-30-
entergyneworleans.com
facebook.com/EntergyNOLA
Twitter: @EntergyNOLA
---