News Center > New Lanes on "Transmission Highway" Ready for Traffic
For Immediate Release
New Lanes on "Transmission Highway" Ready for Traffic
05/02/2019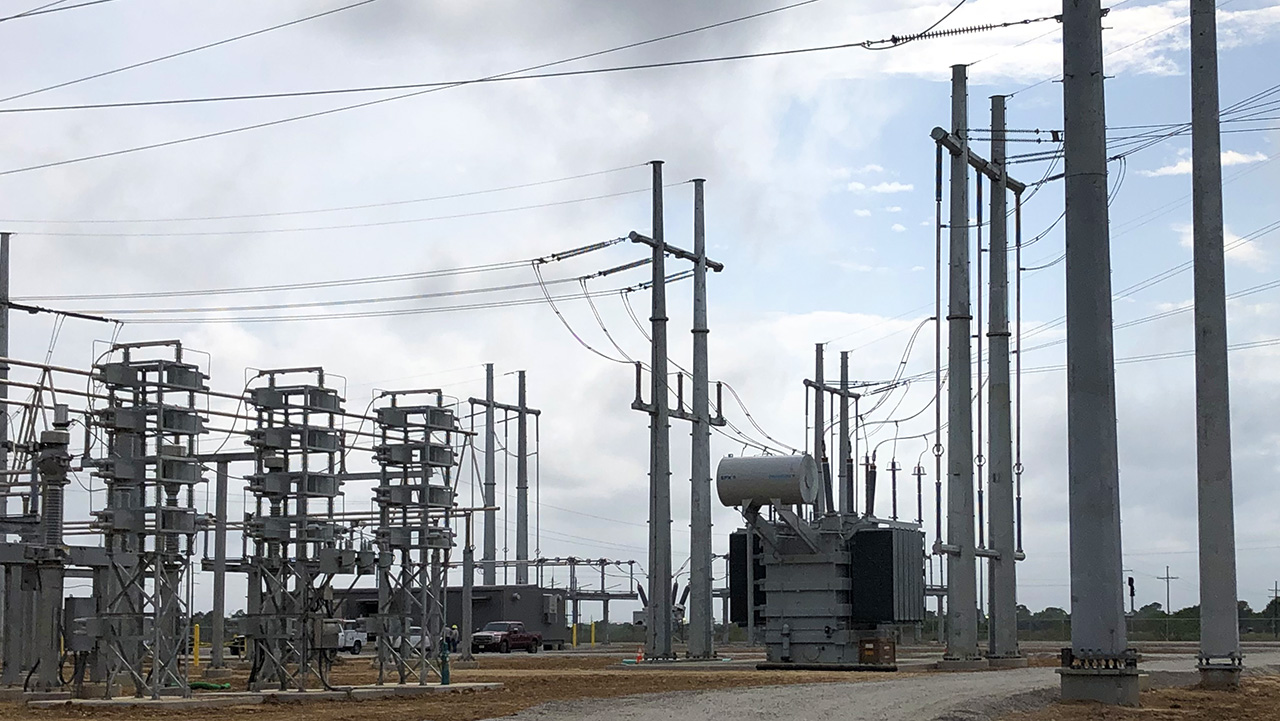 Imagine driving to the Bolivar Peninsula from the western part of Beaumont, but a traffic pileup stops you dead in your tracks. You feel stuck until you remember there is a new route to take. You start in the town of China, just west of Beaumont, and travel about 25 miles to the town of Stowell. Suddenly, you're back on the road and cruising toward the Gulf Coast.
Thanks to a recent project by Entergy Texas, electrons will have another pathway on the way to power homes and business across Southeast Texas.  The China-Stowell Transmission Project is a new 25-mile, 230kV transmission line that provides an "additional lane" to provide reliable and affordable electricity to the area.
"This new line will help relieve congestion on the 'transmission highway,' as well as provide more resilient infrastructure that directly benefits customers across Southeast Texas," said Stuart Barrett, vice president of customer service for Entergy Texas.
The Public Utility Commission of Texas approved the line route along with Entergy Texas' application for a certificate of convenience and necessity (CCN) on May 9, 2017. The high voltage line was energized on May 1 – exactly one year after Entergy leaders and local government and community leaders "cut the wire" to begin the project.
"With the additional transmission we are putting onto the electrical system, we are allowing potential growth in the area, bringing with it new jobs and a stronger economy," Barrett said.
Additionally, Entergy Texas recently completed a major upgrade of another part of the transmission highways of electricity. The company just rebuilt 25 miles of the existing 138kV line from the Newton Bulk substation in Newton to the Leach substation near South Toledo Bend. This enhances the current transmission infrastructure with more modern and efficient technology to better serve the region. 
Upgrades began in 2018 and the line went into service on May 1, 2019. This project is part of the Western Region Economic Project, which also includes a new 230kV line in Montgomery and Walker counties.
It is designed to provide Entergy Texas customers better access to lower-cost sources of power, as well as upgrade the electric transmission system to more effectively move low-cost power into and within the Southeast Texas area for all customers served from Entergy Texas' transmission system.
"All of this work is setting up Southeast Texas for even more success, as well as enhancing reliability for existing and future customers," Barrett said.     
Over the next three years, Entergy Texas is investing more than $2 billion to power the future of Southeast Texas. This includes construction of a new power plant, transmission lines, substations and distribution enhancements to transport electricity to nearly half a million homes and businesses.
Entergy Texas, Inc. provides electricity to approximately 450,000 customers in 27 counties. Entergy Corporation is an integrated energy company engaged primarily in electric power production and retail distribution operations. Entergy owns and operates power plants with approximately 30,000 megawatts of electric generating capacity, including nearly 9,000 megawatts of nuclear power. Entergy delivers electricity to 2.9 million utility customers in Arkansas, Louisiana, Mississippi and Texas. Entergy has annual revenues of approximately $11 billion and more than 13,000 employees.         
-30-
entergytexas.com
Twitter: @EntergyTX
Facebook: Facebook.com/EntergyTX
---